June 11, 2023

•
by
Michael Strangeways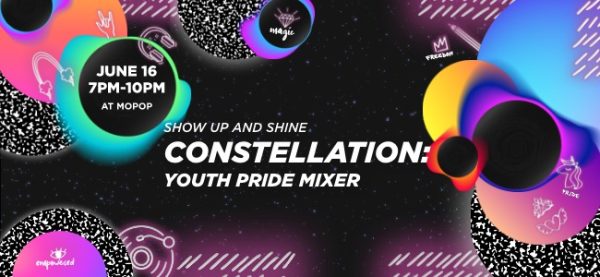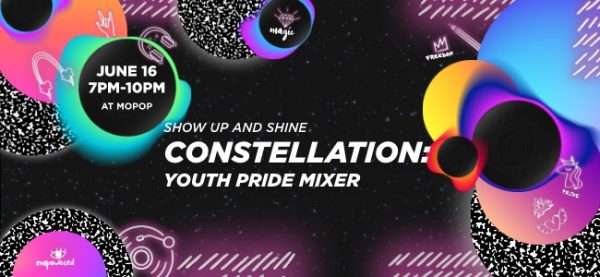 It's tough being under 21 and LGBTQ+ for many reasons but a big one is the fact that so much gay entertainment is adult specific…happening in 21+ venues and featuring content that may not be suitable for a 14 year old. And, this can be a big problem during LGBTQ+ Pride month when queer kids want to have as much fun as the over 21 crowd, but have fewer opportunities.
Happily, Seattle's LGBTQ+ Center (former Gay City) and the Museum of Pop Culture (aka MoPop) have teamed up to produce a special Pride party for the 14 to 21 crowd…it's CONSTELLATION: Youth Pride Mixer and it's happening Friday, June 16th from 7pm to 10pm at MoPop. There's a slew of activities including zine making, lessons in ballroom, dancing to DJs, drag and obviously a chance to check out the exhibits at the Museum.
More poo below:
Join Seattle's LGBTQ+ Center and MoPOP for a galaxy-sized youth mixer!
Promenade through MoPOP's exhibitions, meet-cute with peers and community organizations, craft your own culture-defining zine, show off your friends' intergalactic dance moves, and more!
Express yourself. Connect and inspire. Add your shine to the Pride Space Continuum.
PURCHASE WITHOUT LAIKA EXHIBITION ▸
EVENT DETAILS
---
MoPOP | June 16 | 7pm–10pm | Ages 14-21
Advance Ticket Prices:
$16 GA Youth with Hidden Worlds: The Films of LAIKA exhibition ticket
$10 GA Youth and Students
$10 Member Youth (includes access to Hidden Worlds: The Films of LAIKA)
$5 TeenTix
Tickets at the door will be $5 additional.
---
Explore the Museum and meet some of our fantastic community partners
Create your own DIY Zine with Push/Pull
Learn the basics of runway and explore the history and culture of ballroom with Julian Lanvin of the Xclusive House of Lanvin
Enjoy a drag show and meet and greet with the amazing Rita LaRue
Dance your heart out with DJ Toya B
This event is a youth-centered space for ages 14-21
(Visited 30 times, 1 visits today)
As the Editorial Director/Co-Owner, Michael Strangeways writes, edits and does about a million other jobs for Seattle Gay Scene, Puget Sound's most visited LGBTQ news, arts and entertainment website now celebrating its 14th year as a media outlet. A semi-proud Midwesterner by birth, he's lived in Seattle since 2000. He's also a film producer who would like you to check out the Jinkx Monsoon documentary, "Drag Becomes Him" now available on Amazon.com. In his spare time, he gets slightly obsessive about his love for old movies, challenging theater, "otters", vodka, chocolate, "I,Claudius", Lizzie Borden, real books made out of paper, disaster films, show tunes, Weimar era Germany, flea markets, pop surrealistic art, the sex lives of Hollywood actors both living and dead, kitties, chicken fried steak, haute couture and David Bowie. But, not necessarily in that order.
Related Posts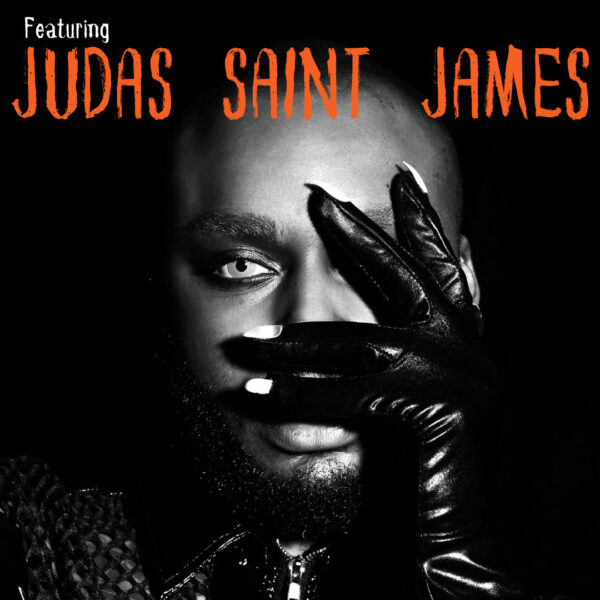 *Dragolicious • Arts & Entertainment • Community • Community Events • Cosplay • Costume Party • DJ Dance Party • Drag O'Tainment • Fan Boy/Girl Land • Fantasy and Horror • Film • Geek • Geek Film • Mark Your Calendars • MoPOP • Nightlife • Pop Culture • Stuff to Do • Three Dollar Bill Cinema • We Love The Nightlife • Weekend Calendar
Looking ahead for things to do NEXT weekend? Do you
...