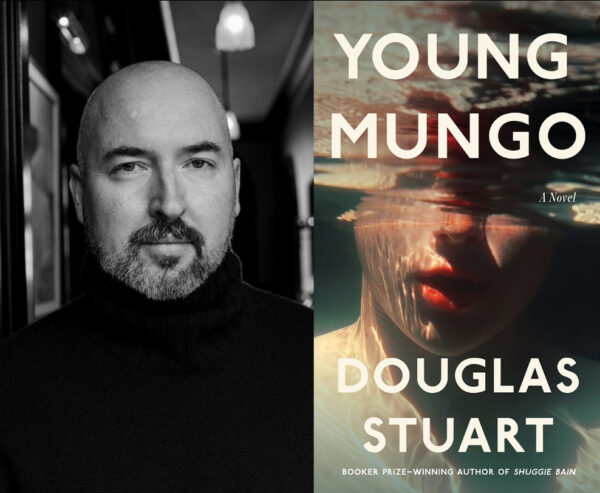 Poor, working class, gay Scottish boys aren't encouraged to write novels or even study writing and literature but Douglas Stuart defied those low expectations set for him by the rigid British class structure and ended up winning the prestigious Booker Prize for his acclaimed first novel, Shuggie Bain in 2020. That beloved novel is fiction but written from the author's own experiences growing up very poor with a single parent mother failing to cope with her alcoholism.
Stuart has just released his highly anticipated second novel, YOUNG MUNGO, which centers on a relationship between two young men in a working class neighborhood in Glasgow…Mungo is a Protestant and James is a Catholic but the two become close friends…naturally, obstacles emerge to thwart them.
From the book publicity:
Growing up in a housing estate in Glasgow, Mungo and James are born under different stars—Mungo a Protestant and James a Catholic—and they should be sworn enemies if they're to be seen as men at all. Yet against all odds, they become best friends as they find a sanctuary in the pigeon dovecote that James has built for his prize racing birds. As they fall in love, they dream of finding somewhere they belong, while Mungo works hard to hide his true self from all those around him, especially from his big brother Hamish, a local gang leader with a brutal reputation to uphold. And when several months later Mungo's mother sends him on a fishing trip to a loch in Western Scotland with two strange men whose drunken banter belies murky pasts, he will need to summon all his inner strength and courage to try to get back to a place of safety, a place where he and James might still have a future.

Imbuing the everyday world of its characters with rich lyricism and giving full voice to people rarely acknowledged in the literary world, Young Mungo is a gripping and revealing story about the bounds of masculinity, the divisions of sectarianism, the violence faced by many queer people, and the dangers of loving someone too much.
The novel has also received raves from the press:
"The astonishing sophomore effort from Booker Prize winner Stuart details a teen's hard life in north Glasgow in the post-Thatcher years . . . Stuart's writing is stellar . . . He's too fine a storyteller to go for a sentimental ending, and the final act leaves the reader gutted. This is unbearably sad, more so because the reader comes to cherish the characters their creator has brought to life. It's a sucker punch to the heart."—Publishers Weekly.
"A searing, gorgeously written portrait of a young gay boy trying to be true to himself in a place and time that demands conformity to social and gender rules . . . Stuart's tale could be set anywhere that poverty, socioeconomic inequality, or class struggles exist, which is nearly everywhere. But it is also about the narrowness and failure of vision in a place where individuals cannot imagine a better life, where people have never been outside their own neighborhood . . . Stuart's prize-winning, best-selling debut, Shuggie Bain, ensures great enthusiasm for his second novel of young, dangerous love."—Booklist.
The author is in Seattle this Tuesday, May 3rd on a nationwide book tour and will appear in conversation with Rick Simonson at the Seattle Central (downtown) Library from 7pm to 8pm. Tickets have sold out for the live event but you can also watch the conversation online. Go to https://www.eventbrite.com/e/douglas-stuart-discusses-young-mungo-tickets-315816053317 to register.
The event is a partnership with Elliott Bay Book Company where copies of the novel will be on sale.
Stuart now lives in New York with his husband and spent 20 years working as a designer in the fashion industry before his success as a writer.
(Visited 5 times, 1 visits today)