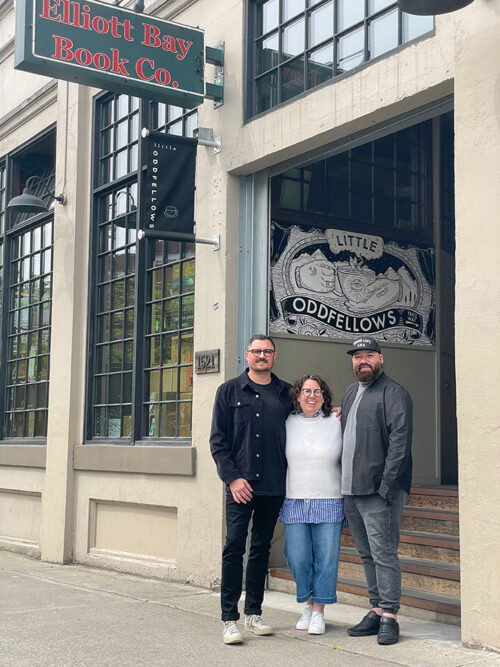 Seattle's crown jewel independent bookstore, Elliott Bay Book Company celebrates a big birfday this year as they turn 50 years old. The beloved book store now located in the heart of Capitol Hill's Pike/Pine entertainment district, got its start down in the oldest part of Seattle, in the Pioneer Square neighborhood back on June 29th, 1973 when it was founded by Walter Carr. It quickly became a part of the city's cultural fabric with its terrific selection of books, knowledgeable staff, series of big name author events and readings and for opening the city's first bookstore café which served as an inspiration for for the Café Nervosa set on the popular Seattle set TV show "Frasier".
The store has changed ownership over the years and its location, moving to 1521 10th Avenue on Capitol Hill in 2010, taking over a space that had originally been a Ford truck repair shop building. The huge but cozy shop has over 20,000 square feet and includes the popular Little Oddfellows Café.
Most recently, in June of last year, it was announced that Elliott Bay had been purchased by its longtime general manager, Tracy Taylor in partnership with married couple Murf Hall and Joey Burgess who also own other Capitol Hill businesses including queer/bar, The Cuff and Oddfellows Café. Under this ownership, Elliott Bay Book Company is one of the largest queer and woman owned bookstores in the country.
The store plans several events to honor the 50th anniversary including a conversation about queer books and the art of bookselling.
Elliott Bay Book Company 50th Anniversary Special Events
The details below and more info can be found here: https://www.elliottbaybook.com/50th-anniversary/special-events.
Queer Books & Bookselling: A Conversation with Michael Coy and Karen Maeda Allman | Thursday, June 29, 2023, | 7:00 PM – 8:00 PM
As Elliott Bay turns fifty years, we've been looking in various directions for perspective and context. Being relative newcomers, after thirteen years on Capitol Hill, some of the reflection that is more than due is to look at Capitol Hill as a center of queer life in Seattle and the part bookstores have played in building and sustaining community. This evening brings together two people who have been central to that work over the years: Michael Coy, most known for Bailey-Coy Books (414 Broadway E.) and Karen Maeda Allman, who was a vital part of the Red and Black Bookstore Collective (432 15th Ave. E. was the last of several Capitol Hill locales) through its closing in 1999. Their stories, along with stories of Barbara Bailey and her catalyzing role, and Ron Whittaker with Beyond the Closet, should make for an engaging evening. We suspect those who attend can and will bring stories, questions, and insights as well.
50th Anniversary Family Day Celebration | Saturday, July 1, 2023 | 1:00 PM – 4:00 PM
We're celebrating our 50th anniversary with a special family day featuring local authors, treats, and more in the children's section.
There will be story time readings every hour featuring:
Toni Yuly | 1:00 PM (There will be a donut social for kids by plant-based specialty donut shop, Dough Joy, during this reading time.)
George Shannon | 2:00 PM
Jessixa Bagley | 3:00 PM
Check out the anniversary events and more on their website, where you can also order books and support a local, independent, queer owned business.
https://www.elliottbaybook.com/
(Visited 57 times, 1 visits today)