Our big/little sister to the south end of the Puget Sound Metroplex is celebrating their LGBTQ Pride….
RIGHT NOW!!!!!
Yes, it's TACOMA PRIDE 2018 and it kicked off today, Friday July 13th with a Pride Flag Raising and continues this evening with out lesbian comedian LEA DeLARIA performing in concert, the big official Tacoma Pride Festival happens Saturday, July 14th in Downtown Tacoma with a family friendly event all day long. 
There's all a fun "Queer-Fem Con" happening as well as several night time events for the over 21 crowd including the huge Tacoma Pride Street Party at The Mix with Seattle Gay Scene on hand to photograph, as well as the second annual "Lesbihonest Dance Party" at the Black Kettle (which confusingly seems to have closed but this event is apparently still happening…tickets HERE.)  (Sadly, the Lesbihonest Dance Party is NOT happening due to the late June closure of the Black Kettle; oddly, Tacoma Pride hasn't removed it from their website.) There's also Club Silverstone's annual street party happening just down the street from The Mix.
Oddly, Seattle's own Bacon Strip hostess Sylvia O'Stayformore hosts The Mix party while her Bacon Strip co-host, Honey Bucket will host the rival Club Silverstone event.
More info on all these events below and we'll see you Saturday in Tacoma!
Pride Flag Raising Ceremony & Rainbow City Awards Theater on the Square 915 Broadway
Official TPF Event Ticketed Event 21+ Bar w/ ID Broadway Center Presents Lea DeLaria: A Man for All Season Lea DeLaria is well known from her stand out performance as Big Boo in the hit Netflix series Orange Is the New Black. The first out gay comic on television in America, she has starred in two Broadway musicals, been featured in many major as well as independent films.
Tacoma Pride 2018
July 14:   12:00 pm

–

6:00 pm

FREE
 S 9th St and Pacific Avenue, DT Tacoma
 Official TPF Event
ASL Interpreted
All-Ages
Free
21+ Beer Garden w/ ID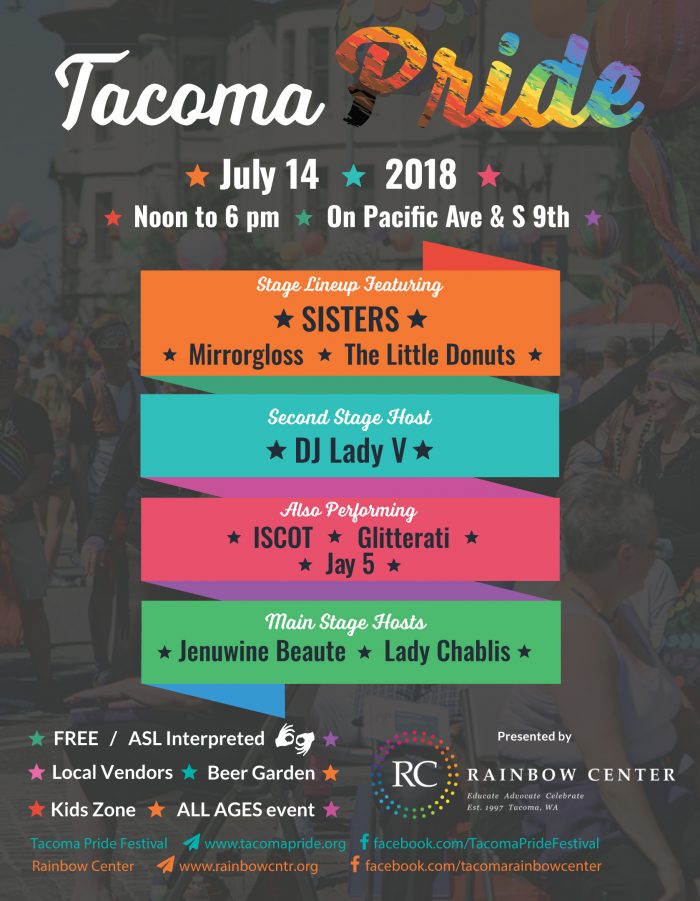 Destiny City Comics' Queer-Fem Con!
July 14:   12:00 pm

–

July 15:   6:00 pm
Destiny City Comics' Queer-Fem Con!
Celebrate feminism and queerdom with a festival that welcomes all at your local comic shop!
Special queer/feminist graphic novels will be spotlighted with exciting special guests.
Come in costume as your favorite character!
Saturday, July 14, 2018 at 12:00 pm to Sunday, July 15, 2018 at 06:00 pm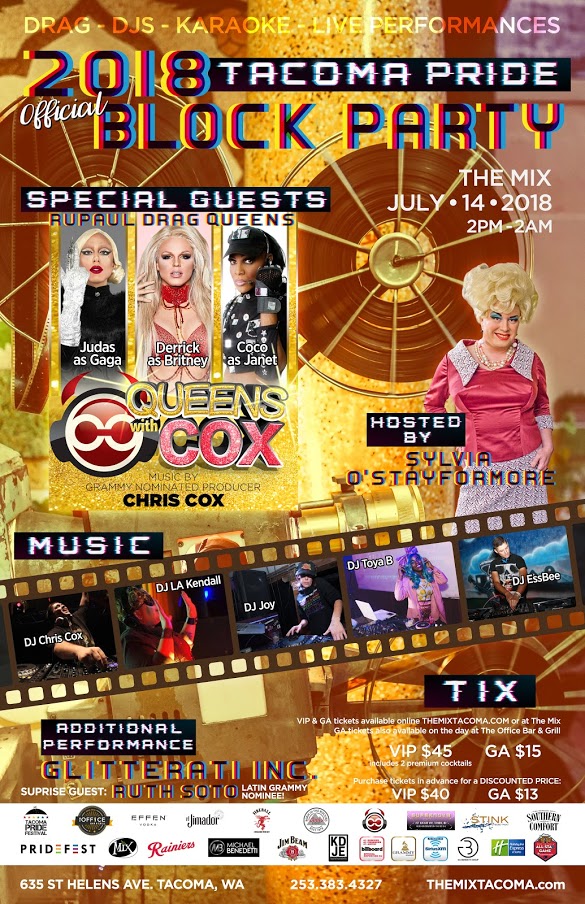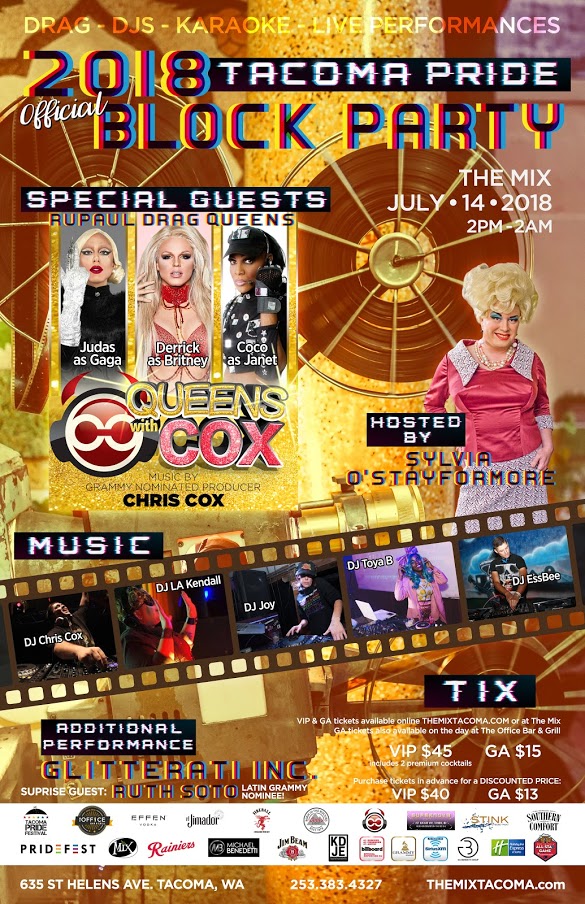 The MIX Pride Block Party
July 14:   2:00 pm

–

July 15:   2:00 am
 Official TPF Event
Ticketed Event
21+ Only
The MIX Pride Block Party
The time has come for us to once again gather in celebration of all the things that Pride means to our community. This year, The Mix has teamed up for the 3rd year in a row with Kendall's DJ & Event. We have some serious plans to bring you a fantastic line up of artists that will keep you entertained and dancing all night long!
Our block party features:
• Live performances
• Go-go dancers
• Three outdoor bars
• DJ Dance party
• Food trucks
• and you!
Headlining on the Main Stage: Queens with Cox!!!
Also Featuring: Glitterati Inc.
Hosted by: Sylvia O'Stayformore
DJ's:
• LA Kendall
• DJ Joy
• Toya B.
• Essbee
….and SO MUCH MORE!
General Admission: $13 ($15 at doors)
VIP: $40 ($45 at doors)
Get your tickets at The Mix or online at www.themixtacoma.com
Doors: 2pm
Stage: 5pm
Block Party ends at 12:00am
Dance Party ends at 2:00am
This event is for guests over the age of 21, only. Valid photo ID required.
Club Silverstone Pride Block Party
July 14:   2:00 pm

–

July 15:   2:00 am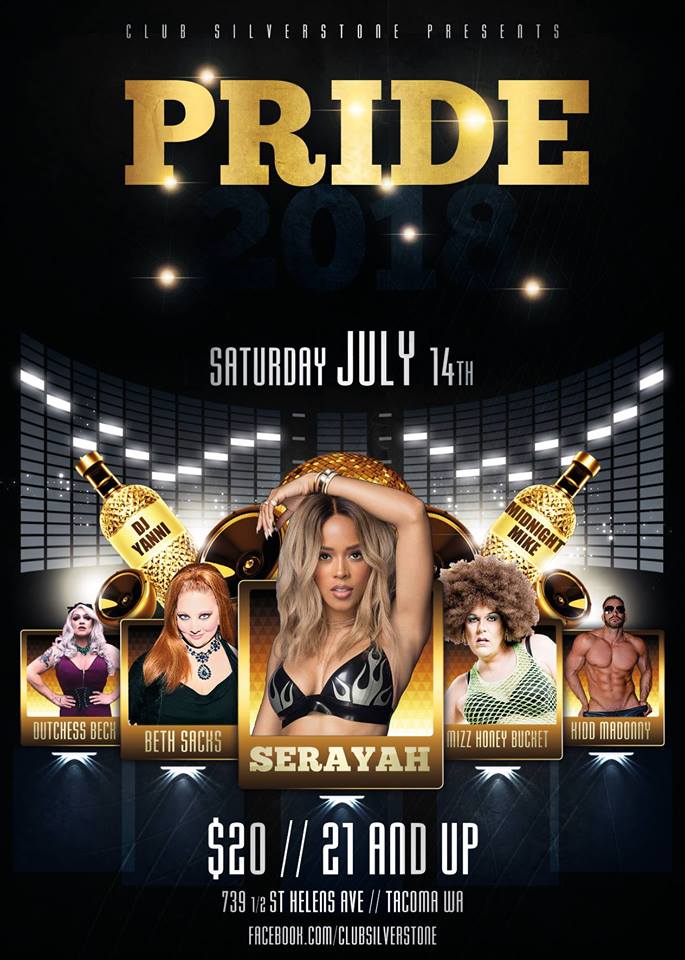 Club Silverstone – Tacoma and EM Music are proud to bring you the hottest Pride Block Party in Tacoma once again!
With our strongest lineup yet, this year promises to be one for the ages!
* Live Performances *
* Comedy Routines *
* Outdoor Bars and a Beer Garden *
* Tons of Free Swag *
* Multiple genre bending DJs *
Headlining our Amazing Show is nationally acclaimed singer/songwriter Serayah, star of the hit TV show Empire!
Hosted by non other than local Seattle Favorite Honey Bucket!
Featuring special performances by Beth Anne Sacks and Dutchess Beck!
Back for another year of mixing and spinning on the outside stage, Kidd Madonny!
With DJ sets by both DJ Yanni and our resident house DJ Midnight Mike – After Dark Entertainment!
Gates: 2:00pm
Stage: 5:00pm
The party moves inside at midnight and will be going until 2:00am!
Tickets are $20.00 at the door!
21+ only with a valid photo ID!
SADLY, THE BLACK KETTLE LESBIHONEST DANCE PARTY IS NOT HAPPENING DUE TO THE CLOSURE OF THE VENUE IN LATE JUNE.
Black Kettle's Lesbihonest Dance Party
July 14:   8:00 pm

–

July 15:   2:00 am
 Official TPF Event
Ticketed Event
21+ Only
Black Kettle Bites & Brew's Lesbihonest Dance Party
The 2nd Annual Black Kettle Lezbihonest is almost here! Come mingle and celebrate at the only Tacoma Pride event hosted for women, by women.
Dancing | Beer/Wine/Cider | Jell-O shots
…also, a Jell-O Wrestling Competition! (Female-identifying contestants only, please.)
$5 in advance, $10 at the door.
(Advance tickets can be purchased at Black Kettle until 7/7/18)
Sponsored by Hop Valley Brewing Co. and their Reveal Pale Ale, brewed in collaboration with ambassadors from our community! A portion of all Reveal proceeds go to a local LGBTQ charity.
For MORE Tacoma Pride Events go HERE! The celebration continues with events though out the rest of July!
(Visited 1 times, 1 visits today)