GLSEN Statement on Hawai'i Passing LGBTQ Non-Discrimination
for LGBTQ Youth in Schools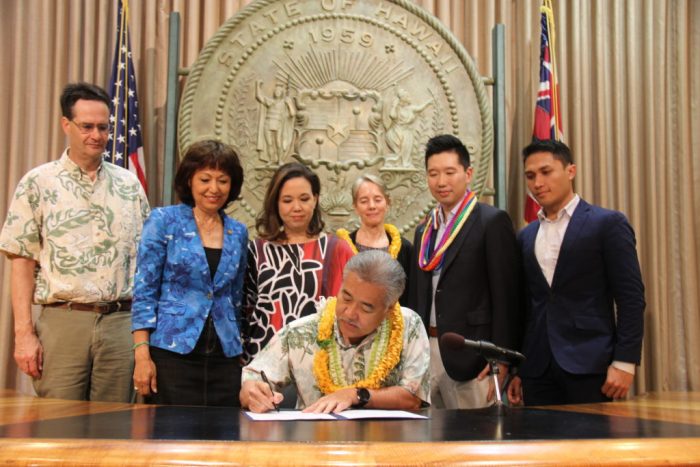 HONOLULU, HI (July 16, 2018) — Earlier this month, Hawai'i Governor David Ige signed HB 1489 a bill that extends non-discrimination protections to LGBTQ students in Hawai'i schools. In response, Sarah Munshi, GLSEN State and District Policy Manager, released the following statement:
"No student should ever be treated differently simply for being who they are. Unfortunately, discrimination on the basis of sexual orientation, gender identity, and gender expression is commonplace in schools all across the United States. GLSEN's most recent National School Climate Survey revealed that 56 percent of LGBTQ youth still experienced discriminatory school policies and practices. LGBTQ students who experienced discrimination at school were more than three times as likely to have missed school in the past month as those who did not, had lower GPAs than their peers, and had lower self-esteem and higher levels of depression.
GLSEN's research found that while school climate has improved somewhat since 1999, schools nationwide remain hostile environments for a majority of LGBTQ youth, and that discrimination affects their academic success as well as their physical and mental health. By explicitly tying state funding to non-discrimination measures with comprehensive protections for LGBTQ students, Hawai'i is firmly standing in support of LGBTQ youth and their right to attend a school where they are not only safe but also have the opportunity to thrive.
Hawai'i now becomes the latest state to ensure that LGBTQ youth are protected from discrimination in schools. GLSEN is grateful for the work of countless local advocates that led to this victory including GLSEN Hawai'i, as well as the leadership of Hawai'i legislators Belatti, Evans, Ichiyama, Lowen, Matsumoto, Nakamura, Nakashima, San Buenaventura, DeCoite, and their staff who ensured its passage, and to Gov. Ige for standing on the side of equality."
###
About GLSEN
GLSEN works to create safe and inclusive schools for all. We envision a world in which every child learns to respect and accept all people, regardless of sexual orientation, gender identity, and/or gender expression. Each year, GLSEN programs and resources reach millions of students and educators in K-12 schools across the United States, and our network of 39 community-led chapters in 26 states brings GLSEN's expertise to local communities. GLSEN's progress and impact have won support for inclusive schools at all levels of education in the United States and sparked an international movement to ensure equality for LGBTQ students and respect for all in schools. For more information on GLSEN's policy advocacy, student leadership initiatives, public education, research, and educator training programs, please visit www.glsen.org.
Tags: GLSEN, Queer Youth, Queer Youth Hawaii