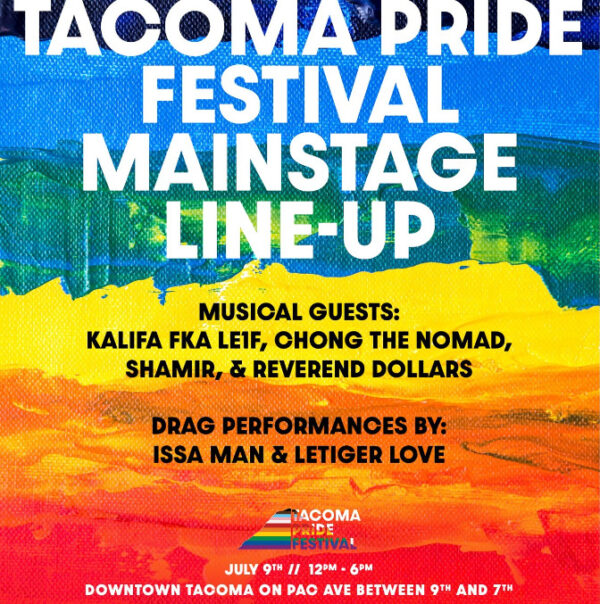 Hey, Seattleites! Are you recuperated from Seattle's LGBTQ+ Pride celebrations from two weeks ago? Has your wallet and liver recovered? In the mood for more Prideful fun outdoors in the sunshine?
Tacoma can take care of all of that this weekend (and month) with a slew of festivals, parties and events to celebrate LGBTQ+ Pride in the South Sound! It all kicks off this weekend with a big festival in downtown Tacoma plus the awesome Street Party at The Mix Tacoma!
ALL the events to see and do!
July 8: 4:30 pm–6:00 pmPantages Theatre, 901 Broadway
Tacoma, WA 98402 + Google Map
Join Rainbow Center and the Tacoma community as we recognize businesses and individuals who have demonstrated key characteristics of what it means to be an ally and support of and in the LGBTQ community. We will also be raising the Pride Flag at the Tacoma Municipal Building. Nominations are open, Click HERE *mask encouraged but not required. This event is ADA accessible.Find out more »
July 9: 12:00 pm–6:00 pmDowntown Tacoma, 9th and Pacific Avenue
Tacoma, WA 98402 United States + Google Map
Tacoma Pride Festival centers and celebrates the LGBTQ+ community while entertaining and inspiring more than 20,000 South Sound friends, families, neighbors, and colleagues, as well as visitors to the area. Enjoy all day entertainment from the main stage, hosted by Alma, as well as a Makers Market and food trucks. *mask encouraged but not required. This event is ADA accessible.Find out more »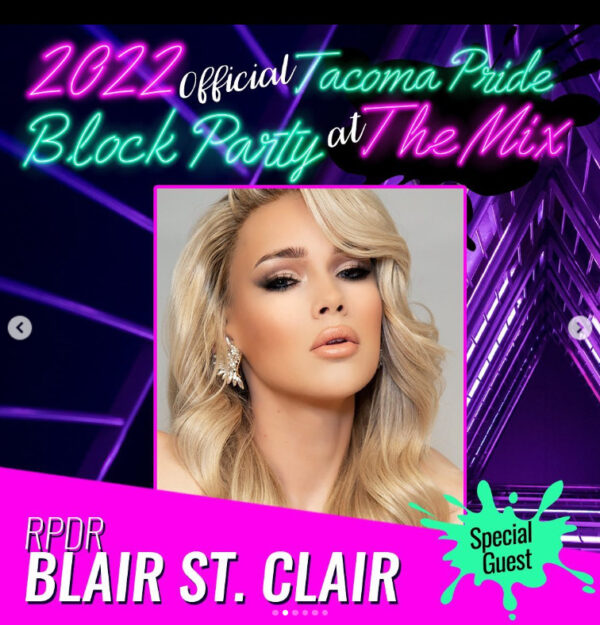 July 9: 2:00 pm–July 10: 2:00 amThe Mix, 635 St Helens Ave.
Tacoma, WA 98402 + Google Map
The Mix is hosting their annual block party with a VIP section, mainstage and amazing entertainment. This is a ticketed event and 21+ only. For more information please visit https://www.themixtacoma.com/pride2022 *mask encouraged but not required. This event is ADA accessible.Find out more »
July 9: 6:00 pm–10:00 pmEmerald Queen Casino, 2920 East R Street
Tacoma, WA 98404 United States + Google Map
The 50th Gay Washington Pageant. Saturday July 9, 2022, the night of Tacoma Pride. Join us as we select the next Mr Miss Ms and Mx Gay Washington's. Doors open at 5pm and Event starts at 6pm. General Admission $20 at the door *mask encouraged but not required. This event is ADA accessible.Find out more »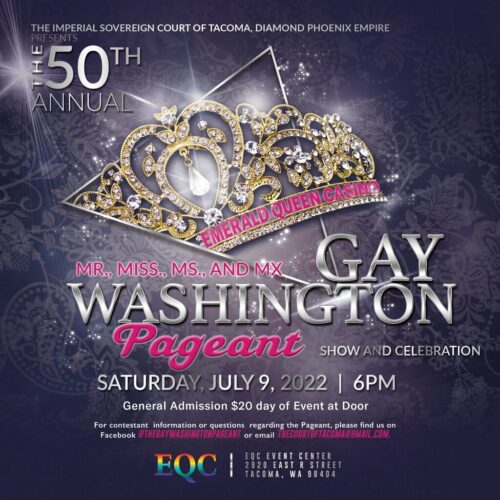 July 9: 7:00 pm–9:30 pmMcMenamins Elks Temple, 565 Broadway
Tacoma, WA 98402 United States + Google Map
Join Athena Vertical Dance Studio at the Spanish Ballroom at McMenamins Elk Temple for aerial arts, burlesque, Live singing, and more! $1 from every ticket supports Rainbow Center. 21+ | Shows at 7pm & 10:30pm | GA $40, VIP $70 Get Tickets HEREFind out more »
July 12: 9:30 am–10:30 amTacoma Dome, 2727 East D St. Parking Lot G
Tacoma, WA 98421 United States + Google Map
Due to the Governor's proclamation to put all government owned buildings to fly the American Flag at half mast in remembrance of the Highland Park, IL shooting victims this event has been RESCHEDULED. Join Rainbow Center as we witness the raising of the Pride Flag above the iconic Tacoma Dome. (Parking Lot G) *Tuesday July 12, 2022* *mask encouraged but not required. This event is ADA accessible.Find out more »
July 15: 7:00 pmPeople's Park, 900 M.L.K. Jr Way,
Tacoma, WA 98405 + Google Map
Join Rainbow Center, The Grand Cinema and MetroParks Tacoma for a movie in the park. Enjoy To Wong Foo, Thanks for Everything! Julie Newmar 1995 rated PG-13 run time: 1 hour 49 minutes *mask encouraged but not required. This event is ADA accessible.Find out more »
July 16: 11:00 am–1:00 pmHotel Murano, 3411, 1320 Broadway
Tacoma, WA 98402 United States + Google Map
More info to come *mask encouraged but not required. This event is ADA accessible.Find out more »
July 17Tacoma Yacht Club, 5361 Yacht Club Rd
Tacoma, WA 98407 United States + Google Map
More info to come Time: TBD *mask encouraged but not required. This event is ADA accessible.Find out more »
July 17University of Puget Sound, 1500 N Warner St
Tacoma, WA 98416 United States + Google Map
More info to come Time: TBD *mask encouraged but not required. This event is ADA accessible.Find out more »
July 21: 5:00 pm–9:00 pmTacoma Art Museum, 1701 Pacific Avenue
Tacoma, WA 98402 United States + Google Map
More info to come *mask encouraged but not required. This event is ADA accessible.Find out more »
July 29: 7:00 pm–10:00 pmRooftop at ALMA, 1322 Fawcett Ave
Tacoma, 98402 + Google Map
Bring Tacoma Pride Month with a dance party on the rooftop at ALMA! *mask encouraged but not required. This event is ADA accessible.Find out more »
(Visited 5 times, 1 visits today)