Acclaimed modern dance company Ailey II takes the Pantages Theatre stage March 2-3; the epic Angels in America, Parts I & II show in Lakewood throughout March; a large-scale fashion show of local talent highlights the art of design; and more.
One of the greatest shows I've ever seen was in Tacoma … and no, it wasn't at the Tacoma Dome (which, in my most humble of opinions, is hell on earth).  It was at downtown Tacoma's Pantages Theatre, a classic building with the big ol' marquee out front, Paramount-style. The show was Take Me to the River, which arose out of the 2014 documentary film of the same name, which brought classic Delta blues singers from Stax records and a younger generation of rappers together to perform and share stories.  I was hooked from the movie, then the soundtrack on CD. The live concert version solidified its status.
That show got me paying more mind to the south end, and it turns out there's a lot of performing arts in Tacoma, beyond the arena shows I avoid.  The biggest are principally, though not exclusively, touring shows (like Take Me to the River) brought in by the restyled Tacoma Arts Live, formerly called Broadway Center.  Other arts options include several quality museums (see list below); community theatre (Dukesbay Theatre and The Changing Scene Theatre Northwest among them); Tacoma Musical Playhouse; an independent movie theater (Grand Cinema); an ongoing queer book club and artist events at the Rainbow Center; and a host of one-off events around town.
Throw in a couple gay bars, some good thrift shopping, several quality museums, and a beautiful waterfront park (with free parking!), and there's a lot to love in Tacoma.  See below for some upcoming top picks, and other things to do while you're there.
This Weekend's Top Pick – Ailey II
3/2-3/3 (Saturday-Sunday)
Ailey II @ Pantages Theatre (Downtown Tacoma)  
Alvin Ailey is one of the most recognized names in dance today.  Born in 1931 and choreographing since the 1950s, his namesake company's staying power is all the more remarkable because he died back in 1989, one of the numerous great artists lost to the AIDS epidemic.  Today, his Alvin Ailey American Dance Theater stages exciting new works alongside Ailey's classic choreography, performing on major stages all over the world. (The company performed in Seattle last year at the Paramount; read my review here.)  

The company's junior sibling, Ailey II, which turns 40 this year, tours just as extensively, showcasing the work of exceptional up-and-coming choreographers and dancers.  Far from being second-rate talent, Ailey II has won acclaim from critics at The New York Times, New Yorker, and more.  Its current roster of 12 dancers hails from the U.S., Brazil, France and Switzerland, and will take the stage in downtown Tacoma for two performances — Saturday night and Sunday afternoon — at the Pantages Theatre.  (There are also two daytime shows on Friday, exclusively for school groups.) It should be an exciting show — a must-see for modern dance fans if you can make it.

7:30 pm Sat., 3 pm Sun.  

Tickets up to $69.  Info & tickets here.   
On Now & Coming Soon: Angels in America, Dean Spade, Showing Out, & Fashion is ART  
Angels in America Parts I & II @ Lakewood Playhouse (Lakewood)  
Now-3/17 (Wednesday-Sunday)
To produce Tony Kushner's epic, centered on the AIDS crisis, in its entirety is quite an undertaking.  (UW Drama produced Part II as a standalone last season; Intiman produced both parts back in 2014.) Lakewood Playhouse (just south of Tacoma) gamely takes on the challenge, doing the two parts in rep, in what's said to be the show's Pierce County debut.  Part I, set in 1980's New York City, follows a gay man abandoned by his lover when he contracts the AIDS virus, and a closeted Mormon lawyer whose marriage to his pill-popping wife stalls. In Part II, the plague of AIDS worsens, relationships fall apart as new, and unexpected friendships, take form.
Part I: 7 pm Wed., Fri. & Sat.; 2 pm Sun.  
Part II: 7 pm Thur. & Sun.  
Tickets $26; pay-what-you-can performances Wed. (Part I) & Thur. (Part II).  Info & tickets here.  
3/5 (Tuesday)
Dean Spade: Fighting to Win! Critical Queer & Trans Politics in Scary Times @ Washington State History Museum (Downtown Tacoma)  
Dean Spade, a law professor, author, and trans man, advocates for the dismantling of systems of state violence that shorten the lives of trans people.  His book, Normal Life, presents revelatory critiques of the legal equality framework for social change, and points to examples of transformative grassroots trans activism that is raising demands that go beyond traditional civil rights reforms.  Now more than ever, Spade presents an urgent call for justice and trans liberation, and the radical transformations it will require. Co-sponsored by Tacoma Tmen & the Rainbow Center.
6 pm  
Tickets are FREE, but limited.  Info & tickets here.
3/21 (Thursday)
Showing Out: Shout – Central District Forum for Arts & Ideas @ Tacoma Art Museum (Downtown Tacoma)
Dani Tirrell curates the series Showing Out, a mentorship and performance showcase for emerging Black artists.  The series supports the creation and development of work by several of the Pacific Northwest's emerging Black writers, poets, screenwriters, novelists, playwrights, spoken word artists, singers, songwriters, rappers and musicians, in alignment with CD Forum's mission to support distinctive Black artistic voices.  Each evening features a different set of artists. This special Tacoma performance is in partnership with Tacoma Urban Performing Arts Center (T.U.P.A.C.), and is a shortened free program, part of the Tacoma Art Museum's free Thursdays. (Ticketed performances, with different artist lineups, are held in Seattle on March 22-23; tickets & info here.)  
6 pm
No tickets required; info here & on the CD Forum's Facebook page, here.  
3/30 (Saturday)
Fashion is ART – Fashion NW @ Tacoma Art Museum (Downtown Tacoma)
Seven designers, including local artists, will meld gallery and runway in this unique fashion show that emphasizes the art in fashion & the fashion in art.  Designer emphases include reclaimed material couture, FashionTech, latex, Modern Goth, & more. Admission includes a drink & after-party. All ages; fashion trendy/fashion casual attire requested.    
6:30 pm red carpet, 7:15 pm show, 9:30 pm after-party
Tickets $55 advance ($60 door); tickets & info here; designer info here.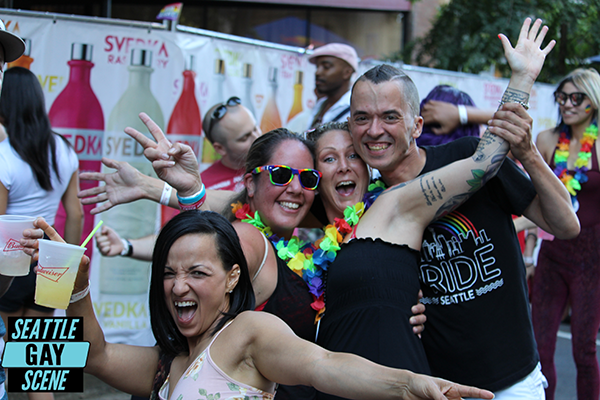 While you're there …
Whether you're making a special trip to the south end or live nearby, here's a sampling of what else you can do around the downtown Tacoma theatres.  
Head to the two gay bars nearby — The Mix (635 St. Helens Ave.) and Club Silverstone (739 1/2 St. Helens Ave.).  Neither has much food to speak of, but The Mix has a chill atmosphere & friendly clientele, along with a generous happy hour, and outside food is welcome there.  (Silverstone depends on the day, as experiences have varied from chill & friendly to loud & rude.)

If you're there on a Saturday — visit Pure Vintage (213 N. "I" St.), a mile or so away.  It's packed to the gills with vintage clothing, including lots of Pendleton wool shirts, at reasonable prices.  They're also a frequent vendor at the Fremont Sunday Market, and have an Etsy store specializing in Christmas sweaters.

Jankuland (218 St. Helens Ave.) hosts an assortment of vintage sellers (including Pure Vintage), records, & random other things.  Also visit Kings Books, located conveniently in the same building, about a half mile from the theatres.

Browse the assortment of thrift, antique, and vintage shops (collectively called Tacoma's Antique Row) that line Broadway in Tacoma's theatre district.  Most close early, around 5 pm.

Though the name is gross, hit up Stink (628 St. Helens Ave.) for delicious cheese & meat sandwiches, brunch, small plates & more.  It's right across from The Mix.

If you're a museum buff, stroll around the Tacoma Art Museum, Museum of Glass, and Washington State History Museum, all located really close to each other (between Pacific Ave. and Dock St.).  For car fans, the LeMay Car Museum (out further, near the Tacoma Dome) is a worthwhile destination.

Or, if you just want to see some Chihulys up close while you drink a beer and forgo the museum charges, visit the Swiss Restaurant & Pub (1904 Jefferson Ave.) and look up from the bar.  Eight Chihuly pieces adorn it — including one that looks like a pineapple, my personal favorite.

If you're feeling more outdoorsy, stop by the Chinese Reconciliation Park (1741 N. Schuster Pkwy.; parking & entrance are under the overpass). A short stroll through the beautiful waterfront park also takes you on a path through the area's shameful history with respect to residents of Chinese descent.

For longer walks and a greater time commitment, the Commencement Bay waterfront features plenty of eateries along Ruston Way, and Point Defiance Zoo & Aquarium at the other end of it.  
(Visited 1 times, 1 visits today)