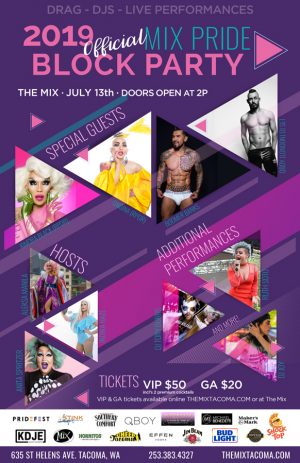 It's not happening until Saturday, July 13th but if you're a resident of the South Puget Sound metroplex, you'll be happy to know that plans are already solidifying for this year's LGBTQ Pride celebrations in Tacoma. There's the official Tacoma Pride Festival happening that day, which is an all-ages, family friendly event…you can get more info on that event and more to be announced at the official Tacoma Pride webpage. Other than the Saturday, July 13th celebration, nothing else has been officially announced but Tacoma Pride usually features numerous events spread out overt the course of a week or more to celebrate their LGBTQ Pride.
Meanwhile, The Mix, one of Tacoma's main gay bars, has announced their line-up for their popular annual block party on St. Helens Avenue. It's an afternoon and evening event (21+ only) featuring outdoor bars, food trucks and a big mainstage full of entertainment both national and local.
This year's party will be hosted by Seattle's own Aleksa Manilla and Tacoma's Indika Haze and Anita Spritzer and featuring two RuPaul's Drag Race stars: Ongina and Kimora Blac. Other out of the area guests include adult entertainment star Boomer Banks shakin' his moneymaker and DJ QBoy from London/UK.
Other performers include the Latin Rose aka popular area singer Ruth Soto and DJs Tony Burns and Joy.