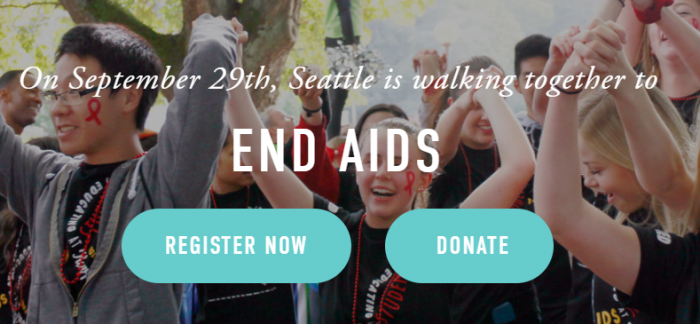 Ya gotta switch things up every so often or your brand gets staler than grandma's loaf of rye bread.
Lifelong is doing just that with this year's Seattle AIDS Walk 2018….by adding a "Picnic" element to make it more of a family friendly/ celebratory event. Food options will be available at Volunteer Park or bring your own quiche, chicken and brie!
While the food part is fun, we also need to actually participate IN the walk…and/or donate to the walkers raising money for Lifelong, to continue their programs in support of Ending AIDS in Washington State and supporting the lives of those living with HIV/AIDS.
More info on how you can participate in this important community event:
Lifelong is proud to host the 32nd annual Seattle AIDS Walk & Picnic on Saturday, September 29th at Volunteer Park in Seattle's Capitol Hill neighborhood.

During the walk, we will have fun musical surprises along the way, then after we cross the finish line, we will come together for the biggest picnic that Seattle has ever seen! There will be food options available at Volunteer Park, or you can bring your own blanket and snacks. We'll also have our famous beer and mimosa garden, and family-friendly activities for the little walkers in your life.
Saturday, September 29th, 2018
Registration is FREE!
NEW: In order to receive a t-shirt, we ask that participants raise $100.
All participants must register.

9:30 a.m.    On-site registration opens/t-shirt pick-up
10:30 a.m.   Stage program begins
11:00 a.m.   Walk begins
11:30 a.m.   Picnic and After-Partaaay!

The Seattle AIDS Walk & Picnic is a walk that takes place at Volunteer Park in Seattle's Capitol Hill neighborhood.

Parking

Parking in Volunteer Park will be limited but there will be street parking available in the nearby neighborhoods. Please consider carpooling, taking public transit, biking or even walking if you live near the park.

Morning coffee will be provided!

Dogs and strollers are allowed on the course.
The course and picnic / after-party area is wheelchair accessible.
Spectators are welcome along the race courses, especially at the Start and Finish Line areas.
Cheering is encouraged, costumes are optional. 🙂

The Red Ribbon Tree will be located near the Community Services Pavilion. Write notes to the ones you love impacted by HIV!

Social media: please use #SeattleAIDSWalk when sharing all of your exciting event updates and photos. Check in on Facebook and be sure to mention the Seattle AIDS Walk & Picnic!
(Visited 1 times, 1 visits today)