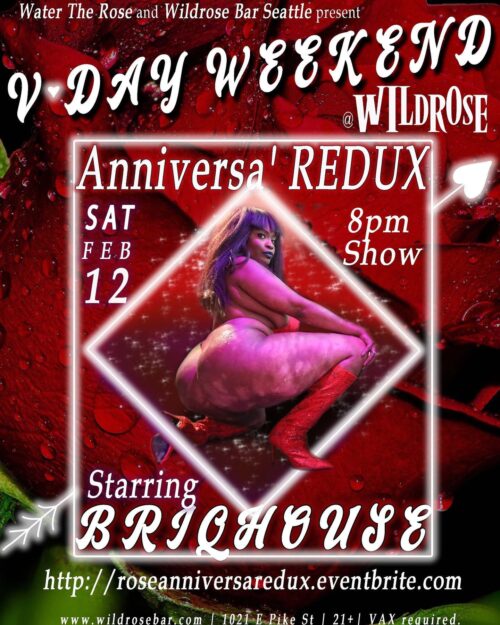 Spikes in Covid cases caused The Wildrose, the ONLY queer female owned bar for the LGBTQ community and one of the few left in the country, to postpone their big annual anniversary party scheduled for December 30th. Miss Coronavirus seems to have calmed down a bit so The Wildrose is ready to celebrate in style, this coming weekend…which also just happens to be Valentine's Day Weekend.
They'll kick things off this Friday, February 11th with FREEKY Friday with DJ Summersoft for a No Cover Dance Party. Then, on Saturday the 12th, they're offering up a WHOLE day and night of entertainment.
It starts with the doors opening at 11:30 am for their big Burlesque Brunch, AFTERNOON DELIGHT which will feature brunch, and entertainment by MoonYeka, Nox Falls, Porcelain, and Velicity Dior Black. Tickets can be had at https://www.eventbrite.com/e/water-the-rose-afternoon-delight-tickets-248361855997
Note that this is (obviously) a 21+ event and you need to follow Covid protocols (mask, proof of vaccination or recent negative test).
THEN, on Saturday night, you'll want to come to their big ANNIVERSA REDUX" PARTY! The doors will open at 7pm and the fun will go on until 2am with live performances including burlesque and live singing plus DJ music and games. The skinny:
We invite you to Valentines Day weekend and the 37th anniversary of the longest thriving lesbian bar in the country! Produced by Seattle born and raised performers & creators Caela Bailey and Takiyah Ward; alongside SimonePin Co-founder Shadae Simone- featuring local stars Adra Boo & Ddynasty and starring Briq House plus other guests to be annouced- we bring you a show like none other and night to remember!
The cover is $25 for the night time party…snag advance tickets here: https://www.facebook.com/wildroseseattle
Come help The Wildrose celebrate 37 years of providing Seattle's queer women a home town bar! And, come check out their recent remodel!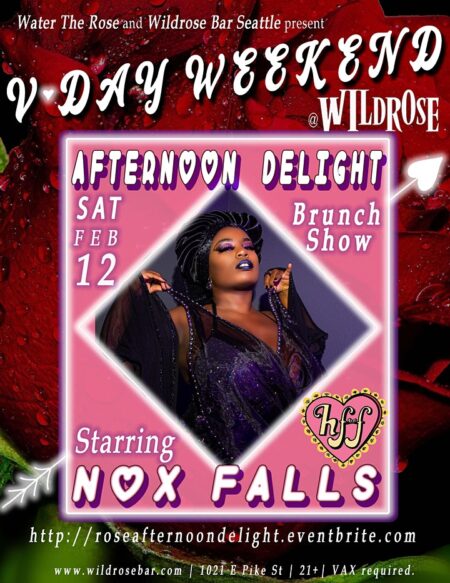 (Visited 17 times, 1 visits today)