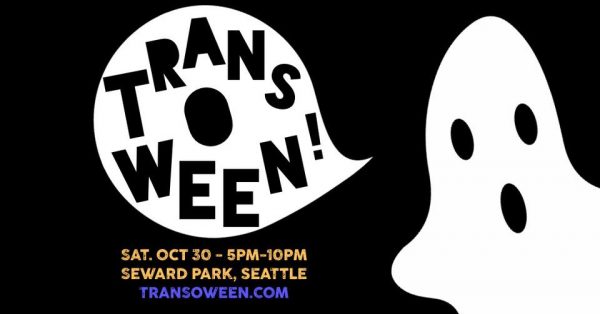 Finally! A fun, family friendly for the Transgender community…AND, it's a Halloween Party!
No…it's TRANSOWEEN!
Community member Jery Che seems to be the main organizer of this awesome event and after the success of two fun summer events this year, it just seemed like having a Halloween event was the next party to produce. It's an outdoor event at Seward Park in the Southeast part of Seattle with a pre-function happening from 3pm to 5pm followed by the main party from 5pm to 10pm.
Note this is an event for the transgender community. Obviously cis partners and family members of transgender people (and cis kids, obviously) are welcome but unless a transgender friend or family member brings you as a plus one, cis folkx should stay home.
More info down below including a handy dandy map! And, here's their website to keep updated: https://transoween.com/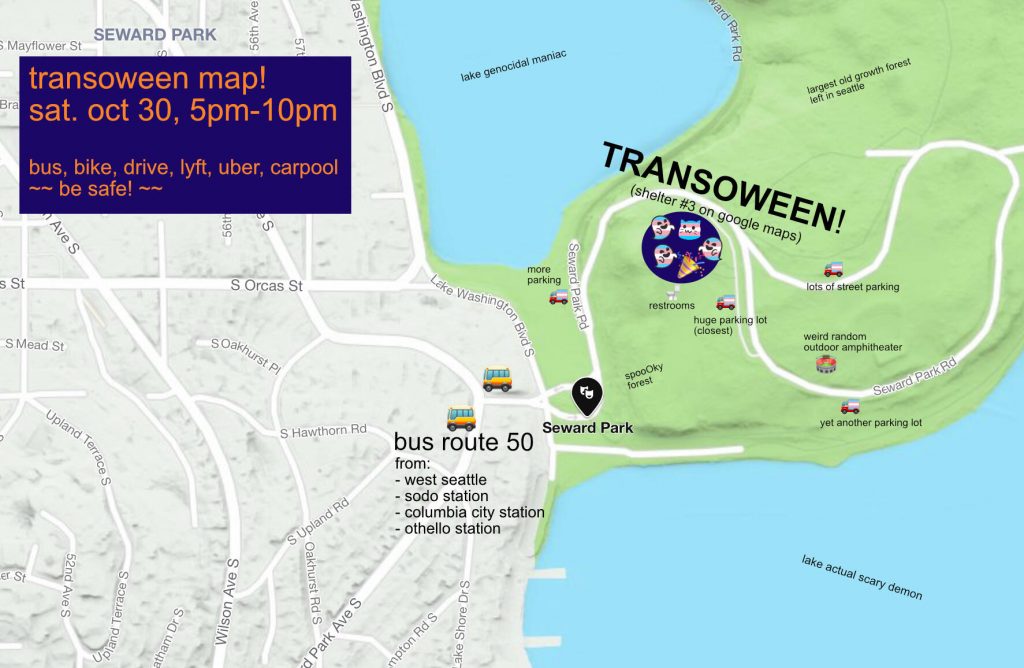 An event to bring Seattle's trans & nonbinary community together! In costume!

Trans folks came together at Seattle Trans Picnic in July, and Seattle Trans Beachday in August, and we got sooo many ppl asking for more events. Transoween will be more of a celebration, bringing in even more of our community to come together and create a beautiful trans space!

Come with friends or come by yourself, put on your most gendery (or genderless) costume, and be around super welcoming awesome trans folks. Make new friends, enjoy current friends, and/or just enjoy being around awesome trans people.
---
COVID NOTE: We want this to be as safe an event as possible. It's 100% outdoors and we have LOTS of space. The covid situation can change quickly as we've seen, so we'll monitor public health guidance as we get closer. VACCINATED PPL ONLY!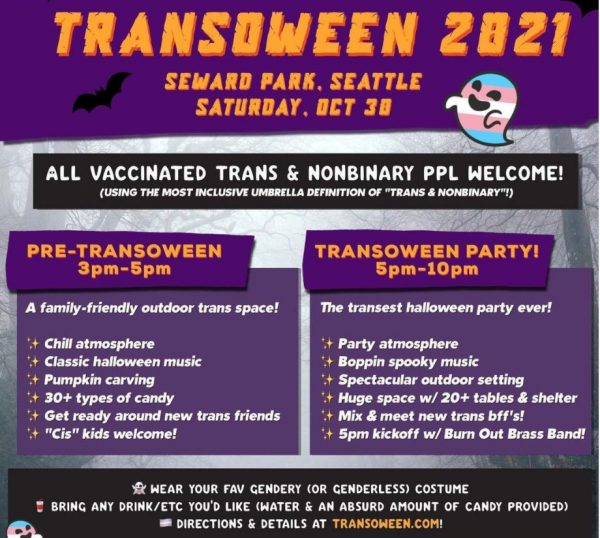 WHEN: Saturday October 30th – 3-5pm (pre-transoween), 5pm-10pm (transoween)
WHERE: Seward Park, Shelter #3. A huge and gorgeous clearing by the old growth forest, with 20+ picnic tables and tons of space. We have it reserved, and it's all for us.
WHO: All trans and/or nonbinary folks — using the broadest definition, including two-spirit, agender, gender non-conforming, questioning, and other folks who aren't cis. Emotional support cis are okay to bring with you if needed!
WHAT: From 3-5pm it'll be a chill spot with candy, some music, a family-friendly atmosphere, and pumpkin carving (bring your own pumpkin!). From 5pm-10pm it'll be a fun outdoor chill party with all kinds of halloween candy, music, and a great atmospheric vibe (sundown at 6pm).
HOW: There's a big parking lot right next to our spot and it's wheelchair-accessible. There are two other very close parking lots for overflow. It's also on the Metro Route 50 which comes from West Seattle, SODO, Columbia City, and Othello light rail stations. Lyft/Uber and carpooling are other alternatives — check the FB event and ask for carpool buddies. See the area map here!
WHAT TO BRING: Your awesome self, a genderful (or genderless) costume — optional but highly recommended, and if you want, bring your own drinks and/or food. There will be candy and water — you bring anything else you want to have a good time! Bring a pumpkin if you want to carve one during 3pm-5pm.
SAFETY: BE COVID VACCINATED OR DON'T COME! We hope that the covid situation will get better by the end of Oct and we'll monitor if we need to cancel. Keep each other safe!! It'll get dark but we plan to have plenty of moody light from the parking lot to our area. We're around the woods and the lake and it'll get dark — be SAFE ok???? We love you.
(Visited 18 times, 1 visits today)