Annoyingly, Halloween 2016 is on a Monday this year…who the hell goes out on Monday?
In Seattle, the answer is: NO ONE!
OK…to be fair, there are actually events happening on Monday, October 31…the men of Collide-O-Scope are throwing a big fancy viewing party at the Egyptian Cinema on Pike Street instead of their usual hauntings at Re-bar Place. And, crazy Cucci Binaca is having a "Spooky Weed" party down at Kremwerk. Neighbours is hosting Gay Gaymers and The Cuff is…serving booze in a spooky sort of way with DJ Matt Stands. We're assuming every bar on the Hill/in Seattle/in the world that observes Halloween will be doing SOMETHING "spooky" on Monday involving booze and rotting pumpkins.
It's also a tad sad that several of our big queer Halloween traditions have kicked the bucket. Gay City slowly strangled the once popular BUMP! Halloween party to an untimely death…it hasn't happened in a couple years and no one else has stepped up to the plate to do a big community event. (We would, but we really can't afford it…) And, since the Broadway Grill was mismanaged to death three years ago, the other big fun Costume Party event is also toast.
But, there are a few "biggie-ish" events.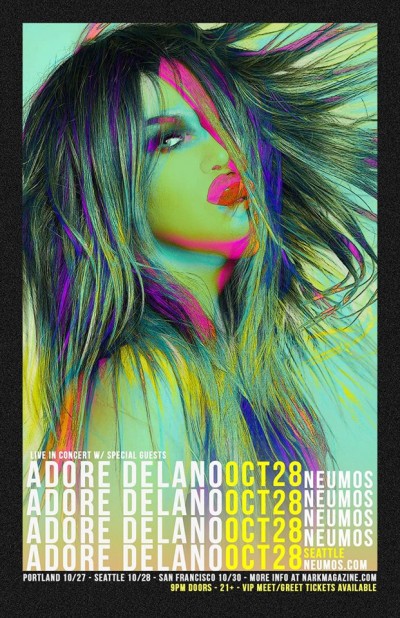 On Friday, October 28th you can check out the vaguely scary ADORE DELANO in a live show at Neumos. It's not specifically Halloweeny, but Adore's vocal fry IS a bit terrifying. NIGHT OF A 1000 BOWIES at The Triple Door is also not that scary…our much missed Ziggy rises from the dead to wreck havoc on the idiots of the world!!! But, it does sound like fun for all of us who miss our David.
Neighbours has an event…The Cuff has a Masquerade…EMP is showing beloved horror classic CARRIE in their awesome Sky Church space. "Plug it Up" on that screen will be SPINE TINGLING!!!!
For all the Friday options, check out our Calendar HERE!
Saturday, October 29 seems to be the "Big Day" for events. For family friendly fun there's the annual HILLOWEEN event on Capitol Hill that has several different events for different groups including indoor activities at Seattle Central plus Trick or Treating at businesses on Capitol Hill, then more adult fun with a Zombie Bar Crawl. Neither event is LGBTQ specific, but are LGBTQ friendly.
Hilloween, Capitol Hill's favorite kid-friendly Halloween event returns Saturday, October 29th and it's sure to delight kids of all ages. This community party is FREE and open to everyone – designed with kids in mind – but just as fun for adults too.

The indoor kid's carnival returns this year to the Seattle Central College's Mitchell Activity Center for an afternoon of fun age-appropriate activities, Halloween- themed games, live performances, and fabulous tricks and treats!

Featuring:
DJ Tony Burns (Kendall's DJ & Event)

Performances by:
ImaginationBand
RainbowGore Cake
Jude Sack, Magician

Scary Storytime with: Aleksa Manila

The carnival concludes with our signature costume parade led by the Chaotic Noise Marching Band and trick-or-treating with participating merchants along Broadway, Pike and Pine.

SATURDAY OCTOBER 29, 2016
12-3 PM Kid's Carnival
12-12:30 DJ Tony Burns
12:30-12:50 Aleksa Story Time
12:50 -1:10 DJ Tony Burns
1:10-1:30 Magician Jude Sack
1:30-1:40 Rainbow Gore Cake
1:40-1:55 DJ Tony Burns
1:55-2:30 ImaginationBand
2:30-2:45 DJ Tony Burns
2:45-3:00 Chaotic Noise Band

3 PM Costume Parade
3-6 PM Trick-or-Treating on Broadway and Pike/Pine
3-6 PM Haunted Bank Laboratory @ 1st Security Bank

For the "big kids" (ages 21+) Zombie Pub Crawl event, visit https://www.facebook.com/events/1166537483404041/

5:45 PM CREEPY CRAWL KICK-OFF AT MOE BAR (1425 10TH AVE)
6 PM – 9 PM ZOMBIES DISPERSE TO THE STREETS
9PM HALLO-SCREAM PARTY AT CANTERBURY (534 15TH AVE E)

Zombies and zombie hunters will gather at MOE BAR at dusk to collect their maps and enjoy a SCREAMING GOOD DEAL before dispersing to the streets for the creepy crawl.

The zomb-i-fied pub crawl is self-guided, and zombies are welcome to join the crawl at any Zombie Crawl Stop between 6 and 9PM. A limited supply of maps will be available at all participating locations.

The creepy crawl wraps up at the CANTERBURY ALE HOUSE where Zombies will gather for a SCREAMING GOOD PARTY and enjoy more Zombie specials and a costume contest!
Saturday continues with pretty much every venue having a big party/event and pretty much every possible group gets SOMETHING to do…for the lady loving ladies, there's the Wildrose Halloween Party and Inferno's early evening dance event at Neighbours plus the KINGS drag show at Kremwerk.
Lambert House is hosting a Halloween Party for the underage crowd….but while KLUB KID HALLOWEEN sorta sounds kid friendly, it's not. It's a krazy alternative queer costume party at the queer friendly Lava Lounge in Belltown and it has a costume contest and live entertainment for the over 21 crowd.
The Sisters of Perpetual Motion-Abbey of St. Joan host their big annual party BITTEN at R Place. Neighbours, The Cuff, Purr, Pony, CC Attles and The Eagle all have special spooky events many with costume contests. Kremwerks has DEAD CELEBRITY HALLOWEEN…even gay men's bath house Steamworks is getting in on the action with a Halloween themed MR. STEAMWORKS PAGEANT.
For the complete list of Saturday events, check out the SGS calendar for October 29, 2016.
As for Sunday, October 30…there's not much Halloween themed on hand. You should rest up that day…go see a movie.
Send home the person you picked up the night before…
Oh, and have a Happy and SAFE Halloween!!!! Do not walk around by yourself after dark! Do not walk around in any kind of impaired state! (Obviously, do not DRIVE in an impaired state!!!) Keep an eye on your drink at all times!! Look out for your "hot mess" friends and make sure THEY stay safe!!
DON'T ALL OF YOU DRESS UP LIKE "BARB" FROM STRANGER THINGS!!!!!
(Visited 1 times, 1 visits today)