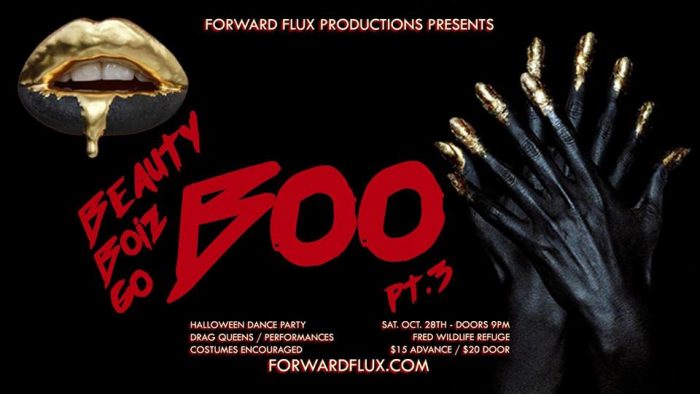 We have another Halloween Event to announce….the awesome theater/event producing team at Forward Flux is once again teaming up with the Beautyboiz for their third Halloweenie Collaboration…this year, they're moving Beauty Boiz Go BOO, pt. 3 to Fred Wildlife Refuge for their Saturday, October 28 shenanigans.
Their skinny:

You're reluctantly clinging to the end of summer, but summer is over, honey. If you haven't figured out what you wanna be for the spookiest night of debauchery, you better hurry up & add that shit to your shopping cart right now.

On Saturday, October 28th from 9pm-2am, for the third year in a row, Forward Flux is partnering with the Beautyboiz to throw the epic Halloween dance party get-down of the year.

The Forward Flux & Beautyboiz witches have been planning your perfect Halloween dance party all year (yas really). Have you been blessed enough to get down & dirty the last two Halloween parties hosted on Summit Ave?? Guess what. We outdid ourselves again with a major upgrade. Unlike past shindigs, this will be just a few streets up, at Fred Wildlife Refuge (128 Belmont Ave E, Seattle, Washington 98102)! It's a refuge for all that wild-ass life we gunna bring!

Join hosts Adé, Uh-Oh Face and Haus of Shade for the gayest Halloween fest evah including two floors of music, dancing (DJ Howin 1000, more), drinking (full bar, yo), spooky installations from Zane Exactly, and more. Costumes encouraged – there will be a serious eye roll at the door if you come dressed "as yourself."

Here's a list to get str8 to the point:

-Appearances by sexy Drag Queen stars
-Atleast 3 girls dressed as Daenerys Targaryen
-Spooky Halloween installations by artist Zane Exactly
-DJ's, like DJ Howin and more
-Ghouls, other scary undead dead things etc.
-Full bar
-More than 1 bathroom (omfg), and all gender free (duh)
-Cute boys!
-Dance floor

This is going to be the scariest… the nastiest… the sexiest zombified witch's brew-drinkin history-making gasp-inducing death-dropping loud-shrieking finger-snapping yass-gawding shade-throwing intoxicating party that has hit Capitol Hill in decades!

Forward Flux Productions presents

Beauty Boiz go BOO, pt. 3

Halloween costume & dance party

Fred Wildlife Refuge

128 Belmont Ave E, Seattle, Washington 98102

Saturday, October 28th, 2017

9pm-2am

Full bar, 21+ only. ID required for entry.
(Visited 1 times, 1 visits today)