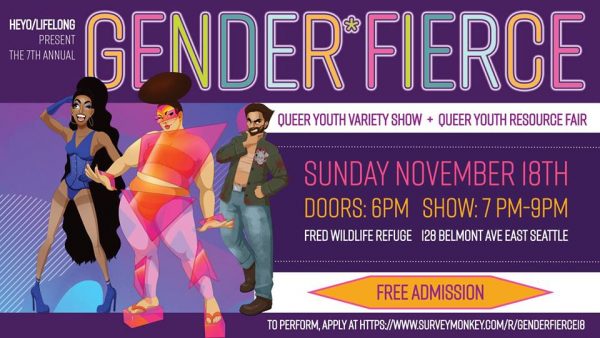 Time to get FIERCE!
Well, everyone should be fierce but this call for fierceness is more for the under 24 year old crowd….it's a call for performers (and fans to attend) this year's GENDER FIERCE an LGBTQ Youth Talent Show that's happening this upcoming Sunday, November 18th at Fred Wildlife Refuge on Capitol Hill. 
Produced by Lifelong and their Health Education and Youth Outreach (HEYO) program, Gender Fierce is a fun event for queer youth of all ages but obviously ideal for the under 21 crowd who can't access bars and clubs for entertainment.
It's all a terrific showcase for young performers who also can't access most options to get performance experience since the majority of those kinds of opportunities tend to be in bars.
It's not too late to sign up to perform; more info and links below.
And, as for tickets, you don't need them! It's a free event…but do remember this is an event for those under 24. Though we're GUESSING if you're 25 and attending with your 20 year old date, they probably wouldn't throw you out.
Join Lifelong on November 18 for Gender Fierce: an LGBTQ youth talent show.

Gender Fierce strives to empower the LGBTQ youth, by giving them a platform to showcase their most authentic selves to their Seattle community.

With the current administration and Department of Health and Human Services attempting to undermine the human rights of transgender people, this event is more important than ever.

Gender Fierce is a place to come together as a community and show that Seattle is a united group that stands up against LGBTQ discrimination and injustice.

Event information

Date: Sunday, November 18, 2018
Time: Doors open at 6pm & the show runs 7 – 9pm. 
Location: Fred Wildlife Refuge (128 Belmont Ave E, Seattle, WA 98122)
Cost: Gender Fierce is FREE. Come and support the LGBTQ youth!

More information: lifelong.org/gender-fierce/

Gender Fierce is produced by Lifelong's Health Education and Youth Outreach (HEYO) program. The program is built on four main principles: sexual empowerment, community building, social justice, and leadership development. Lifelong's Health Education Youth Outreach (HEYO) is a queer youth (16-24 years old) sexual health education program that strives to foster a community that prioritizes empowerment, self-determination, and resiliency over stigma, fear, and condemnation. Through monthly events, young LGBTQ youth will gather to create community, offer peer support, and gain education around sexual health and queer themes.

About Lifelong: Lifelong is a community health organization committed to empowering people living with or at risk of HIV and/or other chronic conditions to lead healthier lives. Lifelong has always been an organization that stands up for communities facing discrimination and marginalization.

Gender Fierce is a queer talent show of young performers wishing to showcase their most authentic selves to their community, in an effort to encourage authenticity, resilience, and artistry. During these trying times, it is important to support the upcoming LGBTQ generation of leaders, artists, and revolutionaries!

Whether you are interested in being a performer or an attendee at Gender Fierce, we are excited to see you all there!

——————————————————————————
Calling all LGBTQ Young Performers!

Lifelong's Health Education Youth Outreach (HEYO) program is looking for YOU to be a part of this year's Gender Fierce extravaganza.

If you identify as LGBTQ, are 24 years old or younger, and have a special talent you want to share with the Seattle community, join us!

To perform, apply at: www.surveymonkey.com/r/GenderFierce18
(Visited 1 times, 1 visits today)