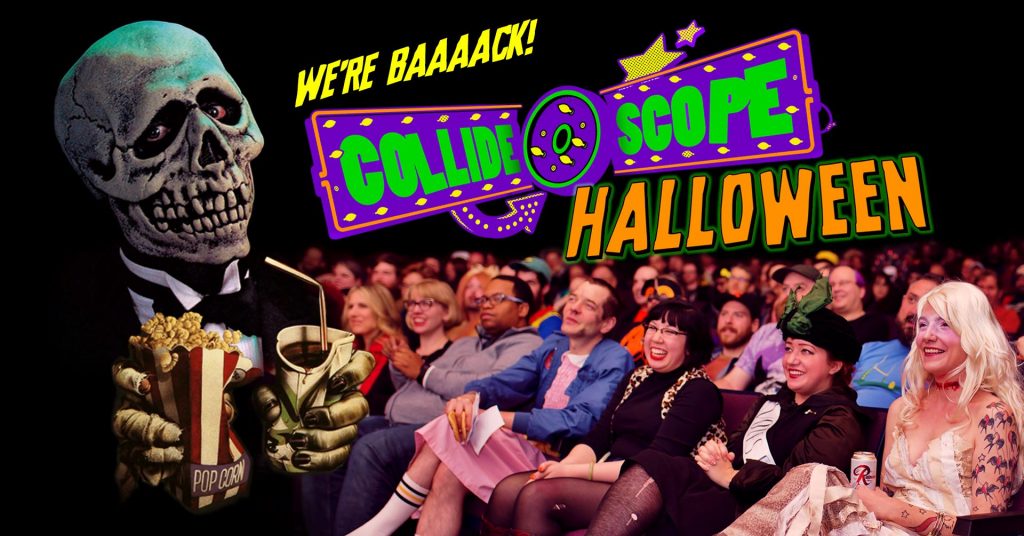 Step One:
Go to the Seattle Gay Scene Calendar to seek out all the known LGBTQ+ event/shows/parties going on over Halloween Weekend from Thursday, October 28 through Sunday, October 31st!
Why?
Well, because we're really the ONLY LGBTQ+ Calendar of Events in Seattle! There's a couple websites that do calendars that might have a tiny handful of events…we try and list EVERYTHING that comes across our line of vision!
So, enough bragging about the Calendar…let's get to the nitty gritty of WHAT your options are for Halloween fun for LGBTQ+ Seattle Halloween 2021. Obviously, there are a lot more options than last year when Covid had EVERYTHING shut down. This year, everything is pretty much back open but you'll need to be masked for all events and be able to show proof you've had a Covid vaccination or a very recent negative outcome on a Covid test!
Also, if you think we missed an event, then let us know! Send to " info @ seattlegayscene. com "!!!
October 28 @ 7:00 pm – 10:00 pmKremwerk, 1809 Minor Ave
Seattle, WA 98101 United States + Google Map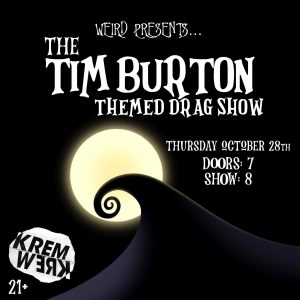 WEIRD proudly presents a very special drag tribute to the cinematic world of Tim Burton! with Londyn Bradshaw Cookie Couture Issa Man Mercury Divine Kristie Champagne + Stacey Starstruck WEIRD: A new drag show tribute every month! Thursday, October 28th Door: 7PM ⎮ Show: 8PM ⎮ 21+ Kremwerk » 1809 Minor Ave. #13 presale / […]Find out more »
October 28 @ 7:00 pm – 11:00 pmThe Vera Project, Warren and Republican
Seattle, 98109 United States + Google Map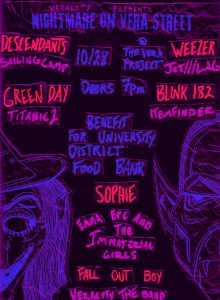 Veracity Presents Nightmare On Vera Street: A Cover Show Benefit for The University District Food Bank Thursday, October 28th, 2021 7:00 PM Doors Proof of Vaccination and Masks are Required $10 or entry at the door with donations of canned food or hygiene products Costumes are encouraged Performances by Greenday, Weezer, Blink-182, Sophie, Descendents and […]Find out m
October 28 @ 7:30 pm – 1:00 amTimbre Room, 1809 Minor Ave.
Seattle, 98101 United States + Google Map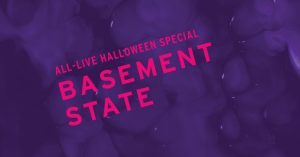 Basement State presents a Halloween special of LIVE electronic music. We invite you to lose yourself in the darkness of the night with bass, drums, and piercing synths that are sure to raise the dead. Costumes encouraged. Tickets: https://link.dice.fm/BtEJapVy5jb LINE UP Herr Shield DJ Weak Acid Raica Former Party Interludes: Machete Assholes Live Gore: Meat Week […]Find out more »
October 28 @ 8:00 pm – 12:00 amVermillion Art Gallery and Bar, 1508 11th Ave
Seattle, 98122 United States + Google Map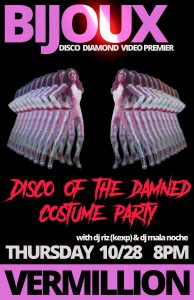 Join us for a night of ghoulish gaieties as we celebrate & screen the video premier of Bijoux's debut single Disco Diamond directed by Marcy Stone-Francois. DJ Riz (KEXP) & DJ Mala Noche will be summoning bloodcurdling beats & macabre melodies to get your boo-ty scootin'. The theme of the evening is Disco of the […]Find out more »
October 29 @ 7:00 pm – 10:00 pmRhein Haus Seattle, 912 12th Ave
Seattle, WA 98122 United States + Google Map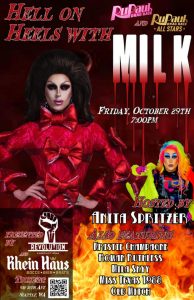 We're Back! More shows at Rhein Haus – all inside this FALL! Revolution Productions and Rhein Haus Seattle presents: Hell on Heels w/ Milk! Friday, October 29th! Join us for a SPOOKY time at Rhein Haus with Milk from Season 6 and All Stars 3 of Rupaul's Drag Race! A Spooky Drag Extravaganza! Performances by: […]Find out more »
October 29 @ 8:00 pm – 10:00 pmSkylark West Seattle, 3803 Delridge Way SW
Seattle, WA 98106 United States + Google Map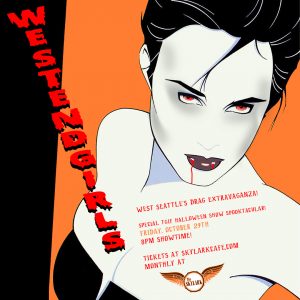 BOO—West End Girls returns for our annual Halloween Drag Spooktacular on Friday, October 29th (that's right, a special Friday night show)! Join our hostess, Cookie Couture, and your West End drag favorites: Londyn Bradshaw and Betty Wetter, and special guests D'monica Leone, Solana Solstice, and Jane Don't! Come early to grab a table and dinner. […]Find out more »
October 29 @ 9:00 pm – October 30 @ 4:00 amMonkey Loft, 2915 1st Ave S
Seattle, 98134 United States + Google Map

Note: Not an LGBTQ specific event. Open to all. After a much too long hiatus, Noise Complaint is back with a very spooky edition of everyone's favorite party, as we turn Monkey Loft into the sort of haunt where goblins, ghouls, ghosts, vampires and everything in between can come dance the night away to a […]Find out more »
October 29 @ 9:00 pm – 12:00 amQueer Bar, 1518 11th Ave
Seattle, 98122 United States + Google Map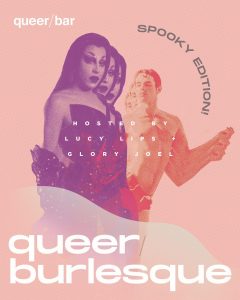 Queer/Burlesque Friday, October 29, 2021 9:00 PM 11:55 PM Queer/Bar1518 11th AvenueSeattle, WA, 98122United States (map) It'ss bacccck, Halloween edition! Hosted by Lucy Lips & Glory Joel Performances by: Moscato Extatique Falcon Ay Dahlia Mae Kennedy Colby Carson St. Clair Cover at doorFind out more »
October 29 @ 9:00 pm – October 30 @ 4:00 amSupernova Seattle, 110 South Horton Street
Seattle, WA 98134 United States + Google Map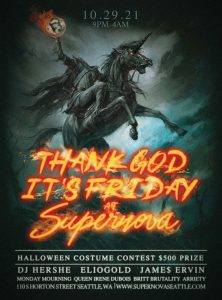 It's Halloween weekend and we want to see your best costumes! Enter our costume contest for your chance to win a $500 Supernova gift card, Supernova T-shirts, VIP admission and MORE! Thank God It's Friday at Supernova features your favorite vocal house dance party anthems with the occasional current hit! Do you believe in life […]Find out more »
October 29 @ 9:00 pm – 2:00 amThe Crocodile, 2505 1st Avenue
Seattle, WA 98121 United States + Google Map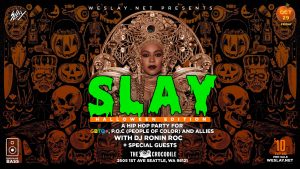 WESLAY.NET PRESENTS: SLAY Slay is first and foremost a safe space! SLAY: Halloween Edition!!! October's Edition of SLAY fall's on Halloween weekend, So you know we have to do a special Halloween SLAY edition! So what we are asking is that if you plan on coming to SLAY "DRESS UP" in your most fantastic Halloween costumes! […]Find out more »
October 29 @ 9:00 pm – 11:00 pmOlmstead Seattle, 314 Broadway E
Seattle, WA 98102 United States + Google Map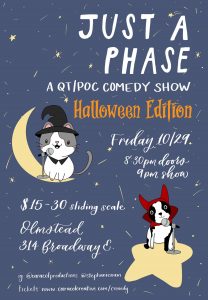 JUST A PHASE is a monthly comedy showcase that highlights QT and/or POC comics cause we're funnier anyways. This is a special Halloween edition of our monthly showcase! We will have comedy, costumes, a pet costume contest, games, and more! Lineup: hosts – Stephanie Nam & Jaleesa Johnson $15-30 sliding scale Proof of vaccination is […]Find out more »
October 29 @ 9:00 pm – 2:00 amClock-Out Lounge, 4864 Beacon Ave S
Seattle, 98108 United States + Google Map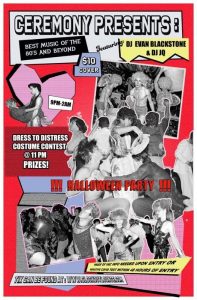 Ceremony Presents SCAREMONY HALLOWEEN EDITION Featuring DJ Evan Blackstone and DJ Q Best music of the 80's and beyond FRIDAY OCTOBER 29TH 9PM-2AM 21+ $10 DRESS TO DISTRESS COSTUME CONTEST @ 11 PM PRIZES Find out more »
October 29 @ 9:00 pm – 2:00 amKremwerk, 1809 Minor Ave
Seattle, WA 98101 United States + Google Map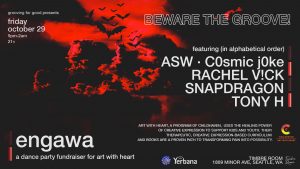 BEWARE THE GROOVE. About this event Grooving for Good Presents: Engawa: a (spooky) dance party fundraiser for Art With Heart!!! A Night of Genre-Bending Dance Music, original works, live singing, lasers, Yerba Mate, and more! 9pm – 2am // 21+ // $15 Presale // 1809 Minor Ave, Seattle, WA 98101 // featuring (in alphabetical order): […]Find out more »
10:00 PM
October 29 @ 10:00 pm – 3:00 amKremwerk, 1809 Minor Ave
Seattle, WA 98101 United States + Google Map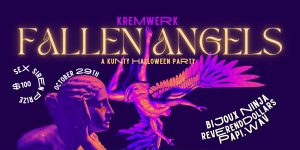 Come ready to SERVE at Fallen Angels, a party catered to the sexy spirits and fabulous ghouls who dwell through cemeteries at night. As we pay homage to the QTPOC ballroom community, be ready to get kunty and spiral with the girls to nostalgic cuts, house and vogue beats by the fab Bijoux Ninja, Papi.Wav […]Find out more »
October 30 @ 5:00 pm – 10:00 pmSeward Park, 5902 Lake Washington Blvd S
Seattle, 98118 United States + Google Map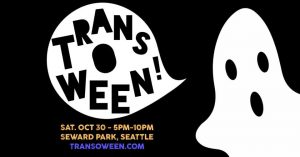 Let's dress up and get spoOooky! Over 300 beautiful trans & nonbinary people showed up for our Seattle Trans Picnic in Aug, and Seattle Trans Beachday in Sept, and now it's time for a party! Come up with your most genderful (or genderless) costume and celebrate halloween the trans way. I don't know all the […]Find out more »
5:30 PM
October 30 @ 5:30 pm – 9:00 pmRenaissance Seattle Hotel, 515 Madison Street
Seattle, WA + Google Map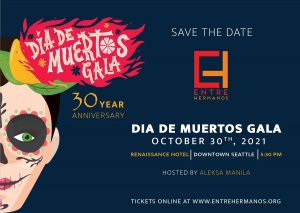 Join us to celebrate the 30th year anniversary of Entre Hermanos in honoring beloved ancestors and continuing the fight for LGBTQ+ and immigrant rights! Since 1991, Entre Hermanos has promoted the well being of LGBTQ+ Latinos in Washington State through medical case management, legal services, civic engagement, and community building. All event proceeds of this […]Find out more »
6:00 PM
October 30 @ 6:00 pm – 9:00 pmKremwerk, 1809 Minor Ave
Seattle, WA 98101 United States + Google Map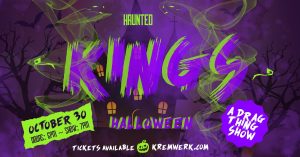 Kings A Drag King Show Presents:  HAUNTED KINGS  Haunted by the spotlight the Kings roam the halls and stages of kremwerk seeking to take over your mind body and soul !  Hosted by Samuel L Jack You Son and friends ! Lineup TBA Tickets: https://link.dice.fm/Yx6hSU0zkkb Time: 6pm Doors 7pm Show ……………………………………… MASKS Due to […]Find out more »
October 30 @ 7:00 pm – October 31 @ 4:00 amThe Cuff Complex, 1533 13th Ave
Seattle, WA 98122 United States + Google Map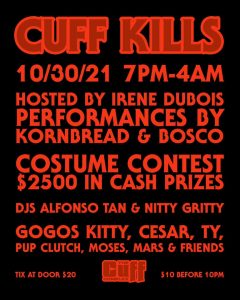 The Cuff does Halloween right, and we can't wait to have you! Join us for a night of debauchery featuring a costume contest with $2500 in cash prizes and THE KILLER SHOW with performances by Kornbread, Irene Dubois, and Seattle's own demon queen, Bosco! Dance all night with djs Nitty Gritty and Alfonso Tan- we're […]Find out more »
October 30 @ 7:00 pm – 12:00 amEmbassy Suites Hotel-Tukwila, 15920 West Valley Highway
Seattle,, WA United States + Google Map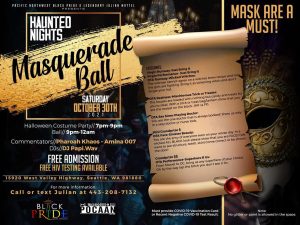 There's been a vague promise of a Pacific Northwest Black Pride event happening for several months but no firm information other than a date of Halloween weekend but finally some specific info emerged on Monday, October 18th on the PNW Black Pride Facebook page that a "Haunted Night's Masquerade Ball" will happen on Saturday, October 30th at […]Find out more »
8:00 PM
October 30 @ 8:00 pm – 12:00 amSouthgate Roller Rink, 9646 17th Ave SW
Seattle, 98106 United States + Google Map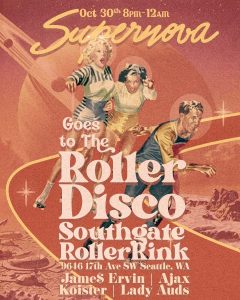 Wear your Halloween costume or Disco threads and roll with us to Southgate Roller Rink for a Halloween Roller Disco like no other! Groove and glide as resident Supernova DJs spin Disco classics and NuDisco favorites live from the center of the rink! Tickets include skate rental and there is a "double header" ticket option […]Find out more »
October 30 @ 9:00 pm – October 31 @ 4:00 amSupernova Seattle, 110 South Horton Street
Seattle, WA 98134 United States + Google Map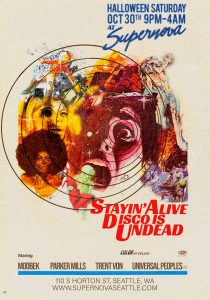 This Halloween Disco isn't dead… it's undead! Zombie Disco is the theme, but we encourage you to wear any costume you like! Stayin' Alive is the past, present and future of Disco! Guest and resident DJ's spin classics and NuDisco favorites accompanied by our resident live musicians and in-house band, Universal Peoples! Be dazzled by […]Find out more »
October 30 @ 9:00 pm – 1:00 amOlmstead Seattle, 314 Broadway E
Seattle, WA 98102 United States + Google Map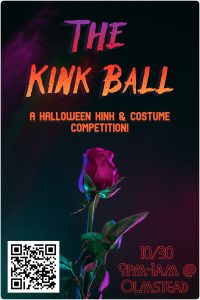 The Flamingo Room @Olmstead Presents: _-=The Kink Ball=-_ A Halloween Costume & kink competition FOR THE GAWDS HUNNY! Calling all Cosplayers & Kinksters!!! There will be gags, there will be gifts! What to expect- A. An Absolutely fabulous local DJ- (ANNOUNCEMENT INCOMING!!!) -spining sexy & spooky tunes 9pm-1am. B. A Competition judged by your host, […]Find out more »
October 30 @ 9:00 pm – 2:00 amChop Suey, 1325 E Madison St
Seattle, 98122 United States + Google Map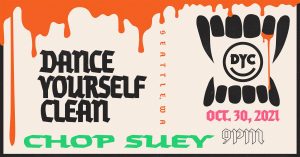 Note: Not an LGBTQ specific event. Open to all. Dance Yourself Scream – Halloween Edition 9:00pm – 2am | 21+ $10 Tickets At Door *All patrons must show proof of completed Covid-19 vaccination or negative test within 48hrs. Playing Indie Electronic Music by: LCD Soundsystem | Rufus Du Sol | Tame Impala | Empire Of […]Find out more »
October 30 @ 9:00 pm – October 31 @ 4:00 amNeighbours Lounge & Club, 1509 Broadway
Seattle, WA 98122 United States + Google Map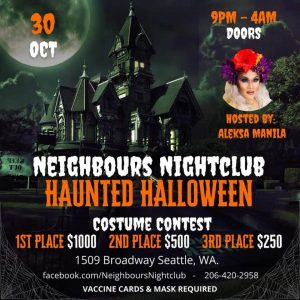 HAUNTED: Neighbours big annual Halloween Party and Costume Contest hosted by Aleksa Manila! 9pm to 4am Masks/vaccine proof required Halloween Costume Contest @ Midnight CASH PRIZES 1st Place $1000 2nd Place $500 3rd Place $250 Hosted by Aleksa Manila Dancing with DJ Randy Schlager 9PM-4AM 18+ After 2AM!Find out more »
10:00 PM
October 30 @ 10:00 pm – 12:00 amQueer Bar, 1518 11th Ave
Seattle, 98122 United States + Google Map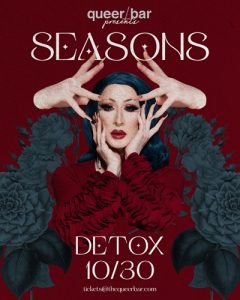 Queer/Bar Halloween Special: Detox w/ Ms. Juicy Baby The most killingest crossdresser on the planet is coming to queer/bar! She wowed us on RuPaul's Drag Race Season 5 & All Stars Season II, it's Detox! The neon priestess will be here for one night only, our very special Halloween show! The little lady that is […]Find out more »
October 30 @ 10:00 pm – October 31 @ 5:00 am1st & Bell, 2218 1st Avenue
Seattle,, WA 98121 United States + Google Map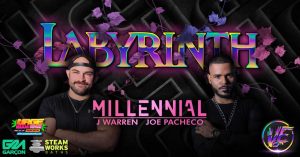 Boo! I'm sorry, did I frighten you? Perfect, because it's time to join Verotica and her goblins in the LABYRINTH with the most ghouly duo MILLENNIAL, J Warren & Joe Pacheco. We can't promise you'll escape from the dark room. But that's what you wanted, right? Spend your haunted eve with us and get lost […]Find out more »
October 30 @ 10:00 pmTimbre Room, 1809 Minor Ave.
Seattle, 98101 United States + Google Map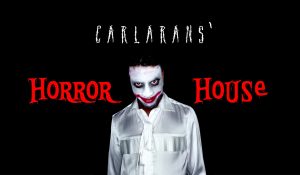 Timbre Room boldly presents..  CarLarans' Horror House  THE Queer Dance Halloween Party of the season is happening – and it is going to be a MF SCREAM, Muahahaha! Hosted by your favorite dark daddy CarLarans, Come shake your spooky asses all Saturday night the weekend of Halloween with beats by the one and only,  DJ […]Find out more »
12:00 PM
October 31 @ 12:00 pm – 6:00 pmThe Vera Project, Warren and Republican
Seattle, 98109 United States + Google Map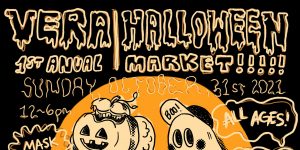 Note: Not an LGBTQ specific event. Open to all. Join us for the 1st Annual Vera Halloween Market! Makers, Records, Clothes and more! All Day Monster Mash & Costume Party Free! Donations accepted Please bring proof of vaccination and mask! Always All Ages If you are interested in selling please fill out the form below! […]Find out more »
5:00 PM
October 31 @ 5:00 pm – 7:00 pm|Recurring Event (See all)Oddfellows West Hall, 915 E Pine St
Seattle, WA 98122 United States + Google Map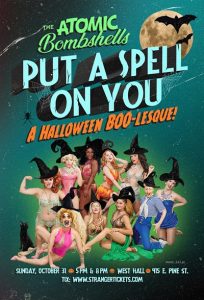 The Atomic Bombshells… PUT A SPELL ON YOU! A Halloween BOO-lesque! Sun, Oct 31 at 5pm at West Hall We will be following all Seattle covid safety protocols, including proof of vaccination for all attendees to enter, and mask enforcement in the theater. We appreciate you helping us to create a safe and fabulous return to […]Find out more »
7:00 PM
October 31 @ 7:00 pm – 9:30 pmSIFF Cinema Egyptian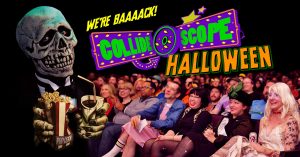 We're baaaack! Collide-O-Scope's annual Halloween celebration returns, live and in-person, with their one-of-a-kind found-footage phantasmagoria of hilariously hair-raising film freakouts and outrageous oddball video! A deliriously demented cavalcade of expertly crafted montage, packed with absurd pop culture ephemera, obscure oddities, and awesome music — all remixed and mashed into an evening of eerily epic entertainment. […]Find out more »
8:00 PM
October 31 @ 8:00 pm – 10:00 pm|Recurring Event (See all)Oddfellows West Hall, 915 E Pine St
Seattle, WA 98122 United States + Google Map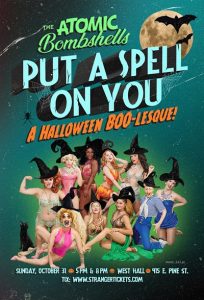 The Atomic Bombshells… PUT A SPELL ON YOU! A Halloween BOO-lesque! Sun, Oct 31 at 5pm at West Hall We will be following all Seattle covid safety protocols, including proof of vaccination for all attendees to enter, and mask enforcement in the theater. We appreciate you helping us to create a safe and fabulous return to […]Find out more »
October 31 @ 8:00 pm – 2:00 amTimbre Room, 1809 Minor Ave.
Seattle, 98101 United States + Google Map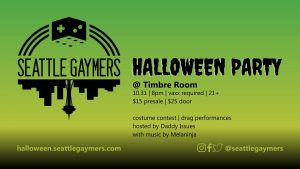 For the 5th year Seattle Gaymers is thrilled to throw our overlap party of spookiness and geekery. Join us at this fun-filled evening hosted at Timbre Room by Daddy Issues with music by Melaninja! And since it's Halloween, what's a party without a costume contest? Bring your A-game on and get a chance to snag: […]Find out more »
October 31 @ 8:00 pm – 10:00 pmKremwerk, 1809 Minor Ave
Seattle, WA 98101 United States + Google Map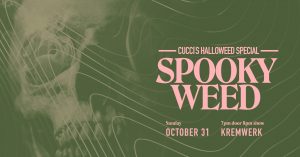 SPOOKY WEED: HALLOWEEN SHOW Performances By: Cucci Binaca Baby Beau Degas Diamond Lil Jane Don't Lük Lupe Mona Real 7pm Door 8pm Show Tickets: $13 Presale / $16 Door Get tickets: https://link.dice.fm/669Qfesamkb ……………………………………… MASKS Due to the Washington State Mask Mandate, masks are now required while one is not actively eating or drinking VACCINATIONS Proof of […]Find out more »
8:30 PM
October 31 @ 8:30 pm – 2:00 amSouthgate Roller Rink, 9646 17th Ave SW
Seattle, 98106 United States + Google Map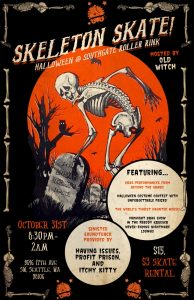 Come to SKETETON SKATE on HALLOWEEN hosted by OLD WITCH! Featuring…. DRAG PERFORMANCES from beyond the grave, a COSTUME CONTEST with unforgettable PRIZES, the WORLD'S TINIEST HAUNTED HOUSE, and a MIDNIGHT DRAG SHOW in the FREDDIE KRUEGER NEVER-ENDING NIGHTMARE LOUNGE!!! But wait, there's more…. LIVE MUSIC from HAVING ISSUES, PROFIT PRISON, & ITCHY KITTY!!! 21+ […]Find out more »
9:00 PM
October 31 @ 9:00 pm – 2:00 amSupernova Seattle, 110 South Horton Street
Seattle, WA 98134 United States + Google Map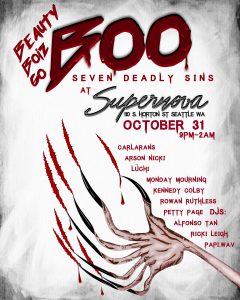 Get your costume ready queers, because it's time for our 7th annual Halloween Costume Dance Party! This Halloween, BeautyBoiz will transform Supernova into BeautyBoiz go BOO, Seven Deadly Sins. The event will feature seven sinful performances, a dance party with house and dark pop, and an open BeautyBoiz Runway with fashion photographers. There will be […]Find out more »
10:00 PM
October 31 @ 10:00 pm – 2:00 amNeighbours Lounge & Club, 1509 Broadway
Seattle, WA 98122 United States + Google Map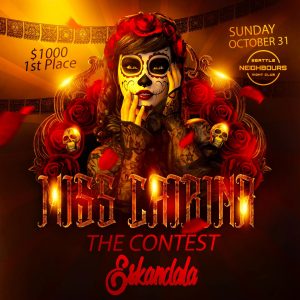 Miss Catrina The Contest $1000 First Place Get your outfits ready and may the best Catrina ..win!! #ESKANDALAFind out more »
October 31 @ 10:00 pm – 2:00 amChanges In Wallingford, 2103 N 45th St
Seattle, WA 98103 United States + Google Map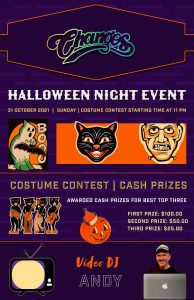 Your "Spook-tacular" Halloween Event is back… Halloween, Sunday the 31st is our annual contest with Video Dj Andy. Karaoke will not be happening this night, though Wednesday before will. Show your best and creativity, 1st place $100. 2nd place $50 and third $25… The contest begins at 11 PM.Find out more »
(Visited 50 times, 1 visits today)