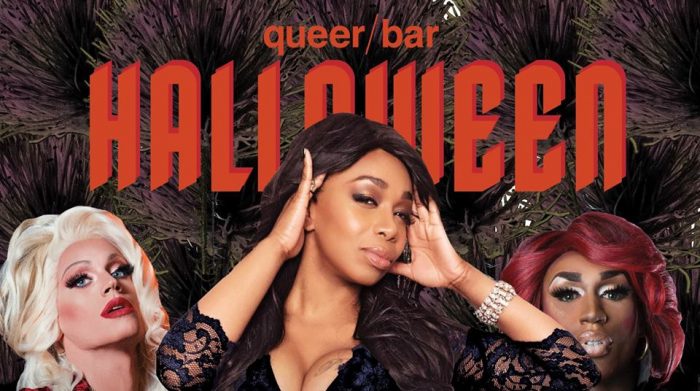 Since Halloween is midweek this year (next Wednesday) there's a whole week's worth of spooky partying going on with much of it centered on this weekend, Friday and Saturday the 26th and 27th (but there's fun stuff from now until the Big Day itself, too!)
Find out all the fun events/parties ranging from family friendly to down & dirty over at the SGS Calendar, HERE!
Some of the highlights for Friday & Saturday include:
FRIDAY, OCTOBER 26TH
NUT OF THE LIVING DEAD @ THE SEATTLE EAGLE with your zexy host Strawberry Shartcake: (The name of this event makes us giggle)
SLAY: A Hip Hop Party for LGBT, and People of Color @ Chop Suey: The monthly hip hop party is back for Halloween Weekend!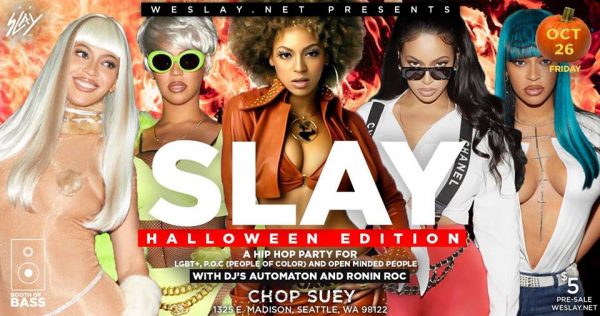 Night Of The Living and The Dead Halloween Bash! @ Clock-Out Lounge/Beacon Hill: Not specifically an LGBTQ event, but everyone is welcome at all events at this fun lounge/pizza joint on Beacon Hill!
Naughty Aughties: Ursula Major Takeover! @ The Wildrose: Former Seattle Lil' Monster Diva who went off to LA returns to town to takeover Naughty Aughties at the 'Rose!
SATURDAY, OCTOBER 27TH
Hilloween Carnival @ Capitol Hill: Saturday daytime fun for the entire family
QTPOC Halloween – Brian Is Ze / Nic Masangkay / Occlusions / Ace @ Cafe Red/South Seattle: Here's another event for Seattle's QTPOC community that features live performances!
Black Light Ball @ CC Attle's: Everyone's favorite bar on Olive Way does its annual Halloween Party with money being raised for Deaf Leathermen
Glitty Litter @ Palace Theatre & Art Bar: it's the Georgetown venue formerly known as The Conservatory and it's serving up some alter-draggy fun
HalloQueen: A Royal Ball @ The Backyard in Columbia City: More proof the South Side is embracing LGBTQ culture. The Backyard is hosting another queer friendly party in time for Halloween.
Queer/Bar Halloween Party + Costume Contest! is naturally AT Queer/Bar and it's a BIG party with special guest Tiffany "New York" Pollard and a big money costume contest!
BeautyBoiz go BOO pt.4 @ Fred Wildlife for their 4th annual costume extravaganza produced by Forward Flux and the BeautyBoiz. Another great option for QTPOC!
HER Seattle Party: Dark Magic @ Ora Seattle (2330 1st Avenue) in Belltown: FINALLY a Halloween Party for Womxyn hosted by the all femme social app HER.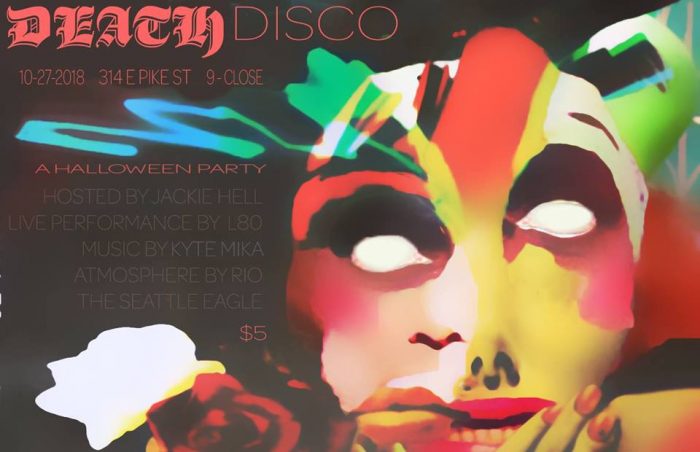 DEATH DISCO with Jackie Hell @ The Seattle Eagle: We are SO there for any Halloween Party with Jackie Hell on hand…she owns this holiday. Also with queer band L80!
Her-She's Chocolate: Bite of the Scorpion @ Clock-Out Lounge: OMG! Another QTPOC event! A few years ago, if you were any combo of black/brown/poc, queer/gay, trans/nonbinary you had like 3 options a year for events. Here's another fun option back at the Clock-Out on Beacon Hill.
Alpha Boy Halloween with Alfonso Tan & Tank Top @ The Underground: This is a hardcore circuit dance party in the heart of Seattle's oldest gay 'hood, Pioneer Square. Limited tix at door.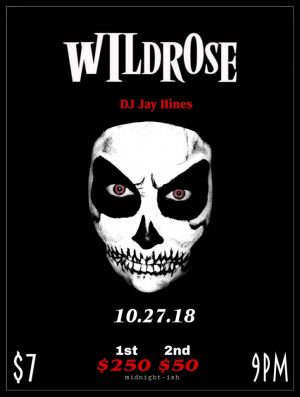 The Wildrose's Annual Halloween Party: Seattle's only lesbian bar serves up their very popular annual party/contest in the heart of Capitol Hill's Pike/Pine area.
Ceremony Halloween @ Re-bar: Ceremony is a beloved club night at alterna favorite Re-bar. It's not Queer specific but popular with many in the community.
Nightmares The Cuff Halloween Party : The Cuff welcomes a bevy of Drag Divas to Celebrate the Howlidays!
(Visited 1 times, 1 visits today)