It's Halloween Eve and if you're still standing after the weekend's rainy and drunken celebration of All Hallow's Eve, then you're undoubtedly plotting what to do on the Day itself, Wednesday, October 31st.
There's a surprisingly large amount of options for a mid-week holiday and you can check out all of them at the SGS Calendar HERE but we're gonna list out a few of our favorite choices right here!
For the women there's LEZ Sing Spooktacular Karaoke & Costume Contest! over at OutWest in West Seattle…it's a Karaoke/Costume party and everyone is invited.
The Crescent Lounge on the Hill Halloween Karaoke and Contest and  Changes in Wallingford Halloween Contest are both getting in on the seasonal fun, too.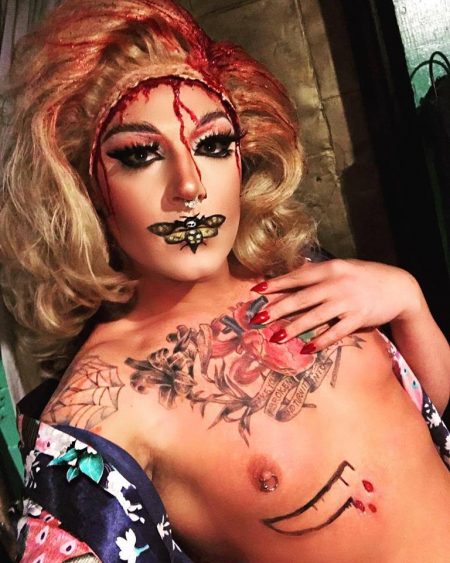 Isabella Extynn's Fright Night! is happening at a non-gay specific venue but Barça Lounge, 1510 11th Ave, is certainly VERY gay friendly.
Another alternative drag diva is hosting her weedy show down at Kremwerk: Cucci's Spooky Weed will get you high and terrified, while its sister club upstairs, The Timbre Room will present an encore drag show: A Drag Tribute to Tim Burton: Encore Presentation.
Meanwhile, Chop Suey is celebrating with a line-up of great bands including TACOCAT and MIRRORGLOSS: HALLOWEEN with Tacocat, Sleepover Club and Mirrorgloss at Chop Suey
For earlier in the evening fun there's the less booze heavy option of Collide-O-Scope Halloween 2018 where the Collide-O-Scope Boys take over the Egyptian Cinema on Capitol Hill for a special Halloweeny version of their Re-bar bi-weekly video show. It will be extra specially scary with plenty of frightful videos of local news personalities screwing up on camera! (Lookin' atchu Miss Connie!!!)
Seattle's own dark and twisted order of non-traditional nuns, will take over RPlace for their annual fundraiser: Sisters of the Corn: A Halloween Spooktacular produced by the Sisters of Perpetual Indulgence-Abbey of St. Joan. We're hoping RPlace will serve candy corn flavored cocktails…so you can wake up the next day and do your "business" and remark: "I don't remember eating candy corn last night…"
Pony's monthly goth night BLOODLUST happens this time of the month anyway so it's a lovely example of simultaneous orgasm that it coincides with Halloween! Bloodlust: Halloween!
The gay nerds are even getting in on the act with their own soiree at The Baltic Room: Seattle Gaymers Halloween Party. We're guessing there'll be lots of super hero spandex going on and Harry Potter robes for the chubbier inclined.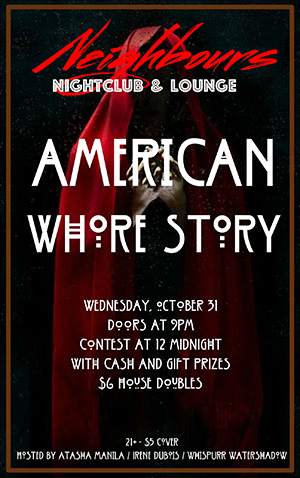 Seattle's beloved night club Neighbours is gettin' spooky with hostesses Atasha Manila, Irene Dubois, Whispurr Watershadow at the provocatively named American Whore Story: Halloween @ Neighbours! If EVERYONE comes dressed like whores then NO ONE can slut shame!!! #WhoresOfAFeatherFornicateTogether !!!!!
The other biggish party is Homoween @ Queer/Bar at queer/bar that kicks off at 9:30pm with the MX All-Stars "Nightmare on the Runway" competition show, followed by a spooky dance party with DJ Pretty Please.
As far as we can ascertain The Eagle, The Wildrose, The Cuff, Diesel and CC Attle's do not seem to be doing specific Halloween events on Wednesday, which might be smart counter programming for people NOT interested in costumes and traditional Halloween merriment…
Regardless of where you go (or, if you just stay home to eat candy and watch the fantastic new Sabrina show or The Haunting of Hill House, both on Netflix) have a fun, safe Halloween!
(Visited 4 times, 1 visits today)