It's Friday of Labor Day Weekend…do you have things to do?
If not, check out these options! We've listed Friday Fun options BELOW or head over to the fabulous SGS Calendar to see our huge calendar of events!
And, remember to bring proof of Covid 19 vaccination and your mask if you're venturing out tonight, or this weekend.
Events for September 3, 2021
6:00 PM
September 3 @ 6:00 pm – 10:00 pm|Recurring Event (See all)Kremwerk / Timbre Room Complex, 1809 Minor Avenue
Seattle, WA 98101 United States + Google Map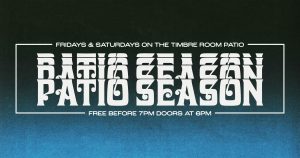 Take advantage of our limited Seattle Summer with some of our favorite local DJ's playing patio vibes every Friday & Saturday on the Timbre Room Patio! Please Note… ◈ You must RSVP by 5 PM on the Day of the event which you are attending to be eligible for free entry. ◈ Entry to Patio […]Find out more »
7:00 PM
September 3 @ 7:00 pm – 10:00 pmKremwerk, 1809 Minor Ave
Seattle, WA 98101 United States + Google Map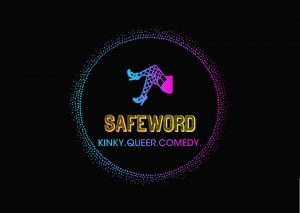 From the deranged mind of Seattle's Kinky Comedy Queen comes a Kinky Queer Comedy show!! -SAFEWORD Dirty Disco Dream Edition- *Wear Kink or disco theme, & maybe something good will happen* —– TIX: https://bit.ly/3C3HZbl —– * THE VERY NOT FINE/HUGE & IMPORTANT PRINT* -This is a sexy show, but it is in no way a sex […]Find out more »
September 3 @ 7:00 pm – 8:30 pm|Recurring Event (See all)Julia's on Broadway, 300 Broadway E
Seattle, WA 98102 United States + Google Map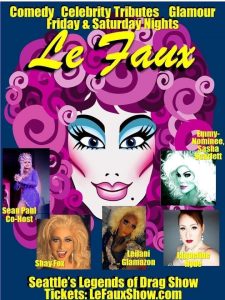 LE FAUX SHOW A celebrity impersonation/burlesque show featuring a full cast of professional impersonators, choreographed dancers and completely outrageous acts. You and your friends will have the time of your lives seeing our Las Vegas style productions. We are concert-like performances that are truly unbelievable. Le Faux is the largest cabaret-style celebrity impersonation show in […]Find out more »
September 3 @ 7:00 pm – 9:30 pm|Recurring Event (See all)The Cuff Complex, 1533 13th Ave
Seattle, WA 98122 United States + Google Map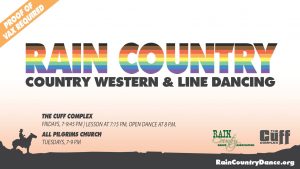 Welcome back to country dancing to the Cuff Complex, Rain Country Dance Association's home base since 2004! Join us from 7:00–9:45 pm each Friday, with free dance lessons at 7:15 pm. This week's lesson: Basic Two-Step + Mambo Moves Instructor: TBD / DJ: Ray Due to the rise of the Delta variant, the Cuff Complex […]Find out more »
8:00 PM
September 3 @ 8:00 pm – September 4 @ 4:00 am|Recurring Event (See all)Supernova Seattle, 110 South Horton Street
Seattle, WA 98134 United States + Google Map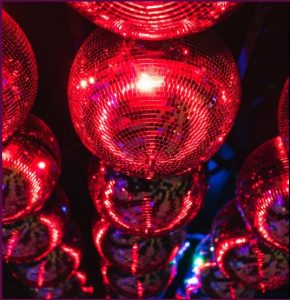 Thank God It's Friday at Supernova features Funky House, Chicago House, Vocal House and Gospel House DJ's accompanied by a circus troop of performers and entertainers! Expect the unexpected! Music by: Frida K Allen Oh Parker Mills Derek Pavone Dos Leches Tony H $25 before 10PM $30 after 21+ w/ID SGS Note: Supernova is LGBTQ […]Find out more »
September 3 @ 8:00 pm – 2:00 amCc Attle's, 1701 E Olive Way
Seattle, 98102 United States + Google Map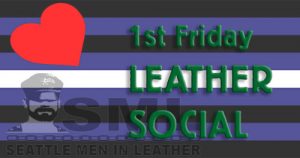 Join Seattle Men in Leather for the resumption of our 1st Friday Leather Social — this time at CC Attle's! Got to spread the leather love around! And now with most COVID restrictions lifted, we can really enjoy getting together with our fellow leathermen! NOTE: CC Attle's is currently vax-only. You must present proof of […]Find out more »
9:00 PM
September 3 @ 9:00 pm – 10:00 pm|Recurring Event (See all)Queer Bar, 1518 11th Ave
Seattle, 98122 United States + Google Map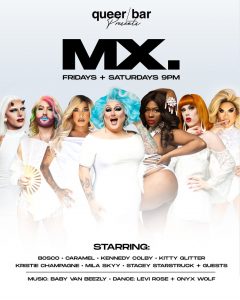 Bringing Back Our Girls! Queer Bar's MX Show Returns for LIVE shows!!! Starring Kristie Champagne, Kitty Glitter, Stacey Starstruck, Caramel, Kennedy Colby, and Mila Skyy! PLUS, special guests! Doors open at 5 and the show starts at 9 on Friday and Saturday! DJ Baby Van Beezly takes over from 11pm to close! Now […]Find out more »
September 3 @ 9:00 pm – 2:00 am|Recurring Event (See all)Pony, 1221 E Madison St
Seattle, WA 98122 United States + Google Map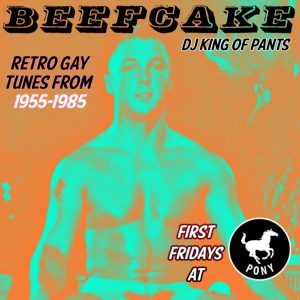 On first Fridays of the month we welcome back @djkingofpants for his monthly flashback to the heights of gay inspired disco/pop/rock from 1955-1985. 9pm. Free. 21+Find out more »
September 3 @ 9:00 pm – 2:00 am|Recurring Event (See all)Chop Suey, 1325 E Madison St
Seattle, 98122 United States + Google Map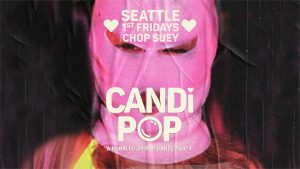 Note: Not a specific LGBTQ event; open to everyone. First Fridays 9pm to 2am 21+ Candi Pop – A Bubblegum Pop Dance Party Doors: 9:00 | 21+ Tickets $12 at the door A Candi Pop Dance Party littered with all of your guilty pleasures. Glitter, Lollipops, Rainbows, Unicorns… and Oh yeah, Girl Power! Playing Bubblegum […]Find out more »
September 3 @ 9:00 pm – 2:00 am|Recurring Event (See all)The Cuff Complex, 1533 13th Ave
Seattle, WA 98122 United States + Google Map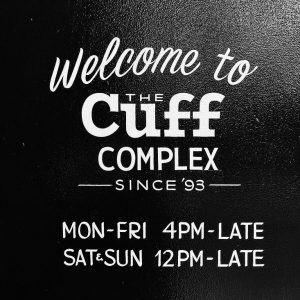 Dance, dance, dance the night away at The Cuff Complex every Friday and Saturday night. 9pm to 2am 21+ Cover varies depending on DJ and special event. Go to https://www.cuffcomplex.com/ for schedule of events and djs.Find out more »
September 3 @ 9:00 pm – September 4 @ 4:00 am|Recurring Event (See all)Neighbors Nightclub, 1509 Broadway
Seattle, WA 98122 United States + Google Map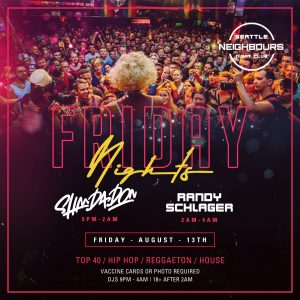 Friday RnB – Top 40- Hip Hop – House Dance music 9pm to 4am DJ Shan Da Don until 2am DJ Randy Schlager 2am to 4am 21+ until 2am 18+ after 2am Proof of vax requiredFind out more »
September 3 @ 9:00 pm – 11:30 pmQueer Bar, 1518 11th Ave
Seattle, 98122 United States + Google Map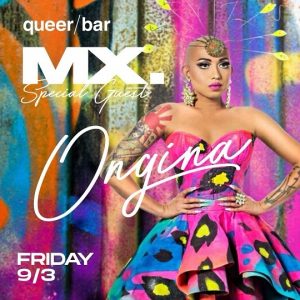 Surprise!! • This Friday @ongina is popping in to MX. at 9 p.m.Find out more »
September 3 @ 9:00 pm – September 4 @ 4:00 am|Recurring Event (See all)Steamworks Seattle, 1520 Summit Avenue
Seattle, WA 98122 United States + Google Map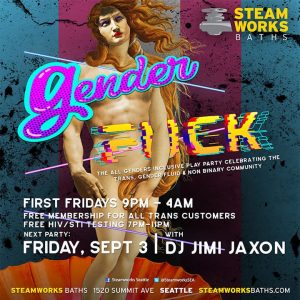 Join us tonight for GENDERFUCK, our Trans-friendly, ALL GENDERS-INCLUSIVE monthly event. Mention you're here specifically for Genderfuck, and we'll give you a FREE membership OR $5 OFF your entry. In the DJ Booth we have the incredibly talented and super sexy Jimi Jaxon, providing the soundtrack for YOUR Friday night. 9pm to 4amFind out more »
10:00 PM
September 3 @ 10:00 pm – 3:00 amKremwerk / Timbre Room Complex, 1809 Minor Avenue
Seattle, WA 98101 United States + Google Map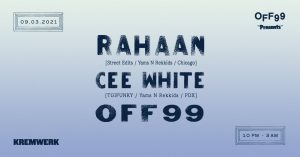 Off99 Presents… Rahaan "Legendary Chicagoan crate digger" — Boiler Room "He could almost be thought of as the connecting tissue between the original Chicago and New York DJing legends and contemporary acts like Motor City Drum Ensemble, Floating Points and Hunee." — Resident Advisor https://soundcloud.com/rahaan with… Cee White OFF99 Residents ……………………………………… VACCINATIONS Proof of vaccination […]Find out more »
September 3 @ 10:00 pm – 2:00 amTimbre Room, 1809 Minor Ave.
Seattle, 98101 United States + Google Map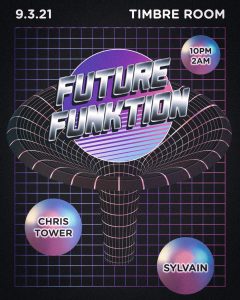 Our DJs for the evening: Chris Tower https://soundcloud.com/djchristower Sylvain Follow www.instagram.com/futurefunktionseattle for updates. Tickets: $10 presale $15 door ……………………………………… VACCINATIONS Proof of vaccination is required to attend the venue. Read more: https://bit.ly/KWCovidPolicy SAFER SPACE The following actions or displays of behavior will not be tolerated: bigotry, racism, sexism, transphobia, homophobia, misogyny, and ableism. Consent is required when interacting […]Find out more »
(Visited 3 times, 1 visits today)