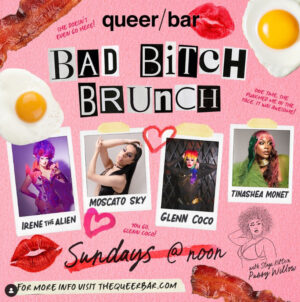 All sorts of fun changes and events coming up for popular Capitol Hill LGBTQ+ bar and night club QUEER BAR (or, queer/bar as it's properly supposed to be formatted) at 1518 11th Ave.
First up, they're bringing back their beloved drag brunch with stars from their MX. Drag Cabaret featured on Friday and Saturday nights plus burlesque stars and special guests and….delicious, delicious brunch! They're renamed it BAD BITCH BRUNCH (which will hopefully frighten away the pearl clutchers) and it returns on Sunday, September 24th for weekly appearances.
This new brunch will be hosted by Irene the Alien and Tinashea Monet, Moscato Sky and Glenn Coco with burlesque diva Pussy Willow. Doors at 11am with the show at Noon and you need to make reservations at https://www.thequeerbar.com/
Also note this IS a bar so it's a 21+ kind of drag brunch. Sorry kids…we won't be able to lure you into a life of drag and excessive Golden Girls watching!!!!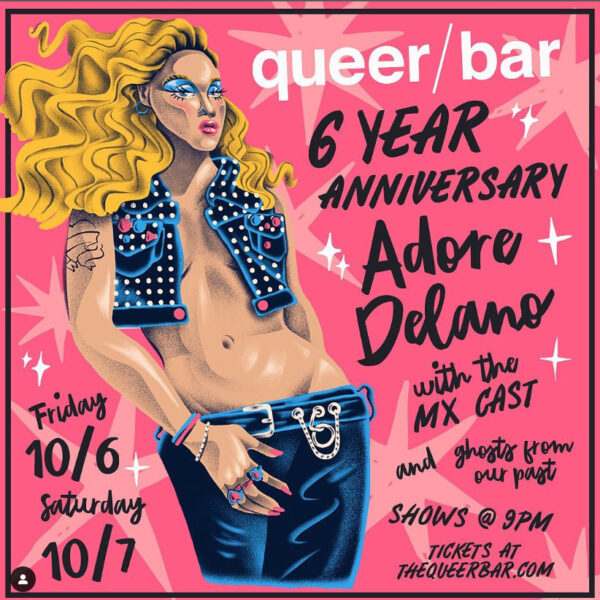 Other big stuff to be aware of: queer/bar is turning six years old at the first of October (we practically share a birfday!!!) and for this year's celebration they'll be bringing in super beloved RuPaul's Drag Race Season 6 runner-up , Ms ADORE DELANO for a two night weekened wingding!!!
Obviously, the current MX. cast will be a part of the festivities but they're also promising "ghosts from the past" will appear?!?!?!?
WHAT DOES THAT MEAN?!?!?!?!?!?

WILL DEAD UBER DRIVERS EMERGE FROM THE MISTS OF 2018 TO DRINK THE BLOOD OF THE UNHOLY?!?!?
(I've been told "no, that's not happening" but ya never know what will happen!)
Tickets are flying out the door for these two shows on October 6th and 7th so get your butts over to https://www.thequeerbar.com/ to snatch those tickets!
(Visited 45 times, 1 visits today)