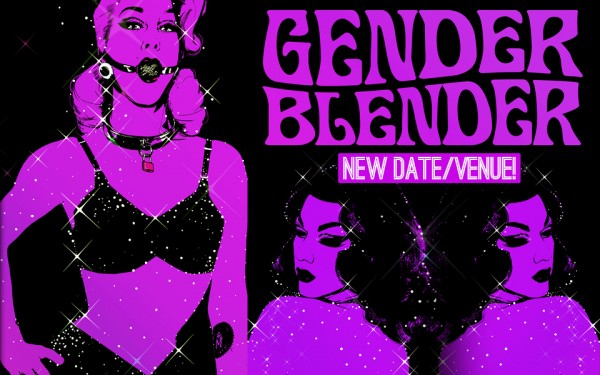 Things have gone awry for this year's annual "Gender Blender" party. According to its producer, Nark/Kevin Kauer, the forces of evil have conspired against him (aka the cable television network LOGO) to fuck up his main event for Seattle Pride 2015. This year's "GB" was to star Violet Chachki, (who ended up winning the just completed Season 7 of "RuPaul's (Increasingly Not Very Interesting) Drag Race"), runner-up Ginger Minj and the pretty but rather dull Miss Fame, and was to happen Thursday, June 25th at Neumos.
But, LOGO TV yanked Violet away for a contractual commitment to film a show for them, (probably something pressing like hosting a marathon of old episodes of "Bewitched"….) Since Mr. Nark/Kauer very much wants the winner of the show to appear at his event, he was able to procure Violet for the day BEFORE, Wednesday, June 24. BUT, that apparently led to two new problems: now, Ginger wasn't available for that date and Neumos was booked for another show.
(Are you keeping track of this DRAMA? Do you need some sort of visual aid to keep up? I need a Midol because all this confusion is giving me a headache and cramps….)
SOOOOOOO….Adore Delano was called in to sub for Ginger Minj and the event got moved to Neighbours on Wednesday, June 24th. GINGER will return later in the year for a DIFFERENT event!
And, your original ticket for the Thursday/Neumos gig is still good for the Wednesday/Neighbours event. From Nark's magazine:
* * * * * DID YOU ALREADY BUY A TICKET TO THE NEUMOS SHOW? DON'T WORRY, you don't have to lift a finger, your ticket will be automatically transferred over to the new event! IF YOU NEED A REFUND – please visit Neumos.com * *
You can buy new tickets to the new event as well….HERE.
Oh. So. Damn. Confusing.
We need a cocktail (or 5) to go with that pain reliever now.
(Visited 1 times, 1 visits today)