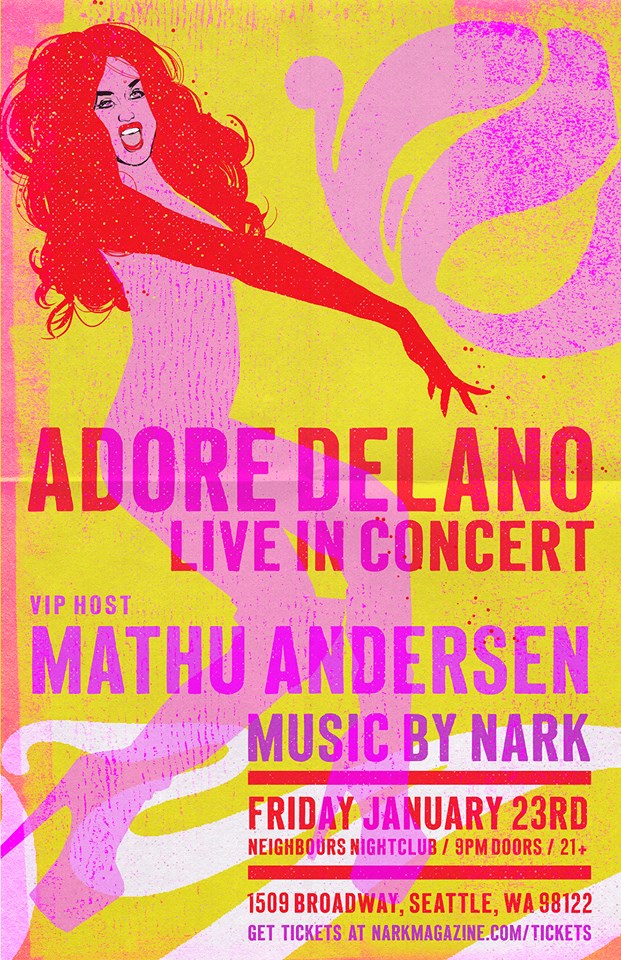 So much to squee about.
Friday is the long awaited make-up engagement for Miss Adore Delano, the RuPaul's Drag Race Season 6 runner-up cutie pie who won (most) of America's heart with her sassy, quirky charms…which were originally formed when she was just meh old Danny Noriega and performing on Season 7 of the tired old "American Idol" mess. But Adorable Danny has some pipes and his new album, Til Death Do Us Party, has done very well on what's left of The Charts. Friday night's show at Neighbours is in support of this album and features live performances with a live band!
(It was also originally supposed to happen last summer, but the sudden death of Adore's dad postponed the gig…a toast to Mr. Noriega, who at least got to see his son make a name for himself. Salud!)
The last we heard, there a few VIP tickets left for the party at $65; that gets you UPSTAIRS to mingle with the STARS! General Admission tickets are a cheap $27. Grab them all, HERE!  (It's 9pm to 3am. 21+ until 2am then 18+ from 2am…)
Oh, and as part of the VIP package, you get to be hosted by the great MATHU ANDERSEN, superstar make-up/design genius to RuPaul herself. The Guru to the fabulously Gender Blended will graciously be hosting for the Hoi and their Polloi…if you have VIP tickies!
We're giving away a pair of General Admission tickets TOMORROW….stay tuned for dat info.
The entire she-bang is a Nark Magazine Joint….expect it to be The Glittery Hip Ball of the Winter!
(Visited 6 times, 1 visits today)