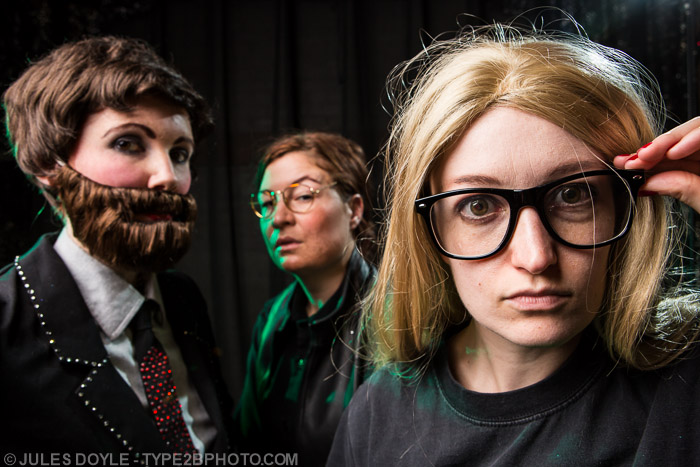 Ready for the Worst Day of the Year? AKA Valentine's Day? F&%# That! And so, my fellow queer nerds, we have the best of both worlds… SLASH: A Burlesque Romance Without Boundaries.
From the folks who brought us Whedonesque Burlesque and Burl-X-Files, SLASH: A Burlesque Romance Without Boundaries is a card game set to burlesque performances and vice versa. Says director JoJo Stiletto: The "game is really simple and fun. It puts emphasis on storytelling and fanfiction-like match-ups. All players get a hand of cards: characters from pop culture, history, etc. Like Dr. Who, Agent Scully, Martha Washington. And it's played a bit like Cards Against Humanity or Apples to Apples…one player picks a card from their hand, a character, and asks the rest of the group to find the 'OTP' or 'one true pairing' from their own hands.  So it's about making magical Alternative Universe match-ups. You can also play where you ask everyone to tell a story or answer a question. So you might ask, 'tell me about the first date your character has with my character' or 'tell me about the Meet-Cute between this pair.' It's funny how you will really think about who pairs well together. Like, would Xena be hot for Wolverine or Commander Shepard? What would happen on a first date with Dr. Frank N Furter and Jareth from Labyrinth? The game makers like to emphasize that it can be played to individual comfort zones on how G-rated or mature you want to get. With burlesque folks, it often gets a little racy. It's 'romance without boundaries' of space, time, canon, etc." It's basically fanfiction on stage! Haven't you been dying to ship Thor with Tony Stark? Or Gabrielle with Willow? How about Bruce Wayne and Sherlock?
The show will be at 7:30pm on Friday, February 13, at Re-Bar, as part of the venue's 25th anniversary weekend. (Luck and superstition not valid, though I'm sure someone will make mention of the date.) And because it's based on the card game Slash: A Romance Without Boundaries, expansion packs of decks will be available. The expansion will feature cards specifically for this event as well as those suggested by the director and producers. Squee! The fun will also ensue with a costume contest, fanfiction, prizes, and giveaways. Supplemented, of course, by the new-in-2012 burlesque genre of Nerdlesque. Stiletto's site defines Nerdlesque as a "fantastical alchemy combining burlesque and sexy, brave, beautiful nerds of all shapes, sexes, and sizes. Phasers replace feather boas and D20s replace pastie tassels in this new and exciting trend of modern burlesque. As nerd culture merges with the mainstream, nerdlesque too is evolving the art of burlesque. Across the world, performers are creating genre-defining acts: some serious, most sexy, and fun. These acts harken back to the history of burlesque while also tickling our modern-day geek fantasies." GUYZ. This little nerd is SO looking forward to it!
Performers will include local faves Iva Handfull, Bolt Action, Scarlett O'Hairdye, Sophie Maltease, and many more, hosted by Sailor St. Claire. Sponsored by Games By Playdate, Sin In Linen, Northwest Press, and Gamma Ray Games, many contests and giveaways will enhance the night—more info once you RSVP. You can purchase discounted advance copies or add on the Slash: A Fanfiction Party Game to your ticket price! So no matter what, you can be prepared for the best entertainment Valentine's Weekend can provide. Tickets start at $20, which is much cheaper than anything you'll be doing that Saturday (aside from staying home with chocolate and wine you bought yourself).
I think we can officially call this show "pansexual." Also: Best. Date/Non-date. Ever! How else can you get to Nerd Squee, use your brain, down some drinks, and laugh your ass off all at once? Just please don't Nerd Spooge…that's gross. Wait till you're home for that. 
Korra Q is a Seattle-based nerd who plays fetch with her cat. She's into sci-fi, un-sparkly vampires, and chicks who kick ass. To support her habits, she's the sassiest server you'll ever order from.
Random musings: @Kittyslap27 on Twitter.
(Visited 2 times, 1 visits today)