Yes, yes…I know it's early to be thinking of Christmas shenanigans when it's August and 8,000 degrees outside but the complicated scheduling and jostling of Seattle's gay holiday shows demands we pay attention…especially in a topsy turvy year like this one where both the loss of a beloved local entertainer and some behind the scenes melodrama have added to the huge changes coming to Seattle Gay Holiday Show Season 2018.
We've already discussed the major changes coming to the "Holiday Show formerly known as 'Homo for the Holiday' but now apparently known as 'Jingle All The Gay'"…the former show imploded after behind the scenes "stuff" led to long time performers like BenDeLaCreme leaving and wife/wife team of Kitten LaRue and Lou Henry Hoover taking the reigns to recon-jigger the very popular long running show which will return to Oddfellows Hall this year.
You can read about THAT drama, over here.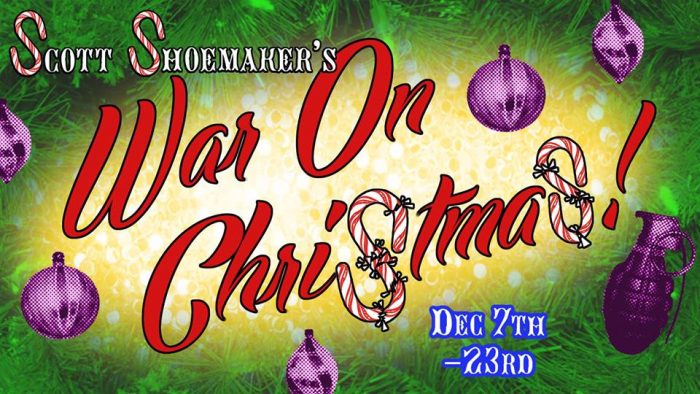 The new news relates to the fact that one time "Homo for the Holidays" cast member and professional funny person Scott Shoemaker, best known for funnying up everything from Ian Bell's Brown Derby movie spoofs at Re-bar to his own deliriously crazy Ms Pak-Man show also at Re-bar will be headlining his OWN holiday show, also at Re-bar, with Friday's announcement about SCOTT SHOEMAKER'S WAR ON CHRISTMAS taking over the beloved cabaret space for three weekends in December. Produced and created with Freddy "King of Pants" Molitch, this is what you can expect from this 'war':
From the creators of the Ms. Pak-Man cabaret series comes an all new holiday extravaganza! "Scott Shoemaker's War on Christmas" is an all-star variety spectacular that is destined to be a new Yule Tide tradition. Come spend an evening with Scott and a cast of Seattle luminaries as they try to figure out who's fighting a war on Christmas and what for? 

It's a hilarious night of comedy, songs, dance numbers, delightful videos, and partial nudity! Joining Scott are an amazing group of illustrious superstars :
Adé 
Waxie Moon
Mandy Price &
Faggedy Randy! (Randy Phillips)
Written by Freddy Molitch and Scott Shoemaker!

Come down to Re-bar this December and treat yourself to some holiday cheer while you laugh your Christmas stockings off! But be warned! This show is definitely on the naughty list!
We're definitely excited about this new holiday treat but it does raise an interesting question….
If Scott Shoemaker's new show is booked into Re-bar in December, WHERE IN HELL IS NATIONALLY BELOVED DIVA DINA MARTINA GOING TO DO HER ALWAYS SOLD OUT HOLIDAY SHOW?!?!?!? Dina has been an institution at Re-bar for the last 64 years…a year without the Dina Martina Xmas Show would be faaaaaaaar worse than a year without that fat fraud, Santa Claus.
Well, the big poo is, Dina Martina is now apparently ready for prime time and she's loading up her donkey cart with her racks of ill-fitting designer duds, baskets of delightful holiday 'jifts' and presumably her beloved musical accompanist Chris Jeffries and shuffling from Re-bar  to the glamorously professional ACT Theatre over at 7th & Union in downtown Seattle.
Yes….Miss Dina is movin' on up! To a dee-luxe Equity level theater space in the SKY!
This hasn't been officially announced yet but a press release and ticket links should happen….soon (September-ish).
And while we're happy that Miss Dina has a big new sandbox to play in, it's also sad to realize that Dina Martina's Christmas Show is essentially replacing the also beloved annual holiday show HAM FOR THE HOLIDAYS, the long running variety show starring Seattle comedy legends Lisa Koch and Peggy Platt aka Dos Fallopia.
Sadly, we lost Peggy this spring when she passed away aged 58 and Dina's creator Grady West was one of the many speakers who paid tribute to the star at a packed memorial service at ACT on April 16th.
So, please give a toast to Miss Peggy when you're enjoying Miss Dina this holiday season.
(Visited 10 times, 1 visits today)