It was a hit in 2018 and so Seattle burlesque artist EmpeROAR Fabulous is returning to Re-bar for another installment of  "EmpeROAR Fabulous!!!: My Imaginary Love Life" for TWO big nights, February 15 & 16.
(Is it my imagination or is EmpeROAR channeling some Jennifer Anniston in that photo?)
The boylesque star (I dunno about the word "boylesque"…it's so juvenile. Why not, "Manlesque"?) is thrilled to return with this show that is near and dear to his glittery, rhinestoned covered heart. As I said last year, "My Imaginary Love Life" is a real piece of theater…a  complex piece with
"through lines" and "characters" and "plots" and "motivations" and all that fancy stuff you see at real thee-ay-turs!

EmpeROAR is an AUTEUR!!!
EmpeROAR Fabulous!!!: My Imaginary Love Life  is his spanking new cabaret show that is one part hopeless romantic and one part snarky cynic as the star takes us through his "imagined love life" with songs and dances and burlesquey fun. AND, knowing the EmpeROAR's dedication and drive for perfectionism, it should be an amazing night of cabaret theater with a very queer twist.
Joining EmpeROAR for the 2019 edition will be Chandler Svelte and Hendri Walujo with musical direction by Nate Omdal and direction by Cassandra Moselle.
FAHN-CY!
Grab your tickets HERE and more poo below: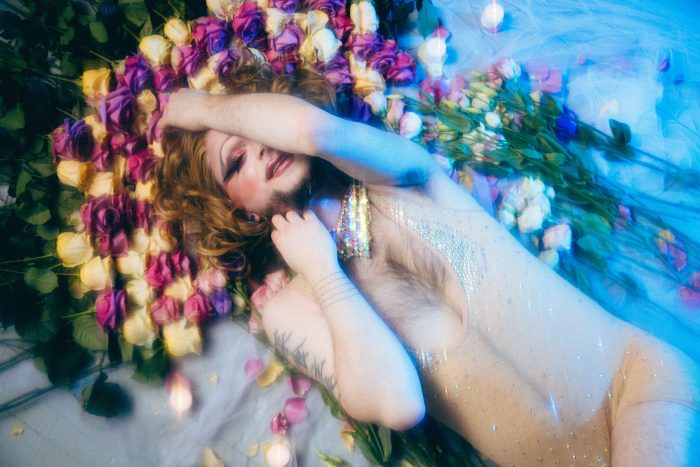 MY IMAGINARY LOVE LIFE: A SHOW FOR THE HOPELESSLY ROMANTIC BUT #FOREVERALONE.
Award winning cabaret and burlesque performer EmpeROAR Fabulous!!! tells the 100% true tales of his 100% Imagined Love Life through song, dance, and multimedia shenanigans. A show for the hopelessly romantic, but #foreveralone, this show offers single romantics an alternative to anti-valentines day cynicism. Couples are welcome too, I guess.

This event promises a child-like sense of wonder through musical production numbers, costumes that become set pieces and vice versa, pop-up books, mobiles, and more ridiculous surprises that support this sweet tale of hope.

Tongue in cheek, heart on sleeve. Got no love life? Just make believe!

Written by, starring, and featuring original music and arrangements by EmpeROAR Fabulous!!!

with Chandler Svelte and Hendri Walujo
Directed by Cassandra Moselle
Musical Direction by Nate Omdal

When: February 15&16, 2019

Where: Re-Bar, 1114 Howell St., Seattle

Time: Show at 7:30, Doors at 7:00

Tickets:http://myimaginarylovelife.brownpapertickets.com
(Visited 2 times, 1 visits today)