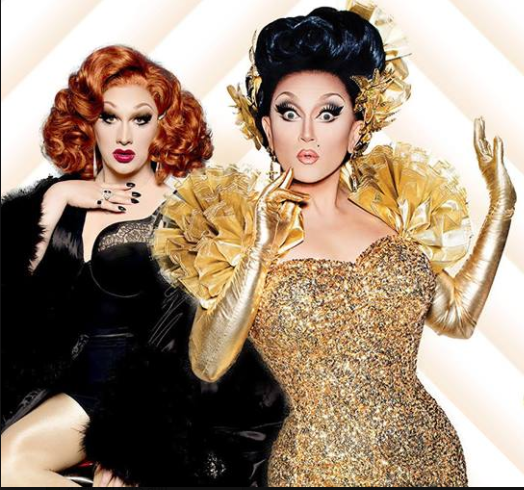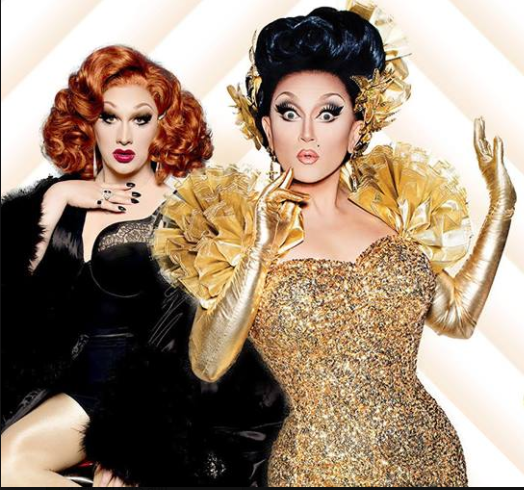 Jeesh….everyone and their cousin has a huge drag show event coming up in the weeks/months ahead!
Part of it has to do with the upcoming premiere of "RuPaul's Drag Race: All-Stars 3" on VH1 on January 25th…every gay-ish bar in town with a TV or two is hosting screening events for the eagerly awaited season that unites former losers from previous seasons and gives them a shot at redemption.
Seattle's own multi-hyphenate drag sensation BenDeLaCreme is a contestant for AS3…despite vows after their appearance on Season 6 of RPDR that they were done with reality TV.
But, TV exposure helps pay da bills!
BDLC wisely snagged bestie Season Five winner and beloved local queen Jinkx Monsoon to co-star in an All-Stars 3 premiere party on Thursday, January 25th  at Re-bar of all places….
Re-bar has a TV? Is it a Philco from the 50s?
Who knew?
They announced the party yesterday (Monday, January 15th) and it sold out within 22 seconds…Re-bar isn't that huge which begs the question, why did they book the event in a smallish venue?
Supposedly, there will be a few tix at the door so we advise you to line-up at noon that day if you wanna get in…
More poo that basically just reiterates what I just wrote:
BenDeLaCreme returns to reality television in the third season of RuPaul's Drag Race All Stars, with the first episode airing on Thursday, January 25, 2018 at 8pm on VH1.

Seattle is invited to join BenDeLaCreme for a viewing party of this episode, co-hosted by Drag Race Season 5 crown-holder Jinkx Monsoon!

Doors at 6:30pm
Performances by a few Seattle treasures at 7:30pm
Episode airs at 8:00pm

Limited pre-sale tickets are available for $5 here:
http://www.strangertickets.com/events/51156684/drag-race-all-stars-3-premiere-party

Some additional tickets will be released at the door. 21+. Re-bar has a cash-only full bar. Space is incredibly limited, attendees are encouraged to arrive early.
And, DeLa and Jinkxie will also be paired up in the next Peaches Christ show, DRAG BECOMES HER which will appear in Seattle on March 13th and Portland on March 15th.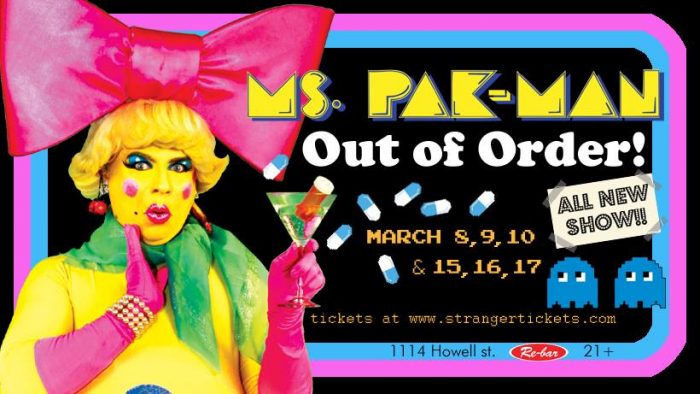 Also announced on Monday the 15th following their hit tour visit to San Francisco….Scott Shoemaker announced that his very popular MS PAK-MAN character will return to Re-bar for a 4th installment/show starring his drunkie/druggy/messy version of the beloved video game character. Ms. Pak-Man: Out of Order! will escape from rehab for a two weekend run on March 8-10 and March 15-18.
Da poo:
"Ms. Pak-Man: Out of Order!" is the fourth installment of the critically acclaimed Ms. Pak-Man cabaret series! Watch this world-renowned video game superstar of the 1980s pop power pills while she shares scandalous songs and stories about her life and loves… glitches and all!

It's a hilarious night of comedy, confessions, camp and quarters. She sings! She dances! She drinks! She might black out! There's a chance she won't remember the show, but you will!

This is an ALL NEW SHOW! Don't miss it!

Starring Scott Shoemaker (Ian Bell's Brown Derby Series, BenDeLaCreme's Beware the Terror of Gaylord Manor) as the loveable train-wreck Ms. Pak-Man. Also featuring Erin Stewart (Balagan's Hedwig and the Angry Inch), and Amalia Larson (Jet City Improv). Concieved and directed by Freddy Molitch!

Praise and Awards for the Ms. Pak-Man series:

"Ms. Pak-Man…[is] a hilariously pathetic hurricane of desperation barely suppressed rage and neediness."— The Seattle Times

"Scott Shoemaker is a seriously gifted performer…" –The Stranger

"Nothing can prepare you for the brilliance of this idiocy"—BenDelaCreme, RuPaul's Drag Race All Stars 3

"Go see Ms. Pak-Man–Hilariously bitter and pleasingly misshapen!"–Dina Martina

"…[a] ghastly and gorgeous spectacle." –City Arts Magazine

"Ms. Pak-Man will be a comedic insta-Classic." –Seattle Gay Scene

Winner of the 2015 Seattle Broadway World Awards for the Best Local Play (Ms. Pak-Man: Multiple Lives!) and Best Actor (Scott Shoemaker).
I do NOT remember saying it was an "insta-Classic"…but I was probably high on Mexican valium at the time.
(Visited 1 times, 1 visits today)