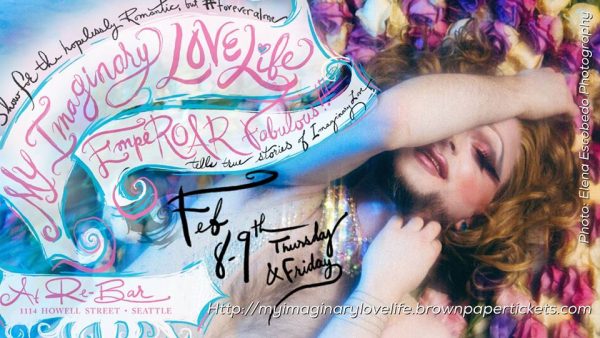 We have known the burlesque artist, EmpeROAR Fabulous!!! (yes, that's his stage name and you had better not forget those exclamation points or he will….EAT YOUR BRAIN!!!) for several years now ever since he participated in a stage show we produced a thousand eons ago that featured the rising young boylesque performer, EmpeROAR as well such unknowns as some drag doxy named "Jinkx Monsoon".
Whatever happened to that tramp?
Anywho, EmpeROAR has gone on to do shows ALL OVER THE BLOODY WORLD including a tour through Europe last year and now our local boylesque royalty has his most complex show yet, with "through lines" and "characters" and "plots" and "motivations" and all that fancy stuff you see at real thee-ay-turs!
EmpeROAR is an AUTEUR!!!
EmpeROAR Fabulous!!!: My Imaginary Love Life  is his spanking new cabaret show that is one part hopeless romantic and one part snarky cynic as the star takes us through his "imagined love life" with songs and dances and burlesquey fun. AND, knowing the EmpeROAR's dedication and drive for perfectionism, it should be an amazing night of cabaret theater with a very queer twist.
It's such a real deal that it's playing TWO nights at our favorite dive bar/performance space Re-bar this Thursday and Friday, February 8th and 9th with shows at 8pm both of those nights. Joining EmpeROAR will be Jax Mourningwood and Chandler Svelte with musical direction by Nate Omdal.
Here's a ticket link HERE! and more info:
EmpeROAR Fabulous!!!: My Imaginary Love Life

Award winning cabaret and burlesque performer EmpeROAR Fabulous!!! tells the 100% true tales of his 100% Imagined Love Life through song, dance, burlesque, and multimedia shenanigans. A show for the hopelessly romantic, but #foreveralone, this show offers single romantics an alternative to anti-valentines day cynicism. Couples are welcome too, I guess.

This show promises a child-like sense of wonder through musical production numbers, costume pieces that become set pieces and vice versa, pop up books, mobiles, acrobatics, and more ridiculous surprises that support this sweet tale of hope.

Tongue in cheek, heart on sleeve. Got no love life? Just make believe!

Written by, starring, and featuring original music and arrangements by EmpeROAR Fabulous!!!
with Jax Mourningwood and Chandler Svelte
Directed by Sara Dipity
Musical Direction by Nate Omdal
(Visited 1 times, 1 visits today)