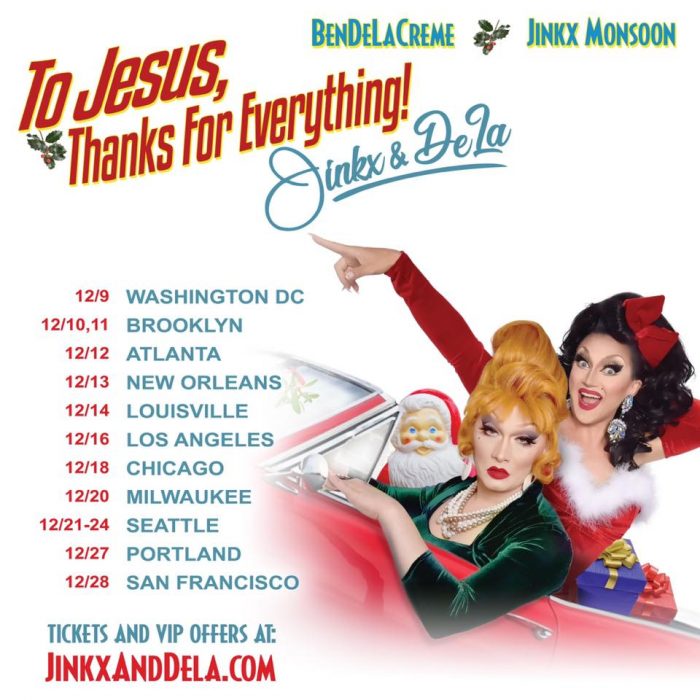 Yes, I know this is the 1 ZILLIONTH post about gay Xmas/Winter Holiday shows for the Greater Seattle Metro Area but, dammit…it's IMPORTANT to know these things!
Especially in this topsy turvy year of TOTAL change when it comes to Queer as Fudge Xmas Shows since…
EVERY SINGLE ONE OF THEM HAS CHANGED FOR 2018!
Let's list them, shall we?
Ham for the Holidays has sadly ended due to the passing of our beloved Peggy Platt
Dina Martina moved her long running holiday show The Dina Martina Christmas Show from Re-bar to ACT Theater, essentially taking the spot held by "Ham for the Holidays"…
The "Homo for the Holidays" team imploded with BenDeLaCreme leaving that long running beloved show at Oddfellows Hall on Capitol Hill ("creative differences") thus resulting in the other co-producers, Kitten 'n' Lou creating a NEW holiday show called

JINGLE ALL THE GAY

(that sounds a lot like "Homo for the Holidays"….)
Oh, and then there's the return of The Judy Garland Christmas Special after several years of being on a "break" (drying out in a sanitarium) and now at Theatre Off Jackson in the International District.
And, the quasi queer hair rocking dance show Buttcracker returns to the Erickson Theatre Off Broadway with Buttcracker IV: The Final Countdown.
AND, the brand new Scott Shoemaker's War on Christmas at Re-bar, kinda/sorta taking the place of the Dina Martina show.
Yesterday's big announcement was about the long speculated about teaming of BenDeLaCreme and Jinkx Monsoon to produce their OWN holiday show…it's not going to be a long running sit down event but a month long national tour with the two beloved RuPaul's Drag Race stars taking to the road to entertain their thousands of fans in a show lovingly (and long windedly) titled "TO JESUS, THANKS FOR EVERYTHING! JINKX & DELA"
The tour starts December 9th in Washington D.C. and snakes its way around the country before winding up in Seattle on December 21 for the longest stand of the tour….the pair will be delighting us from the 21st through December 24th at The Neptune in the University District. (They'll bop down to Portland, Oregon on the 27th, then wrap it up in San Francisco on December 28th!)
Go to their brand spankin' new website to snatch tickets…they're only do FOUR shows in Seattle!
Some more poo:
At long last Seattle sisters 

BenDeLaCreme

 and Jinkx Monsoon are joining forces to bring you a spankin' new two-queen holiday extravaganza!

DeLa is all sugar and Jinkx is all spice – but how do these two very different gals deal with the stress of the holidays? A little song, a lot of eggnog, and theaters full of people looking at them!

Yup – all they want for Christmas is attention! And let's face it: Jesus done already done had his. So thanks for handing every drag queen a sure-fire December gig, Jesus, but Jinkx and DeLa will take it from here!

Full tour schedule:

12/9 Washington DC
12/10 & 12/11 Brooklyn
12/12 Atlanta
12/13 New Orleans
12/14 Louisville
12/16 Los Angelos
12/18 Chicago
12/20 Milwaukee
12/21-12/24 Seattle
12/27 Portland
12/28 San Francisco
(Visited 1 times, 1 visits today)