Down on the waterfront between a lumberyard and a brake service station lies a rundown-looking barn surrounded by weeds and freight trains. The outside may look rustic and dilapidated, but inside is another story.
"You'd walk in and there were dance studios, costume depts with rhinestones and feathers everywhere," recalls Michael Paul Ziegfeld, "and a scenic workshop with huge glitzy sets getting ready for shipment to shows around the world."
Ziegfeld (who occasionally drops the last name and goes by just Michael Paul) is a comedian, a puppeteer, a voice actor, a producer, and an-every-other-job-too whose new book, Breaking Out of Show Business, chronicles his weird rise to … well, not fame, exactly, but standing in the company of fame. Though you've almost certainly never heard his name, you've heard of a ton of shows on which he's been a jack of all trades: he voiced cartoons for Saturday Night Life, he opened for The Beach Boys and Lisa Lampanelli, and popped up occasionally on The Tonight Show, among a billion other projects.
Paul's retiring from showbiz now, and he's written a gossipy account of the awkward celebrity run-ins that happened while he was busy not being discovered.
Take that Interbay barn, for example. It's the headquarters of Greg Thompson Productions, a theatrical company that's been producing Vegas shows, cruise and casino entertainment, and cabaret experiences for about 40 years. Greg Thompson himself is a larger-than-life personality, a local boy whose first shows included a dinner-theater musical revue at Seattle's Music Hall (a gorgeous old theater that was demolished in 1992 to make room for, well, nothing of consequence). Thompson also earned a finger-wag from The Stranger in 2001 for creatively turning negative reviews into positive. (When a paper called his show "sensational, if not exactly admirable," guess which words he omitted from the ads?)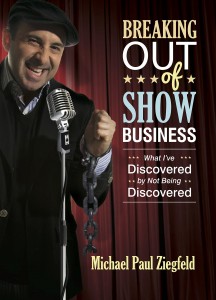 Thompson also popped up in a 2003 HBO documentary about topless dancers entitled, Showgirls: Glitz & Angst. Variety didn't care much for the film, but cited Thompson as a highlight — particularly when it came to the intense emotions he stirred in his longtime lover and his new younger wife, both of whom were in the show.
"In his early years he was the very stereotype-come-to-life of a Las Vegas producer," Ziegfeld says. "Wild, big hair, always wore black, never casual, open shirt, heeled, boots and called everyone 'babe.'"
You can kind of see it in the shows that Thompson produces: a risqué cabaret show called "Skintight," a revue called "The Golden Girl Follies," and a Marilyn Monroe retrospective. His company also produces the Snowflake Lane spectacle in Bellevue, all from that run-down looking shack on Elliott Ave by the train tracks.
Ziegfeld first encountered Thompson at a dinner theater in Valley Forge, Pennsylvania, decades ago. Thompson noticed the nervous teenage standup, and a few years later put him in a comedy show that toured the big destinations — Bermuda, Las Vegas, Atlantic City — and also, less thrillingly, Biloxi.
Throughout it all, Ziegfeld remained closeted onstage. "I had been doing jokes about my relationships or sex in a generic description or just labeling it with a woman," he told Seattle Gay Scene. "I felt the material was about interpersonal relationships, not the gender, so why out myself and highjack the whole piece or my persona based on one or two bits. But not telling the whole story started feeling fake on stage when everything else was so organic."
He decided that if he did ever come out on stage, it would have to be in the right place within the show, so he could use it as a punchline halfway through the act. Then, in 2004, he was shooting his first DVD at the Stand Up New York comedy club. "A moment presented itself," he said, "where a woman rejected my advances. So I went to her boyfriend, and decided I'd go for him instead. It was natural, exciting and most important, funny."
In this clip, you can catch a glimpse of Ziegfeld's post-outing standup routine from around the time he came out in 2005, when we were still telling lesbian Birkenstock jokes:
Okay, so from watching that clip, maybe the extremely observant among us might've been able to tell that Ziegfeld is gay without him having to say so. We can't all hide our secrets as well as a Seattle barn full of showgirls.
Michael Paul Ziegfeld's book, Breaking Out of Show Business, comes out in March.
(Visited 2 times, 1 visits today)