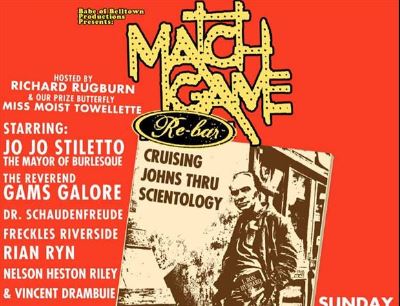 It's not "Snatch Game"….it's BETTER! And, it's happening SUNDAY, JANUARY 18TH!!!!!
Our own local version of the iconic 70s game show MATCH GAME started out life in beautiful Belltown and then migrated/was exiled to Re-bar where it currently holds court once a month for most of the year with host "Richard Rugburn" and "Prize Butterfly, Miss Moist Towellette" plus regular panelists like Nelson Heston Riley and many, many semi-regular guests as well. It's a hipster than thou/faggy waggy/punky wunky/draggy and burly version of the show we grew up with and you REALLY should check it out if you already haven't done so.
This month's edition and theme focuses on our favorite "religion" THE HAUS OF SCIENTOLOGY with the official name of: "CRUISING JOHNS THROUGH SCIENTOLOGY" so it should basically be two hours of making fun of a dumb cult and dumb celebrities who fall for it. The show starts at 7:30 pm and wraps up by 10pm. There will be two full games plus LIVE music performances.
And, as they are wont to do, they have guest panelists in addition to the many regulars and this month, (after two years of me whining about it) the MATCH GAME producers kindly asked me to be a guest panelist….for half the show.
Hmmmmmmm…….apparently, I'm only halfway up the Fame Ladder or permanently stuck as a V List Gaylebrity…..
REGARDLESS, you MUST come check me/the show out. I'm sure it/I will be trainwreckingly delicious!!! Also, I'm playing a CHARACTER (well, a DIFFERENT character from my "Strangeways" character…) so that should be….stupidly hilarious.
Here's MORE poo on the rest of the line-up.
Sunday January 18th Come Help Celebrate Nelson Heston Rileys Birthday!!!!!

Hosted by Richard Rugburn & Our Prize Butterfly Miss Moist Towellette

Starring: Freckles Riverside/Tony James, Rian Ryn Ryn Weston, Vincent Drambuie, Nelson Heston Riley, Jo Jo Stiletto The Mayor of Burlesque, The Reverend Gams Galore & "Dr. Schaudenfreude" aka Seattle Gay Scene's Michael James Strangeways.

Guest Starring The Match Game Re bar Twinks! Sean McNally& Charlie Savage Monroe & The Whore Manager Caitlyn Hamilton

Special Performances by – Freckles Riverside & The Reverend

Doors @ 7 Show @ 730 Done by 10.
21+ $10 @ Door.

Come Help Celebrate Nelson Heston Riley's Birthday!!!!!
It's also sorta happening after some sporting event…we COULD be your delicious end of the day dessert!!!
(Visited 1 times, 1 visits today)