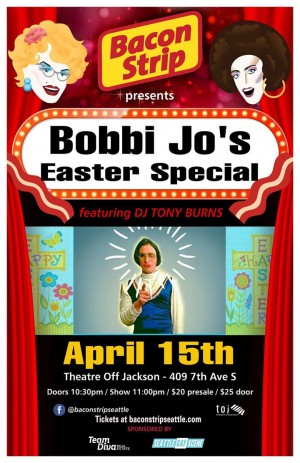 If you're a Christian, it's a big week for ya.
If you're Jewish, it's a big week for ya.
If you're not really either of those things but enjoy gay events that may or may not have an Easter/Passover theme involving disrespectful attitudes toward Jesus, Moses, the Easter Bunny or Peeps then you do have options in Gay Seattle this weekend.
One of the biggies is the annual travesty known as Bacon Strip and their mostly profane take on the season. This year, BS regular Bobbi Jo Blessings is taking over the "Big Gay Variety Show"…the ecclesiastical poo:
What is Bacon Strip Seattle? We have been running since 2005 to provide the world with a unique spin on the drag variety show. Sylvia O' Stayformore and a team of some of the most creative minds come up with a new show every month. Come follow us as we explore thoughts, ideas and fun through the performance art we call drag!

This month's theme is being brought to you by the Minnesota Hotdish Queen, Bobbi Jo Blessings!

This month's cast:

Sylvia O'Stayformore
Honey Buckett
Bobbi Jo Blessings
James Darling
Miss Bacon Strip 2017: Strawberry Shartcake
Vanity White
Abbey Roads
All the way from San Jose
Wowo Monroe!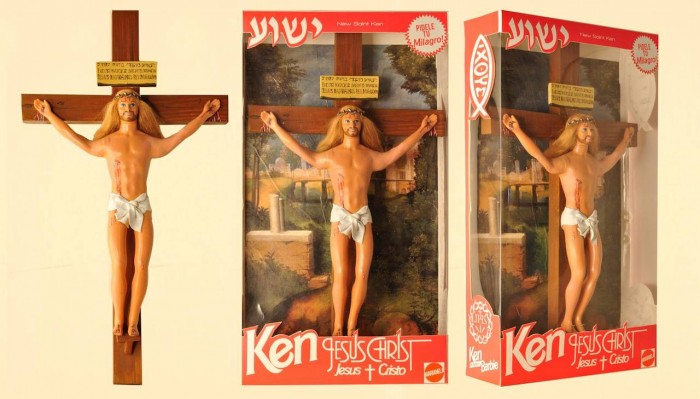 There's other area events as well. On Good Friday night, April 14th, there's the gay friendly BOOTIE SEATTLE, the monthly mashup party co-founded by our own DJ FREDDY KING OF PANTS. Yes, this is definitely a straight/gay mixed event but it's hellishly popular. Naturally this month has a seasonal theme. More bunny poo:
Bootie Seattle takes over Neumos to throw a special Easter Bunny Bash, filled with springtime mashups, free bunny ears, an Easter egg hunt in the club, candy, and more! Bootie co-founder and DJ Mysterious D joins Seattle's own Freddy King of Pants and Destrukt, as they make sure everyone keeps hopping all night! Only $5 before 10 PM!

BOOTIE SEATTLE
Seattle's monthly mashup dance party
———————————–
EASTER BUNNY BASH!
Bootie celebrates Easter with free bunny ears, an Easter egg hunt in the club (with prizes inside!), candy, and more!
———————————–
From San Francisco, Bootie co-founder:
MYSTERIOUS D – http://aplusd.net/
———————————–
Bootie Seattle resident DJ:
FREDDY, KING OF PANTS – http://djkingofpants.com/
DJ DESTRUKT — http://facebook.com/maxx.destrukt
———————————–
$5 before 10 PM . $10 after
Advance tickets available here:
http://neumos.com/
———————————–
Web: http://BootieSeattle.com/
Facebook: https://facebook.com/BootieSeattle
Instagram: @bootiemashup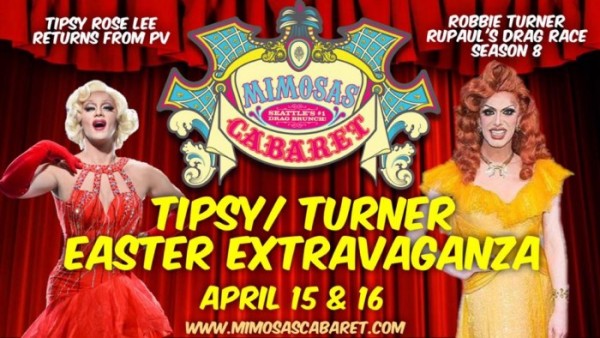 On Saturday and Sunday afternoons you can check out an Easter Treat courtesy of Mimosas Cabaret at The Unicorn/Narwhal with their very special edition of their weekly drag brunch show: it's  The Tipsy / Turner Easter Extravaganza!  It's special because it's the homecoming show from resident Mimosa diva TIPSY ROSE LEE who has been off tramping around Puerto Vallarta for the last 6 months as well as the return to Mimosas of ROBBIE TURNER who last starred in one of their shows a few years back (pre-RuPaul's Drag Race Season 8). Here's the story on this Eggstravaganza:
Tipsy Rose Lee has been off touring in Puerto Vallarta for the past 6 months and now it's time for her to return HOME! We are thrilled to welcome back one f our founding members, lead choreographer and powerhouse star. We have been super excited to hear all about her experiences while in Mexico and you should be too, we know it's been one hell of a season for her. Plus it's EASTER weekend so it only makes sense to throw a bash!

We have also teamed up with Seattle's own, Robbie Turner direct from RuPaul's Drag Race Season 8 to bring you one hell of a fun weekend of shows. Robbie Turner is a Seattle treasure of world class talent and we are thrilled to have her back with us for this special occasion. Robbie is no stranger to the Mimosas family having starred in our production of 30 Minute DreamGirls a few years back, she has also been a guest star a few times including the WIDLY popular Tipsy/Turner Takeover and now she's back again!

Come out THIS weekend and see the fun that ensues at Mimosas Cabaret Starring Tipsy Rose Lee, Robbie Turner, Isabella Extynn and Ruby Bouché! Tickets HERE!!!

On the Big Day itself, Easter Sunday, you have some options as well. There's the 6th annual Easter Bonnet Contest at CC Attle's, a fundraiser for the Imperial Sovereign Court of Seattle's J.C. / Lady Graytop Memorial Scholarship.
Get out your glue guns, glitter, and Easter grass!

It's time for the 6th Annual Easter Bonnet Contest!

Sunday, April 16th at CC Attle's from 3-5pm
Bonnet Parade at 4pm!

Hosted by Olympia 43 Rodeo Drive

1st place – $100 cash
2nd place – $50 CC's Gift Certificate
3rd place – $25 CC's Gift Certificate

Entry is FREE! / 21+

Easter eggs will be on sale with chances to win more prizes!
Proceeds to benefit the J.C. / Lady Graytop Memorial Scholarship
There's also the insanely hipster than thou popular annual PASTOR CALEB'S EASTER SERVICE at Century Ballroom but it has of course sold out WEEKS AGO for both of its Easter Sunday shows (at the bargain rate of $12!!!) which raises the question: "Why doesn't Pastor Caleb raise ticket prices and also do an Easter Saturday show or two  as well?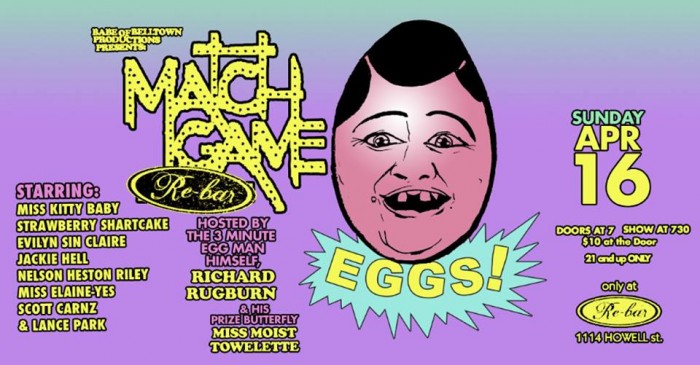 Not sold out but also quite fun: Match Game Re-bar's Easter Eggs Service!
Easter Eggs Service!!!!! How do you like them? Scrambled? Poached? We bet Overeasy & Overhard!!!!! Basted?
Match Game Re bar – Eggs!!!!!!
Hosted by The 3 minute Eggs Man himself Richard Rugburn & his Prize Butterfly Miss Moist Towelette.
Starring: Miss Kitty Baby, 🍓 Shartcake, Evilyn Sin Claire, Jackie Hell, Nelson Heston Riley, Miss Elaine-Yes, Scott Carnz & Lance Park.
So many eggs…so little time to find them before they rot and stink up the place…
(Visited 31 times, 1 visits today)