We don't know what the hell is happening to Seattle but it ain't pretty…cool old buildings getting torn down to put up ugly new expensive ones…lovely folks moving away while awful folks move in….teriyaki lunches that used to be like $5.95 are $12.95…
WTF is happening to us?!?!?
And, it gets worse. We learned earlier this month that beloved institution, the monthly game show/party known at MATCH GAME RE-BAR (and, formerly, if you've been around awhile, as "Match Game Belltown") is calling it quits after a 12 year long run. For those of you foolish enough to never have gone, MATCH GAME is exactly what it sounds like….a local version of the beloved 1970s game show with Seattle area celebrities/gaylebrities and hosted by "Richard Rugburn" with his lovely assistant, the "Prize Butterfly", Miss Moist Towelette.
Mostly happening monthly (though they tended to take summers off) and on Sunday evenings, the show was popular with the usual round of suspects: mostly gay (or gay accessible), mostly drunk, and most likely to attend every crazy kind of draggy/fringy/burlesque show that Re-bar produces. Many folks have been lucky enough to have been asked to be a guest on the show over the years (even ME, for one glorious evening….it was nerve wracking trying to come up with funny answers, but it was a gay old time!) But, they also had many regular and semi-regular guests including burlesque stars like Miss Kitty Baby and Waxie Moon and multi-hyphenates like singer/actor/queen Tony James as one of the many deranged characters living in his head.
But, the show also featured a whole bunch of oddball celebrities created just for this Match Game like the infamous "Gary Gloryhole" (local actor Josh Hartvigson's version of a human glory hole), Vincent Drambuie and one of the show's co-creators, NELSON HESTON RILEY who agreed to answer a few of my questions about The End Times of Match Game Re-bar.
---
Strangeways: So, the obvious first and main question….WHY ARE YOU ENDING MATCH GAME?!?!?!?
Nelson Heston Riley: We've had an amazing 12 year run. There are several reasons….there's some other projects we all want to work on, though to be honest, a couple of us wanted to continue while a couple wanted to stop. Yes we can "replace" those people, but, really…can we? There's also a certain dynamic that's been created after 12 years that we don't want to fuck with. Plus, our attendance is starting to slip so we'd rather go out now than when just 3 people show up. There's also so much going on in Seattle & everything costs way more than it did in October of 2007 when we started. A lot of peeps have to choose where to spend their limited $$$$$. And, it has nothing to do with Re-bar…they are sad we are leaving. They have been fantastic to us for the last 6 years, (we started at the Rendezvous and outgrew it). And, I'm very sad about it & have been avoiding the truth.
Strangeways:  LOL….you answered like 3 of my questions with one answer!
Any chance you might do "reunions" in the future?
Nelson Heston Riley: We've already been asked to do a "special" show for a friend's b-day. So who knows…
We started Match Game because of our mutual love of it….we being Heather Hughes, Taj Franke (aka Richard Rugburn), Lu Ying (aka Moist Towelette), Kaleb Kerr, Jamie Von Stratton, Vincent Drambuie, Eddie Long & myself. We were at a Big Wheel Bingo Show @ The Sunset and everyone else thought it was drunk talk  but two months later I had everything ready to go. It changed…actually, saved my life at the time, from drugs to no more drugs, and I have met sooooooooooooooooooooo many fantastic talented people. AND, I get to say we played The Hilton!!! ( The Sea-Tac Hilton for Burly Con )!!! We also did shows in Portland 3 times. Its been a great 12 years
Strangeways:  Do you have a favorite Match Game memory? Something totally wonderful or insane ?
Nelson Heston Riley: I think this clip sums up Match Game pretty well. 
The Coach stretching & flexing her muscles @ MATCH GAME Belltown – "Gays & Game Shows" Sunday June 20th 2010
Another favorite…. Waxie Moon always wants to be on Match Game, but only if Waxie can sit by Vincent Drambuie #bromantic
Strangeways: Did anyone keep count? How many panelists did you have over the years?
Nelson Heston Riley: I've been making a list…. I dunno know for sure, but I'm sure it's 600 or more. We've been extremely lucky to get the peeps we got. & there's several we didn't that I've always been after.
Strangeways: I'm just glad I got to do it!!!! Thanks!
Finally, as one of the biggest Cher fans around, you must be THRILLED that "The Cher Show" snagged some Tony Award love this week…including a Tony for Bob Mackie, the legendary designer. Now, you can create an annual Cher-mas event in May!!!
Nelson Heston Riley: Bob Mackie is my costume hero! I got to meet him once. My costumer moniker is B.O.B. ( Babe of Belltown) Tackie…a poor person's Bob Mackie. And, yes…A Cher show has been on my list for awhile
Strangeways: Super! Thanks for the mini-interview! 
Nelson Heston Riley: Thank you. & thank you for being a part of our lil pony show! Finally, here's another favorite from my Match Game memories:  
Vincent Drambuie & The Grizzly Man giving their answers @ MATCH GAME Belltown – "Bear Love" February 20th 2011 
So, obviously, if you've ever been at or participated in MATCH GAME, you need to come down to Re-bar, (1114 Howell Street) this Sunday, June 16th at 7pm (show at 7:30pm) to say a fond farewell to a great Seattle show. This month's theme/title is:  The Unicorn Sh*t Show Show!  
And, as always, hosted by The Unicorn whisperer himself, Richard Rugburn with his Prize Butterfly Miss Moist Towellette.
And, the cast for the last show: Waxie Moon, Sailor St. Claire, Chandler Svelte, Miss Kitty Baby, Gary Gloryhole, Vincent Drambuie & Nelson Heston Rideme.
$12 @ Door. (CASH ONLY!!!)
21+ w/ Valid ID.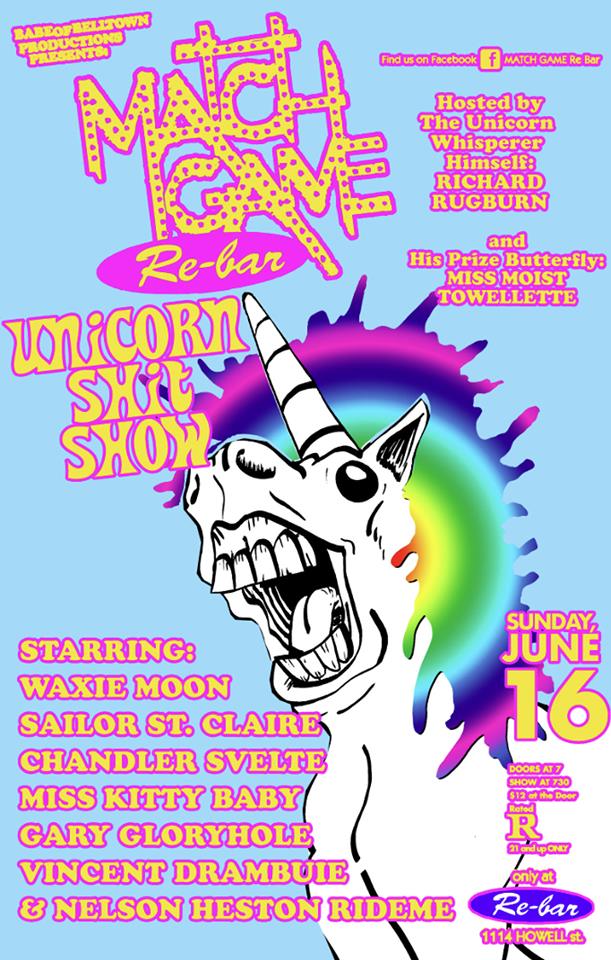 Tags: Bar Theater, Camp, Game Show Parodies, Match Game Re-bar, Match Game Re-bar Ends, Nelson Heston Riley