OK, so maybe you've already seen or at least booked your tickets to see the BIG annual holiday shows like Dina Martina and Homo for the Holidays and Ham for the Holidays and Homo Dina Ham For the Holidays but now you need to fill in those empty spots on your holiday show going calendar?
Well, there's also a ton of smaller one off shows to go see as well and we encourage you to go check out a few…spread your wealth a little bit! Does Dina Martina really need your money to build another wing onto her solid gold luxury mega-mansion? Do you feel compelled to feed BenDeLaCreme's addictions to buying vintage porn magazines and old Bratz Dolls?
(You should, actually…but you can go see those shows AND other shows, too! Sell an organ if you need to!!!!)
For instance, tonight (Friday, December 16) you can bop over to Bremerton to say farewell to beloved kooky alterna queen CUCCI BINACA who is giving her FINAL "Cucci's Cake Batter" over at Papa's Sports Bar. The lovely Cucci is jumping ship to Los Angeles which is lovely for her (hopefully) but sad for us and especially for Bremerton since her shows over there have been HELLA popular. She'll be missed.
You should make reservations if you want to go tonight…it DOES sell out!!!
Words from Cucci:
THIS IS THE LAST #cucciscakebatter
After a little over three years of doing Drag at Papas, it is time for me to leave. I love you Kitsap County. You are a gem. Please come out for a heart felt night and a wet good bye.

21+
Doors at 8pm. Show at 9pm.
$5- First come Seats
$10- Table Seats
Call Papas at 360-479-5109 for reservations. The show does sell out. Papa's is at 2901 Perry Ave Suite 5 In the Perry Ave Mall, Bremerton.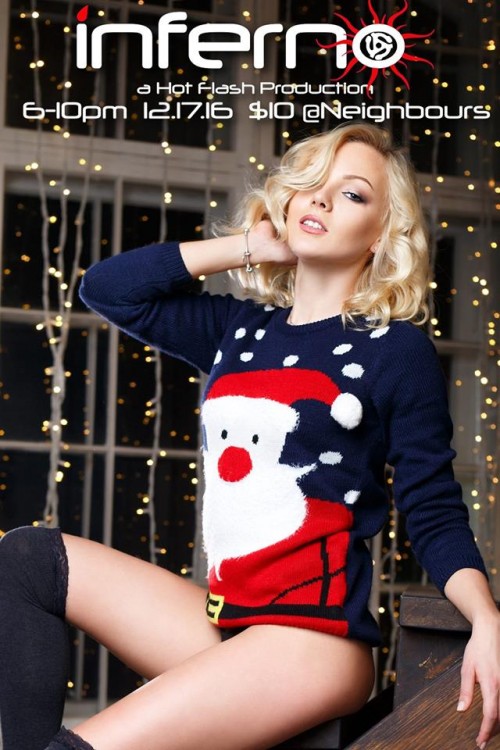 On Saturday night, there's the big Inferno holiday themed party at Neighbours…it's their SEXY SWEATER PARTY and one of the few events for the women of Seattle from 6 pm to 10 pm.
Time to bust out that holiday sweater collection that's so ugly it's sexy! Bring your best, your hottest, your wooliest, your ugliest, and most decorative holiday sweater and dance til you sweat. Lady Jane DJ will heat us up; sure to be your best holiday pre funk party.

Wool see ya then! 😉

$10

21+ w/ID

*Please remember that Inferno is a private dance party exclusive to women and the trans community. For more information about our policy and our will call list, please see here: http://www.hotflashdances.com/trans-community.html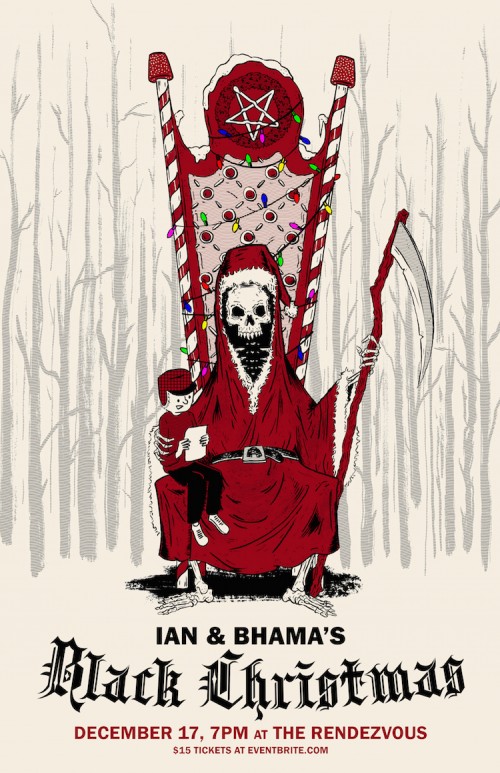 Also on Saturday the 17th, very funny lady Bhama Roget and also very funny/but not much of a lady Ian Schuelke are teaming up for  very funny holiday show: IAN AND BHAMA'S BLACK CHRISTMAS is a daaaaaaaaaaaaaark look at the holidays with sketches and merriment. It's at the Rendezvous/Jewelbox at 7 pm which means you'll have time to go see other shows later!!!
But, Bhama and Ian are so funny, you might be laughed out…seriously.
Tickets available at EventBrite.
ONE NIGHT ONLY! Bhama Roget and Ian Schuelke bring you a night of music and sketch comedy from the darkest depths of Santa's little red bag. Marvel in horror/delight at:

Christmas-themed pornography
Evil Christmas carols
Trump & PowerPoint (The hidden 8th seal!)
Crazy Moms

And More! Plus special Black Elephant prize giveaways!
With evil musical accompaniment by the one and only Derek Sheen!
CHRISTMAS ONLY COMES ONCE A YEAR, BUT THIS SHOW WILL HAUNT YOU FOREVER
Meanwhile, lazy West Seattlites in the mood for holiday shows but too full of fudge and nog to make it over the bridge to Real Seattle, can go check out "DOLLY AND THE DJ"  and their Xmas Spectacular Show at OutWest Bar, 5401 California Ave SW, starting at 9pm.
The holidays are upon us and we can't wait to spread a little cheer with y'all! Dolly is doing her holiday show with some of her favorite Christmas numbers. Some classics, some new favorites and perhaps some wildly inappropriate songs to fill your heart with holiday cheer! We are bringing you the party at Outwest! So come join your friends and meet some new ones at Outwest. Dolly is taking the 24th off so this is your chance to wish her a Merry Christmahannuaqwanzika!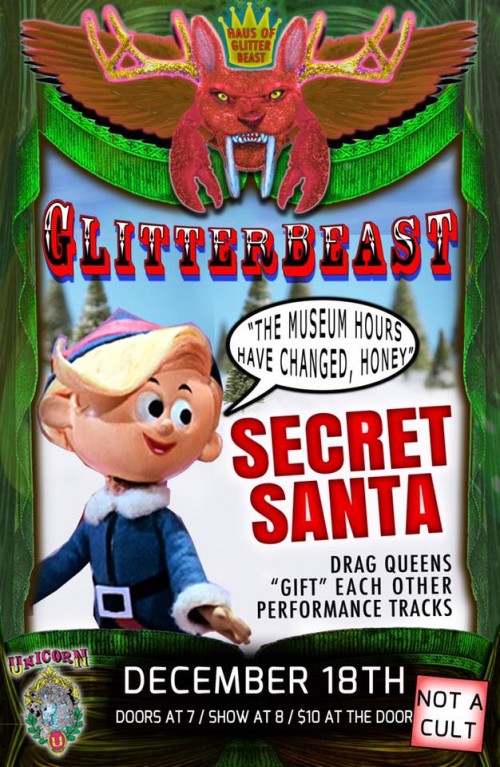 There are even holiday options on Sunday, December 18th…the Glitterbeast CULT of Drag Supahstars are having a SECRET SANTA PARTY this Sunday night at 7pm at Unicorn/Narwhal. The glittery trashy culty divas will grab the Santa by the horns and force him to give them luxury gifts!
It will be a Glittery Hell on Earth.
Mo' poo:
You know all those amazing videos you see us post of our performances? They are taken by our amazing Haus member Jenna St. Croix and she has cooked up an event you CAN NOT MISS.

The performers for our Secret Santa are building tracks for the other performers in the show to build brand new routines around for GLITTERBEAST!

Come see the paramount creativity of:
Jenna St. Croix
Sharon Taint
Lasaveona Hunt
Apollo Vidra
Old Witch
Abbey Roads
Shelita Potroast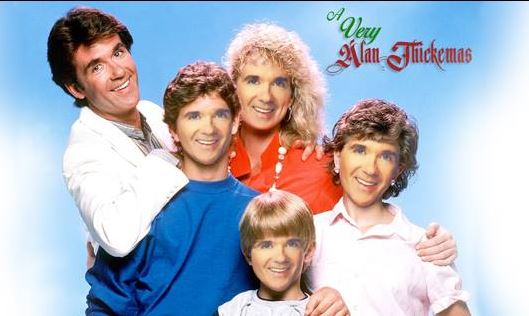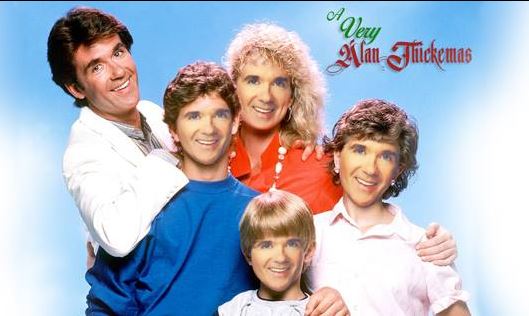 The most tragically timely holiday show is  A VERY ALAN THICKEMAS which honors the loss of Alan Thicke, beloved TV dad, Canadian, and real life dad of some singer with a big dingalong. It's being held at the Annex Theatre on Capitol Hill (1100 E Pike St, 2nd floor; entrance is actually on 11th) at 7:30 pm.
Bring your tissues.
Show us that smile again. Don't waste another minute on your crying. Pay what you can.

2016 took away our muse and now it's high-time we come together once again to celebrate the man, the myth, the legend Alan Thicke.

This will be a Thickemas celebration like none other! We'll have some stage antics, show some classic 80s holiday videos and conclude the whole evening with our Christmas puppet mini-feature "A Very Alan Thickemas" featuring the voice of Alan Thicke!
FINALLY, it's your last chance to enjoy MATCH GAME RE-BAR and their holiday show, Match Game re bar – The Star Trek Holiday Special, Deep Space 10. It features the Usual Suspects (Richard Rugburn, Moist Towelette) and VERY special guests. It's a little sci-fi and a little rock'n'roll…
Come into our WormHole of Comedy! Join The Federation of Improv Worlds in the exploration of New territories. Match Game Re bar, Deep Space 10. Get ready to energize!

* There's 2 sides to every WormHole!

Hosted by Richard "Q" Rugburn & his prize Butterfly Miss Quark Towelette.

Starring:
Al Lykya as Captain Kirk
Chad William Leonard II as Wesley Gusher
Miss Anita Goodmann as That Dude from The Planet Klingon
Lady Drew Blood as Vulcan A!
Miss Elaine-Yes Emily Beckley as
Nelson Heston Riley as Nelson Heston Risa
Kaleb Kerr as Captain K
Need more options? Check out the Calendar!!!!!
(Visited 2 times, 1 visits today)