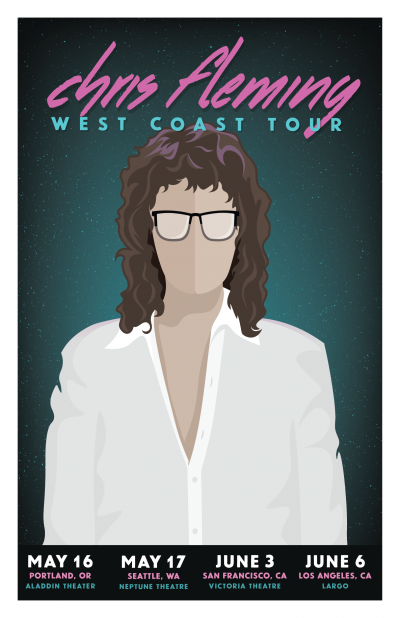 Chris Fleming is like the tameless love child and sometimes rage-aholic progeny  of Robin Williams and Lily Tomlin. Perhaps best known as Gayle Waters-Waters, the power-walking, suburban ubermom who can spin even the most chaste situation into a whirling hurricane of chaos, Gayle became a popular You Tube series garnering over a 17 million views and receiving praise from Gay Icon Margaret Cho.

Chris Fleming is a comedian who has appeared on The Doctors, Tosh.0, and has been written about in Forbes, LA Weekly, Huffington Post, Paper Magazine, Cosmopolitan, and the New Yorker. He is a tall, flexible, twiggy sort with wild curls of hair which allows for him to be a natural for physical comedy of the most ridiculous variety. But there is much more than slapstick and awkward yoga positions to Fleming's comedy – he is wickedly funny with his mile-a-minute wit full of cultural references, intelligence and an Oxford worthy vocabulary.
The last time Fleming was in town he brought Gayle to the fringy Eclectic Theater on Capitol Hill. With Gayle now on hiatus, he will be bringing his new stand-up show, "SHOWPIG",  to the Neptune Theater on Wednesday, May 17.
---
Jeffrey Robert: Let's start with the name of the show – SHOWPIG. If that is a reference to something I'm supposed to get, I'm sorry…I don't get it.
Chris Fleming: Oh, no, no. You are absolutely not supposed to get it…it's discussed in the show.  I fancy myself a showpig – grease me up and send me to market! Put a saddle on me and let the barber's wife ride me to the fair, I'm a showpig! I'm ready be taken to market.
Robert: I'm also curious about the poster.
Fleming: It almost looks like one of those Japanese cartoons from the 90s.. kind of haunting like I was like the antagonist in some kind of Japanese short story…An artist I never met did that. I think she's great. Is that the one with the pink background?
Robert: I think it is more of a green, although I'm colorblind so probably not the best judge.
Fleming: I'm red/green colorblind myself. I was told at 6 years old that I couldn't be an astronaut. How messed up is that?
What do you think of the poster?
Robert: I think it is great, I love it. But if I didn't know who you were I'd think "Oh, there's a Canadian rock band from the 70s that is reunited and is touring".
Fleming: Yeah. Or like some Zydeco band from the 80s that nobody knows. I think everyone thinks I'm in a failed Zydeco band. I think that's what my neighbors think I do, that I play some kind of Latin-American accordion or something.
Robert: Do you play any music?
Fleming: Not well. I make botched music. Some of it is incorporated in my show. I make terrible music with this keyboard. I've made a bunch of music videos for the songs, one of which is called "I'm Afraid To Talk To Men". I'll hear a song on the radio and I have no musical ability. I'll hear these songs and try to mimic them on keyboard. It is liberating to be so far from good at an art form. It's opened up a lot of doors for me, for myself, in terms of being okay with making terrible stuff. I'm not a musician by any means but it's not stopping me from trying.
Robert: Your video captures what I love about you the most. You have this ability to be so completely ridiculous and a fool and be very smart and witty at the same time. It isn't just slapstick, although with the sound of it might appear that way. But when you listen it is so brilliant.
Fleming: Thank you. I think a lot of people think I'm filming myself having a fit in different settings. I'm glad you see some wit in there. That's flattering – some people definitely don't.
Robert: That is hard for me to imagine. But on this tour you are just doing straight-up stand-up, or however you define what you do.
Fleming: I don't know what you call it. It's like if a feral child who was told what stand-up was but never saw it, that's sort of what it's like. It's like if I was living in seclusion during the cold war or something and then reemerging and all you're shown is like one clip of Roseanne and a little bit of The Smothers Brothers. Calling it stand-up is a little…well, there's song and dance, improvisation and quite a bit of storytelling. That is what I started doing, Stand-up, since High School. That is where my background lies so it is kind of a return to the old art form.
Robert: You started in HS?
Fleming: Yes, I started my Junior year by going into a club called The Comedy Studio where I grew up in Cambridge Massachusetts. This guy named Rick Jenkins gave me a shot. He is known to be very liberal and accepting of strange young talent so he kind of took me under his bow tie and let me start there. That was in 2005.
Robert: Was it an immediate addiction for you?
Fleming: I don't know. I was making videos a lot and that was kind of an addiction. It's hard to be addicted. It is really, a tumultuous thing to do a lot. It is nice now to be performing for my own crowd you know. But I've bombed many a night in like, Schaumburg, Illinois. People going out to a comedy night aren't necessarily going to get on board with my Wiccan Propaganda.
Robert: Your take on masculinity, I think, is kind of the opposite of an 80s comic. I found that era of comedy horrifying as a viewer. But you sort of flip it all over and seem to be making fun of yourself but actually you are making fun of the stereotype of having to be a manly man. How did that come about?
Fleming: I think it's from growing up with women and around girls. I was raised in a rather proper house. I was essentially raised as a girl. My mom would never have allowed the whole…well she never would have wanted a young boy running around. I would spend more time with women. But then they kind of wanted me to be this kind of J. Crew guy at the end of the day, even though I had no training or wherewithal. I was completely lost in assimilating into that. Early on I wasn't into gender at all. I looked like a woman playing Peter Pan in Community College.
I did like crossdressing and things like that. Moving to L.A. I could kind of throw rocks at the Massachusetts Puritanical Society from afar. I felt safe to do that. In L.A. they don't give a shit what you do. They are never going to bat an eye. So I think it is just a matter lately being afar away from it enough to get the courage to talk shit about masculinity.
Robert: Is Gayle over and done?
Fleming: Gayle's on hiatus. For awhile Gayle was all I did. It was completely consuming and I loved doing it. It was a time when I was making personal videos as Gayle for people…I was prostituting myself. People would pay 50 dollars to get a Gayle personal video. Having to do 80 in 2 or 3 days – in the middle of one I just stopped and my eyes glazed over and I said "I can't keep doing this" and I never edited it out so some poor family got me like Gayle breaking character and having this existential crisis in the middle of their "fun" video. It's like seeing Santa Claus smoking a cigarette. Stuff like that is also about the stress we went through. It was just me and a couple of people in charge of all the production. Just to try to give everyone a little breathing room we are on a hiatus. But Gayle will ride again. It's just a temporary breather.
Robert: How much of Gayle is you?
Fleming: That's an excellent question. A disturbing one, but an excellent one. As the series went on it became more and more like me expressing anger and frustrations I have with like petty things. I could pawn them off on Gayle. "Oh look at Gayle being ridiculous", when it is truly how I feel about Trader Joe's employees wanting to play an improv game with me. I got away with a lot. It was very therapeutic. Gayle is like a lot of people from my town and family, but later I was able inject a lot of myself. It happened naturally.
Robert: How have the women you were raised with or by responded to Gayle?
Fleming: I guess I make it sound kind of like a commune. It was my sister and two girl cousins and my Aunt and my Mom. They love Gayle. My Mom plays a supporting lead in Gayle so she is very well aware of what I'm talking about there and it made us grow a lot closer together. Being able to exorcise a lot of those demons.
Robert: Gayle isn't really drag character, or do you consider Gayle drag?
Fleming: I don't. If anything she is the most masculine version of myself. My voice is like three octaves higher than Gayle's. I don't like when people call it a drag thing. It's kind of incidental to me that she's a woman, you know. I think that's why people get so confused about my gender or whatever because there's no wig or anything. Just me with a little mascara and a tight, tight mouth.
Robert: I think the one thing that seems draglike to me is that she gives you an ability to say or do things that you might not otherwise say or do.
Fleming: That's very true. Yeah it opened up a lot of doors in my mind for performing. Gayle was so loose-lipped, literally tight lipped but in terms of what she says on the Gayle live show that improvisational nature really helps me come into my own as a performer. I guess technically I'm in drag since I'm playing a 53 year old woman. I just don't like when that is the foremost adjective describing Gayle. It seems almost disrespectful of the character. That's the other thing, I get too respectful of these characters.  It's weird.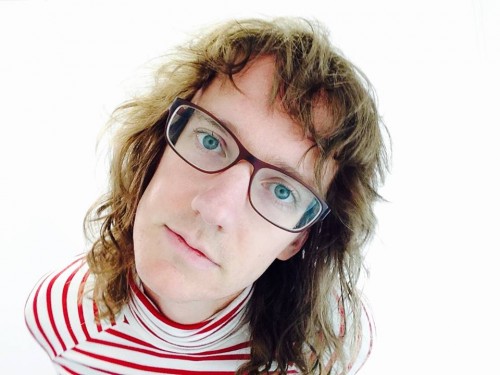 Robert: I see at as a direct descendant of something that Lily Tomlin would have done.
Fleming: That's a very nice compliment.
Robert: Any people that you really admired that inspired you to get into comedy?
Fleming: Oh yeah – Robin Williams. Basically it's just Robin Williams for me. I love Eddie Izzard, too. And Maria Bamford.
Robert: And Margaret Cho is a fan of yours and a friend too, right?
Fleming: She is wonderful. I loved her stuff too in the 90's when I was young. Yes, she has been really kind to us. She was in an episode or two.
Robert: A lot of your fame comes from You Tube. What is it like being a You Tube star?
Fleming: There is a stigma there. When I hear You Tube I think boring pod Christians reviewing cookie dough, so there is a bit of a stigma. But I'm very appreciative.
Robert: The comments on You Tube can be brutal. Do you monitor the comments on there?
Fleming: It's definitely famous for bringing out a lot of sewer creatures to the comments. I was advised by other You Tubers to avoid the comments otherwise you'll end up just be like Jack Nicholson in the Overlook Hotel in The Shining. It will just get to you. I've been very lucky that only a couple times I've been leveled. There are certain people who are like Hannibal Lector, they know exactly where to get you. Those people you have to worry about. They are usually from the UK.  People from the UK really know how to just cut you down. They sweep under you. They side tackle you right in the calf and you are just out for the rest of the season. But usually I've been very fortunate, except for the occasional homophobic slur or hate speech, I've been very fortunate with the kind of comments I get. I have a nice fan base for some reason. I don't monitor the comments. That would be a full time job. If I see something really nasty that is going to bring other people down then I'll hide it.
Robert: Have you spent much time in Seattle?
Fleming: I did a show two or three years ago. I loved it, one of my favorite cities we performed in .The crowd was great. Everyone seemed so freshly showered and bright-eyed. I feel like everyone's a grad student or something a lot. A lot of couples you can tell met at like NPR Tiny Desk concerts. They have a rescue Husky. I really like Seattle.
---
You can witness the twisted worldview of Chris Fleming at the Neptune where he will be discussing polyamorous couples, how the height of privilege is thinking people care of what you thought of LaLa Land, adding modern dance element about when his Dad accidentally told his soccer coach that he loved him in the 90's and much, much more.
Tickets for SHOWPIG:
https://www1.ticketmaster.com/event/0F005271EF506C29#efeat4212

You can also find Chris Fleming and Gayle Waters-Waters on You Tube, Twitter and Facebook.

You Tube
https://www.youtube.com/user/Chuntzit
Twitter
https://twitter.com/chrisfluming
Facebook
https://www.facebook.com/chrisflemingfleming/
Tags: Chris Fleming, Gayle Waters-Waters, Gender Bent, LGBTQ Comedy, Margaret Cho, Queer Comedy, Showpig, STG, The Neptune, Wiccan Propaganda, YouTube Stars