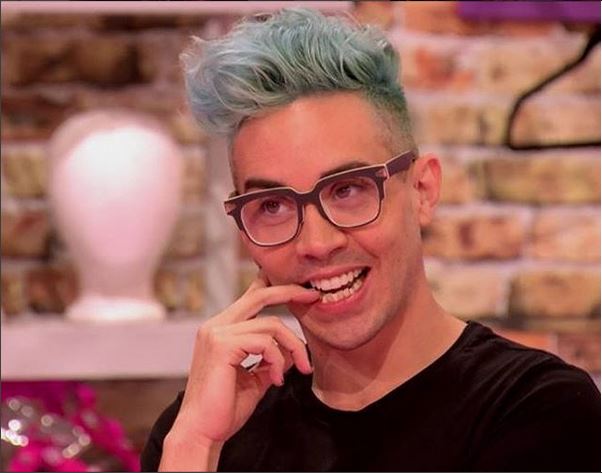 Oh, dear…
Poor Phi Phi O'Hara. The notorious runner-up from Season 4 of RuPaul's Drag Race, the silly and addictive "reality" show about drag queens competing to be America's Next Top Drag Superstar that airs on LOGO TV is upset.
Again.
The Chicago queen, whose real name is Jaremi Carey, got a bad reputation via his appearance on Season 4 where he lost to underdog, Sharon Needles. Carey complained that he got a "bad edit" from the producers and was upset that he was portrayed as conniving, highly competitive and bitter while he was on the show. Despite the fact "Phi Phi" WAS conniving, highly competitive and bitter, Carey seemed convinced that it was entirely the fault of the show's editing team that he was portrayed as such.
<eye roll>
Carey has since spent the last 5 years carefully trying to get back into the good graces of RPDR fans. Phi Phi appeared on the traveling "Battle of the Seasons" stage show with Sharon Needles and other stars from the series and gradually got a reputation as a strong performer as well as a rep for being friendly and cooperative with fans. A recent photography project, "365 Days of Drag" also showcased Phi Phi's make-up and character creation talents. Phi Phi's reputation was gradually redeemed in the eyes of many and she has become one of the more popular non-winners in the "RuNiverse".
With some hesitation, Carey agreed to appear on the second season of RuPaul's Drag Race: All-Stars that pits former runners up from the various seasons against each other at another chance to win a crown. The first series of All-Stars was taped not long after Season 4 ended and Phi Phi/Jaremi Carey was asked to participate but due to some legal problems, he wasn't able to do so. Producers very much wanted Phi Phi to appear on the second edition of "All-Stars" which taped in September of 2015 and Carey claims he was lured in by promises of a "RuDemption" story arc to help cement his new, "nice" reputation.
Well, the show began airing in August of 2016 and…things didn't go quite as planned. On screen, Phi Phi seemed to be playing her usual highly competitive game as she slyly planted seeds of self-doubt into the heads of her competition. She even had a rival to deal with on this go round as Phi Phi and Season Five's Alyssa Edwards seemed to have it in for each other. When Edwards was eliminated in Episode 4, that seemed to be the end of THAT plotline, but all the eliminated contestants were brought back in Episode 5 and given an opportunity to return to the game and after Alyssa Edwards won that right, Phi Phi O'Hara ended up as the eliminated contestant.
That episode aired this past Thursday, September 22, 2016 and immediately after it aired, Phi Phi/Jaremi went public with declarations on how unhappy he was with how he was portrayed on the show and gave a bitter interview to Vulture.com where he outlined his list of grievances against RuPaul and World of Wonder who produce the show for LOGO. Again, Carey objected to how he was edited on the show but also accused the producers of overly manipulating and stage directing the actions of the cast. He raised similar complaints following his first appearance on "Drag Race".
But this time Carey also accused RuPaul of being cold hearted and manipulative. From the Vulture.com interview:
I remember watching Ru as a kid thinking, she's like this life-size Barbie doll basically. I wanted to meet her and I just wanted to see who this person was that was so comfortable in their own skin. So watching her on set and seeing how she ignores everybody and she doesn't talk to the contestants, I was like, What, this is weird, why won't she say hi to me? Part of me just left it as, Oh well she's not allowed to talk to the contestants because what if people say she has favoritism. Didn't think anything of it. But then after [season five], when everything is said and done, she doesn't talk to us. She doesn't do anything with us. If we're at an event it's, Hi. Bye. I was like, Okay, this is weird, and then when I went into All Stars I remember she walked on the set on the very first day when she said that Raven-Symoné was going to be a judge. One of the girls did a Jaidynn Diore Fierce joke and Ru didn't even know who that was, and I was like, What do you mean you don't know? She literally just walked out the door. I'm confused how you don't know who these girls are, which then let me know we're just — how do I say it; this is going to sound really harsh — but I felt like we're not people to her. We're just game pieces for her show and she didn't care enough to know who we were. So when I saw that she unfollowed me, which is cool, whatever, but then put that little snarky cosplay Jessica Rabbit comment, I've completely lost all my respect for RuPaul.
This isn't the first time RuPaul has been criticized for her "chillier than thou" attitude…the drag diva has never suffered fools gladly and seems to have little patience for small talk or social niceties for anyone who doesn't quite measure up…or, can't aid her on her rise to the top. A frank report from Buzzfeed UK last year painted a less than rosy picture of a cold and calculating RuPaul but now even some of the "Sisterhood" of RuPaul Queens are coming out to vent about how RuPaul and the producers of the show treat their talent. Well know "Bitter Bettys" like Phi Phi O'Hara and Mimi Imfurst have largely been dismissed by the rabid RuPaul fanbase but lately, more and more fan favorites have started to murmur that not everything is roses and sunshine in Ru's "Chosen Family". Adore Delano shockingly pulled out of this season of All-Stars after just two episodes blaming personal issues as well as the negativity of the show and specifically comments made by co-judge Michelle Visage and guest judge Raven-Symoné.
And, Seattle's own BenDeLaCreme, a popular contestant on Season Six of the show was recently interviewed in The Stranger to promote her current one diva show, Inferno-A-Go-Go and had this to say when asked about her RPDR experience and not being on All-Stars II:
You know what doesn't make sense? You not being on RuPaul's Drag Race All Stars. I just watched the first episode. Why aren't you on there? Did they ask you?

Take another look. Those TV producers are willing to ruin friendships, professional relationships, feelings of self-worth—all for some cheap entertainment. You won't remember the details of that episode in a week. Those queens may have to work through that experience for years. I'm grateful for the experience I had [on season six of RuPaul's Drag Race], but I've already been through hell in my new show—I don't need to go through it on theirs.
Interesting….neither of them out and out blame RuPaul directly but….the honeymoon seems to be ending for RuPaul's Drag Race.
We hope someone writes a tell-all, behind the scenes book soon.
And, while we think Phi Phi/Jaremi is being a tad overly bitter (he's still shocked by the television editing process! And, shady TV producers!!) And, he still takes no responsibility for being a highly competitive/manipulative player…which is ridiculous because there's NOTHING wrong with being a competitive player on a reality television competition show!!!
Embrace your competitive edge, Phi Phi/Jaremi! We can like non-winners as long as they aren't whiners!!!
(Visited 216 times, 1 visits today)