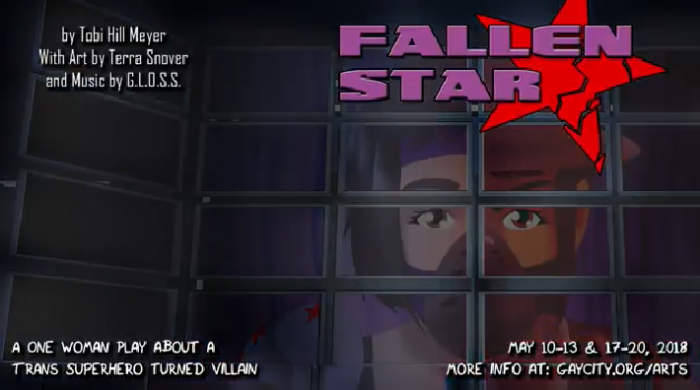 It's sold out for its opening night (Thursday, May 10th) but tickets are still available for other nights during the two weekend run of FALLEN STAR, a solo piece by Tobi Hill-Meyer onstage at Gay City's Calamus Auditorium, May 10 to 13 and May 17 to 20, 2018.
More info and tickets HERE!
Fallen Star

Gay City Arts presents:
Fallen Star
by Tobi Hill-Meyer

Celestial is proud to be one of the first trans women superheroes to join the Heroes Regional Council, but as she discovers more and more ways they perpetuate the systems of oppression she aims to take down she decides to go solo and pursue her own vision of vigilante justice.

Branded as the supervillain Fallen Star and on the brink of destroying the world's systems of power, she faces a final challenger from her idealistic days – someone who holds a commitment to changing the system from within. Ultimately the audience must convince her whether taking over the world is worth the death toll or if slow reform is a better option.

Note: While this show is all ages, it should be noted that it will include discussion of online harassment, suicide, and justifications for violent revolution. All depictions of violence are minimal and cartoonish, discussions of violence are treated seriously. There may be some swearing.
(Visited 1 times, 1 visits today)