Two new plays opened recently at two of the smaller, more interesting Seattle area theaters. Both explore unique interpersonal adult relationships but in very different ways.
And, varying degrees of success.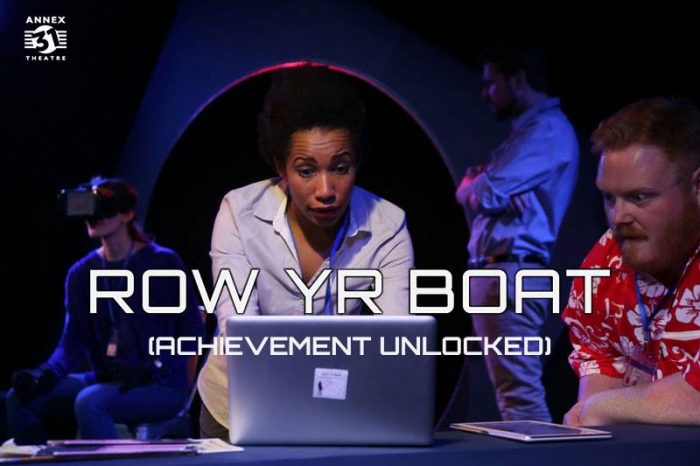 Review:

Row Yr Boat (Achievement Unlocked)

by Wesley K. Andrews. Produced by Annex Theatre. Directed by Catherine Blake Smith. Dramaturg: L. Nicol Cabe. Scenic Design by Jenna Ryan. Costume Design by Amber Lehua. Props Design by nMary Ann Keeney. Lighting Design by Caroline Johnson. Sound Design by Mariah Brougher. With Heidi Cheyenne, Cody Smith, Tim Gagne, Anjelica McMillan, Val Brunetto, Rich Hawkins. Now through March 3, 2018 at Annex Theatre/Capitol Hill
Annex, Seattle's oldest fringe theater company and one dedicated to the creation of new work, is presenting a new play by Wesley K. Andrews. It's ROW YR BOAT (ACHIEVEMENT UNLOCKED) and it's a timely relationship drama about a brilliant young woman named Rose, who aspires to work in the virtual reality field and ends up working for a very mysterious (and odd) Las Vegas based corporation that seems to be involved with global espionage and counter-terrorism. This sounds like it's right up Annex's alley…they specialize in crazy genre stuff involving technology gone wrong and dystopic societies running amuck and deranged lesbian vampires karate chopping vicious gangster robot nuns in parallel universes.
But, "Row Yr Boat" is really a relationship story. For reasons never made fully clear beyond vague generalities, the mysterious corporation wants all single employees to marry by the end of their first year with the company. Since our protagonist Rose is single, she is reluctantly compelled to search for a mate. She's naturally drawn to the forbidden…her charmingly shady already married co-worker Danny and the two rather shamelessly flirt with each other while on missions.
There's also the sweetly mysterious Coyle, a husky shy farmer who seems to have a hard time connecting with Rose. He's obviously attracted to her but he's also just as obviously plagued by secrets in his life. Rose, realizing that Coyle could be the guy to marry, courts him while still yearning for the more suave but married Danny.
Essentially, this play is your standard love triangle with a couple outside influencers along for the ride: the persistently pressing HR rep Julia who pops up every few scenes to remind Rose the clock is ticking, and Wanda, Rose's hilariously ribald sister, who despite being married with kids enjoys visiting Rose in Vegas for "Mom's Gone Wild!" style weekends.
That's the positive side of what "Row Yr Boat" has to offer…interesting and multi-layered characters (well, except for Julia the HR Rep whose sole function here is as an alarm clock…) Coyle's story is interesting; just who is this sweet but tortured farmer and why is he tormented? Danny is an complicated contradictory mess of characteristics, some endearing and some awful. And, Wanda is a hoot.
Oddly, our main character Rose isn't as fully developed, or, if I'm being honest, as interesting and layered as the supporting characters. She's a bit of an enigma and not a particularly compelling one at that. The playwright has created interesting characters and there are some well written individual interactions between these characters but overall the structure of the play is rather floppy. Good moments sandwiched between banal ones and mostly lacking in structure. There's also the the puzzling question of why this very contemporary company has such old fashioned rules about married employees…it seems like an overly forced plot point that isn't very logical.
For that matter, why even have a high tech setting if you don't really do much with it? For a play that uses virtual reality as a setting, you would expect a bit more in the way of using that technology within the structure of the play, as part of the plot, as well as part of the setting of the show.
There are good performances here, especially from Cody Smith as the shy farmer and Tim Gagne as the messy co-worker. Val Brunetto is very funny as the crazy sister and Heidi Cheyenne makes for a coolly cerebral main character albeit one that seems to lack as much depth as the supporting cast.
Row Yr Boat (Achievement Unlocked) is a play with some lovely moments from compelling characters but overall it's lacking in a strong cohesive structure or sense of purpose. It's just another love triangle tale that could have used more mystery to make it more interesting.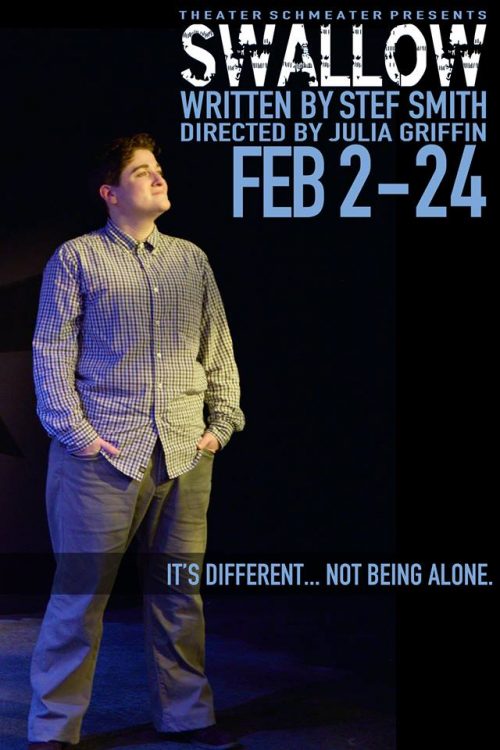 Review: Swallow by Stef Smith. Produced by Theater Schmeater. Directed by Julia Griffin. Movement Design by Eddie DeHais. Scenic Design by Robin Macartney. Costume Design by Julia Evanovich. Lighting Design by Levi Plumb. Sound Design by D.R. Amromin. Mask Design by Cole Hornaday. With Jasper Katie Driscoll, Jasmine Joshua, Mahria Zook, Kendra Pierce. Now through February 24, 2018 at Theater Schmeater. 
Seattle's other long running fringe company, Theater Schmeater is also debuting a newer work about complicated human relationships. It's SWALLOW from Scottish playwright Stef Smith and it's a more cerebral and theatrical work about three lonely individuals, all loosely connected to each other, who seek a way to connect with themselves as well as the outside world. 
There's quirky Anna, an agoraphobe who hasn't left her apartment in weeks and babbles delightfully while she slowly dismantles her apartment. Rebecca is Anna's neighbor who has just broken up with her boyfriend and isn't coping well with it; she's smashed all her mirrors and suffered a facial injury in the process. Sam is a transman who is still relatively early in his transition and struggling to adapt to a new life. Sam meets and falls for Rebecca who is reluctant to explore any kind of new relationship but is also intrigued/concerned about Anna, who gets more and more agitated.
There's also a Pelican involved. 
It all sounds a bit odd, and it is, but it's odd in a lovely sort of way. Stef Smith has crafted a lovely piece that explores these three people and their interconnectivity to one another and the world.  Swallow starts out with monologues from each character and gradually reveals more and more information about them before starting to connect each character to the other. It's all very well crafted and each character is given their own strong moments to reveal themselves. And, despite being a play about three depressives, the play is also filled with as much lightness as the darkness contained within each of the three. There's a sweet yin/yang quality to it all that's a bit Eastern but also rather solidly Scottish in its pragmatism.
The success of this particular production is in the hands of the strong staging by Julia Griffin and exceptional design work including a terrific (and vital to the story being told) sound design by D.R. Amromin and Levi Plumb's lighting design. Julia Evanovich's costumes but most especially the Pelican costume which includes a mask created by Cole Hornaday, is also striking.
The three principal actors are a chief highlight with superb ensemble work from Mahria Zook as Rebecca, Jasmine Joshua as Sam and Jasper Katie Driscoll as Anna as well as bravura moments from each in individual moments, particularly in the beginning of the play as each character introduces themselves. (And, Kendra Pierce does a lovely job as the Pelican, solely relying on movement to create a believable but fantastical creature.)
Swallow is a lovely example of modern magic realism combining fantasy elements and spoken inner monologues with sharp gritty characterizations of very modern individuals. It's clever and entrancing and highly recommended. 
Tags: Annex Theater, Row Yr Boat (Achievement Unlocked), Seattle Fringe Theater, Seattle Theater, Swallow, Theater Schmeater, Transgender Theater