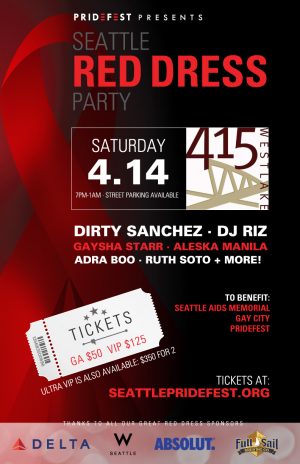 We finally have a headliner for Seattle Red Dress Party 2018, the mostly annual fundraiser that features (mostly) everyone wearing red dresses to honor those who fought/fight HIV/AIDS. It's DIRTY SANCHEZ, the L.A. based music side project from legendary drag star Jackie Beat, legendary club king/party producer Mario Diaz and legendary DJ Barbeau that debuted in 2001 and went on to produce fun cult club hits like "Really Rich Italian Satanists", "Fucking On The Dance Floor", and "Give Head and Be Beautiful" and who were mostly active in the 2000s but recently announced they were coming back to make music once again!
Other names attached: DJ Riz, local drag divas Gaysha Starr and Aleksa Manila, fantastic local chanteuses Adra Boo and Ruth Soto.
Some changes for this year's event which benefits Seattle PrideFest who produce the Pride festival events on Capitol Hill and Seattle Center on Seattle's annual pride weekend, the last weekend in June, as well as some local AIDS/HIV groups. It's moving from Capitol Hill's Century Ballroom to the very intimate (300 occupancy) event space, 415 Westlake in the heart of the South Lake Union neighborhood.
Tickets are already on sale at the PrideFest website and include $50 General Admission tickets, $125 VIP tickets and even some fancy $350 Ultra VIP tickets which give you an opportunity for a talent meet and greet. 
It's all happening on Saturday, April 14, 2018 (Tax Weekend! Yay!!!).
Snag your tickets HERE and start planning what Red Dress you're going to wear.
Hopefully not the same one you've worn 4 years in a row….
Tags: Cult Bands, Dirty Sanchez, HIV AIDS, HIV AIDS Fundraisers, Jackie Beat, Mario Diaz, Queer Bands, Seattle Red Dress Party, Seattle Red Dress Party 2018