September 20, 2022

•
by
Michael Strangeways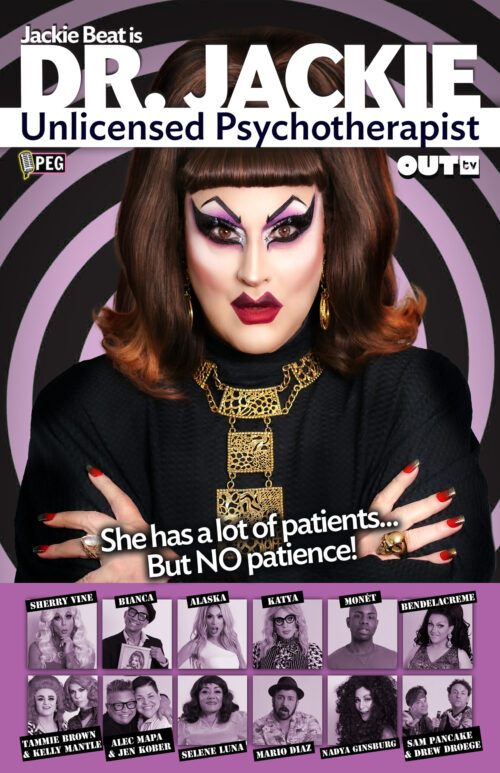 Our question is…why?
How?
Oh….it's a gay Canadian cable channel.
Desperate times call for desperate measures!
As for us, Jackie Beat kidnapped our children and threatened to take them to Knott's Berry Farm to be bored to death by the jam, jellies and sadass 'rides' so we're obligated to share this news because we DO think of the children!!!!
Via breathless press release:
 Legendary (and by "legendary" we merely mean "still alive") drag queen, Jackie Beat has FINALLY landed  her own tv series with "Dr. Jackie: Unlicensed Psychotherapist."The 6-part series will premiere on OUTtv September 19 with new episodes airing each week through October 24. Episode 1 will be free on OUTtv on The Roku Channel and on The Apple TV Channel in the US/Canada. Watch the trailer HERE
After years of studying, failed actress Jackie Beat has finally become a psychotherapist. Okay, so maybe it really only took a few hours online, but she has a piece of paper saying she's a "doctor" and now she's ready to put her natural gift for helping people to use. Okay, so maybe she's actually a self-centered bitch who is infamous for giving complete strangers the worst advice possible. Using role-playing, primal scream therapy, ink-blot tests and yes, even puppets, Dr. Jackie is helping her funny, famous and fabulous "friends" navigate the rocky road of mental health. Co-starring Sherry Vine as Jackie's cute, but confused assistant. 
"Dr. Jackie: Unlicensed Psychotherapist"is packed with iconic special guests (Margaret Cho, Cassandra "Elvira" Peterson, John Cameron Mitchell, Alec Mapa & Jen Kober, Selene Luna, Mario Diaz, Nadya Ginsburg, Sam Pancake & Drew Droege) and some of the world's top drag superstars including: Alaska Thunderfuck, Katya, Bianca Del Rio, Monét X Change, Sherry Vine, Tammie Brown & Kelly Mantle, Bendelacreme and Trixie Mattel! 
About Jackie Beat:
Drag superstar JACKIE BEAT has been entertaining audiences across the U.S. and in Europe for over TWENTY-FIVE YEARS with her razor-sharp comedy and hysterical song parodies. Jackie not only warps hits by Britney Spears, Madonna, Mary J. Blige, Christina Aguilera, Cher, Lady Gaga, Katy Perry, Mariah Carey and many others, but she flawlessly sings her twisted new versions LIVE — hitting every last note.
Her hilarious music videos on YouTube are huge hits that have been seen by millions of people. Her one-woman show "Jackie Beat Is A Whole Lotta' Love" ran a record 18 months at NYC's premiere cabaret, Fez, and she returns to The Big Apple every year with her award-winning, standing-room-only holiday show as part of her SOLD OUT national holiday tour. Jackie's stand-up has been featured in comedy clubs across the country and on Comedy Central, VH-1 and MTV. Her scathing song parodies have been featured on America's Top Forty with Ryan Seacrest, The Howard Stern Show, Much Music TV, Yo on E! and PerezHilton.com.
She has appeared on many TV shows such as "Sex and the City" and in several movies including "Flawless" with Robert DeNiro, the festival hit "Wigstock The Movie" and the camp cult horror favorite "Gingerdead Man 3: Saturday Night Cleaver." Jackie has also been in many off-Broadway productions, performed on countless cruises ships, toured with Roseanne Barr as her opening act (including a 7 week run at the New York New York in Las Vegas!), has enjoyed a sold-out 8-week run in Provincetown in summers past, and is lead singer of the popular electro-rock band Dirty Sanchez, who toured with My Life With The Thrill Kill Kult. Their debut CD was released on Hypnotic Records and their music was featured on the campy NBC soap opera, "Passions."
Jackie Beat is also a proud Writers Guild member who has worked on The WB sketch comedy show "Hype!," the Sci-Fi Channel original series "Tripping The Rift," and E Entertainment TV's "Fashion Police." Jackie wrote for Roseanne Barr on her Comedy Central Roast, for host Kate Flannery on "Stand-up in Stilettos," on Ross Mathews' series "Hello Ross" for E and on his debut book, "Man-Up!" In addition, Jackie has written special material for the likes of Rosie O'Donnell, Margaret Cho, Sandra Bernhard, Patricia Arquette, Jennifer Coolidge, Elvira and more. Jackie has also written the plays "Double Wide Female," "Scream Teen Scream!" and "Whatever Happened To Busty Jane?" along with quite a few brilliant (but ahead of their time?) motion picture screenplays and TV pilots. Jackie has also contributed to countless magazines, was a regular columnist for Frontiers Magazine and one of US Magazine's Fashion Police top cops.
Jackie's latest venture is impersonating her "spirit animal" — the one and only Bea Arthur — in both the stage version of The Golden Girlz Live (over 70 sold-out shows!) and as part of The MisMatch Game at the LA Gay & Lesbian Center to benefit homeless LGBT youth.
Jackie currently lives in beautiful Altadena, California with her furry children: Miss Toni & Darlin'.
About OUTtv:
OUTtv is the world's first LGBTQ+ television and streaming service. Home to a compelling mix of inclusive, queer-focused content from comedy to drama, documentaries, reality, and award-winning movies. OUTtv is dedicated to telling stories by and for the community and is the world's leading provider of queer content. OUTtv Originals include Call Me Mother, Gogo For The Gold, Boy Boy Montréal, The Villbergs Chronicles, Iconic Justice, Hot Haus, Trixie Mattel: Skinny Legend, My Trans Journey and the documentary strand OutSpoken.
OUTtv's streaming platform is available at OUTtv.com where subscribers can stream their favorite series' and movies and discover new content exclusive to the service. OUTtv.com is available for iOS and Android devices, Apple TV, Roku and on web browsers in the USA, Canada, Australia and New Zealand. OUTtv is also available in Canada and the USA as an Apple TV Channel and in Canada and Australia as an Amazon Prime Video Channel and on The Roku Channel in the USA.
Follow us on Facebook, Twitter and Instagram @OUTtv or TikTok @OUTtvca
(Visited 13 times, 1 visits today)
As the Editorial Director/Co-Owner, Michael Strangeways writes, edits and does about a million other jobs for Seattle Gay Scene, Puget Sound's most visited LGBTQ news, arts and entertainment website now celebrating its 14th year as a media outlet. A semi-proud Midwesterner by birth, he's lived in Seattle since 2000. He's also a film producer who would like you to check out the Jinkx Monsoon documentary, "Drag Becomes Him" now available on Amazon.com. In his spare time, he gets slightly obsessive about his love for old movies, challenging theater, "otters", vodka, chocolate, "I,Claudius", Lizzie Borden, real books made out of paper, disaster films, show tunes, Weimar era Germany, flea markets, pop surrealistic art, the sex lives of Hollywood actors both living and dead, kitties, chicken fried steak, haute couture and David Bowie. But, not necessarily in that order.
Related Posts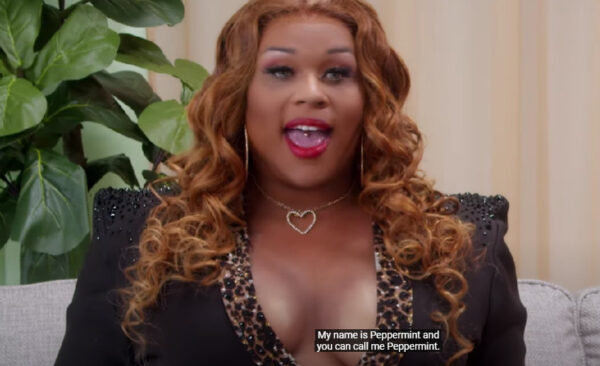 Arts & Entertainment • Concerts • Drag • Music • Nightlife • Seattle Transgender Scene • Trans* Arts & Entertainment • Trans* Events • Trans* News • We Love The Nightlife
RuPaul's Drag Race Season Nine star PEPPERMINT is a busy
...