You either adore the 1998 romantic comedy/drama SHAKESPEARE IN LOVE…or, you don't.
Actually, that's a silly declaration. The film does have many fans but it also has detractors and probably more accurately, it has many people who think the film is "fine" but not really worthy of all the love and attention it received when it was released. The sweet but slight film won a rather astonishing 7 Academy Awards, including Best Film and Best Actress for Gwyneth Paltrow (and Best Original Screenplay for playwright Tom Stoppard and Marc Norman) despite having tough competition from Steven Spielberg's acclaimed WWII drama Saving Private Ryan and Terrence Malick's big comeback film, A Thin Red Line…not to mention another Elizabethan drama but one actually ABOUT the queen the era was named after, Elizabeth starring Cate Blanchett.
But, Shakespeare in Love: The Motion Picture was produced by the notorious Hollywood film mogul Harvey Weinstein, recently disgraced by accusations that he has sexually harassed women for many decades, and Mr. Weinstein was well known for securing film award nominations and wins for his prestigious productions. Shakespeare in Love's big haul in 1998 was proof that Mr. Weinstein had a gift for grabbing Oscar gold….regardless if it was deserved or not.
And, I'll be frank….I'm in the "Shakespeare in Love is a sweet but slight film unworthy of all that Oscar love" Camp. I found it modestly enjoyable and entertaining when I watched it back in the day, but I'll also admit that I haven't had any interest in re-visiting the film in the 20 years since it appeared and I say that as someone who re-watches many films that I revere. So, unlike some people, I really wasn't particularly excited when Seattle Shakespeare Company announced they were producing the stage adaptation of the film for their 2017/18 season. I suppose it makes SENSE for a theater company to produce a play ABOUT Shakespeare (they've done it before with 2010's Wittenberg)…it helps break up the monotony of only producing works BY William Shakespeare. And, there's the fact that Seattle Shakes is running out of Shakespeare plays to newly produce…there's only a couple left they've never done and how many times can you go to the "Midsummer/Hamlet/Romeo & Juliet" well before ennui sets in?
The play version of Shakespeare in Love, adapted by Lee Hall from Stoppard/Norman's original script is seemingly faithful to the film so it's still a nicely told tale of young forbidden love between a jejune Will Shakespeare working on the script for "Romeo & Juliet" only it's called "Romeo and Ethel, The Pirate's Daughter" in its earliest incarnation, and a young noblewoman named Violet who adores the stage but is forbidden to appear on it (women were not allowed on Elizabethan stages; young male actors played the female roles). Violet manages to infiltrate the theater company disguised as a man as well as falling for Shakespeare (and vice versa) while trying to avoid having to marry an oafish man she despises.
It's fine.  A mild amusement. An amuse-bouche of the simplest sort.  As is this production. But, like many Seattle Shakespeare Company productions, it looks a bit underfunded, especially at home on the large stage at the Cornish Playhouse…there's just a trio of rough wooden set pieces used in various arrangements as the set and there's the usual lack of an ensemble to fill up the stage; this production only has one lone female actress on hand in the ensemble and a gaggle of men. Design wise it's a bit meh, but Doris Black has come up with some handsome costumes for everyone to wear.
The cast is also fine with Tim Gouran, Brandon Felker and MJ Sieber doing their usual "thank god they're in this cast to liven things up!" mode that we, as the audience are always so thankful for.
Our two leads are….miscast. Or, they've been cast in these roles about 10 years too late, if we're being honest. Part of the fun of the film was the fact the plot of Shakespeare in Love, mirrored (and influenced) the plot of Romeo & Juliet as it was being written so the young love of "R & J" should kinda/sorta be aped by the love between Violet and Will, who were played by the lovely mid 20somethings of adorable (at that time) Gwyneth "pre Goop" Paltrow and ottery hottie Joseph "I'm not Ralph" Fiennes.
Meanwhile, back in theater land, Rafael Jordan (playing Will)  is a good actor and Chiara Motley (playing Violet) is a good actress (we've seen them in other better roles/productions) but they're not mid 20somethings anymore and frankly that does hurt the play a bit….it's supposed to be a tale of young wistful love not 30somethings in DILFy/MILFy passions. And, both actors are too serious and dour in these roles; no one seems to be having much fun here. It should be swoony, giddy love…it just seems so flat and bland and listless.
Like the movie, Shakespeare in Love the play is safely amusing…it's "fine".
Like a vanilla pudding eaten at your favorite cozy neighborhood Applebee's.
Review: Shakespeare in Love. Adapted for the stage by Lee Hall. Based on the screenplay by Marc Norman & Tom Stoppard. Produced by Seattle Shakespeare Company. Directed by George Mount. Set Design by Craig B. Wollam. Costume Design by Doris Black. Lighting Design by Roberta Russell. Sound Design by Robertson Witmer. Choreography by Andrew Murray. Fight Choreography by Peter Dylan O'Connor. With Suzanne Bouchard, Heather Cook, Keith Dahlgren, Tom Dang, Gretchen Douma, Chris Ensweiler, Bradford Farwell, Brandon Felker, Matt Gilworth, Tim Gouran, Saxton Jay Walker, Rafael Jordan, Chiara Motley, Julian Mudge-Burns, Glen Peak, MJ Sieber, Arlando Smith, Brian Claudio Smith, Zachary Taxdahl, Dylan Zucati. Now through June 3, 3018 at Cornish Playhouse/Seattle Center.
---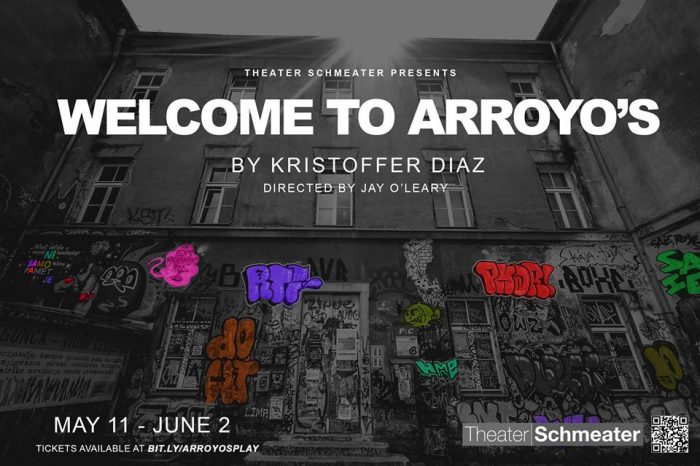 For a fresher piece of theater that explores the actual lives of actual young people, there's the far more interesting Welcome to Arroyo's from playwright Kristoffer Diaz about a pair of Puerto Rican siblings living in New York City's Lower East Side. Alejandro and Molly have recently lost their mother and each grieves in their own way. Alejandro turns his mother's neighborhood bodega into a lounge complete with a pair of wisecracking friends as djs…but no customers. Molly is a graffiti artist who gets caught by Officer Derek, the neighborhood's newest beat cop. And, Lelly is a former neighborhood young woman, now a student, ill at ease with her heritage who might have found a way to reconnect with her roots and her old neighborhood when she discovers that the Arroyo siblings' mother might have been one of the founders of Hip Hop music and culture.
So, we have a relatively simple premise with multiple story lines all intertwining with each other and these six characters and it's all a charming winner for Theater Schmeater and their latest production. Mr. Diaz has crafted a winning script here with interesting characters that have a lot of emotional depth and put them into an interesting setting. There's a great richness and depth of plot here; most of the storylines in Welcome to Arroyo's are resolved to one degree or the other by the end of the play but it still feels like there's more to be mined from these lives and situations. The Arroyo's Lounge would be a welcome go-to on a weekly television show…you want to find out more about these characters and this neighborhood.
The strengths here are Mr. Diaz's excellent play itself but also the assured direction from Jay O'Leary…she does an excellent job of staging the play's various locales within the rather small confines of the Schmee's performance space. She also brings out good work from the exceptional cast of actors headed by Tony Magaña Jr as Alejandro and Ashley Salazar as sister Molly.
There's fine support by Naa Akua as the new beat cop, Officer Derek who has a last name we can't reveal because it'll ruin a major joke in the play. Michael Cercado and Richard Sean Glen are both very funny as the two djs who serve as a Greek chorus to proceedings in the play and directly address the audience to actions committed by other characters.
And, I especially adored newcomer Anasofia Gallegos who was just terrific as the bubbly academic Lelly who wants to reconnect with her culture but not entirely confident in her own abilities to pull that off. She has a direct charm and a great sense of timing here as the character deals with conflicting emotions; excitement over the possibility she has discovered a major piece of hidden hip hop history but also dealing with feelings she has developed for Alejandro.
For a show about hip hop, there is obviously a lot of music in it so there's also a great sound design from Stephon Dorsey.
One negative: the graffiti art of Molly is an important part of the plot of Welcome to Arroyo's yet we never see it. Perhaps it's not indicated in the script but it seems negligent to not showcase the art when given that opportunity in the plot of the play.
That aside, Welcome to Arroyo's is a cleverly written, directed and performed winner…a fascinating look at Boricua culture and how it interacts with hip hop culture and modern urban American life. 
Review: Welcome to Arroyo's by Kristoffer Diaz. Produced by Theater Schmeater. Directed by Jay O'Leary. Scenic Design by Lex Marcos. Costume Design by Sadiqua Iman. Sound Design by Stephon Dorsey. Lighting Design by Angelo Domitri. With Naa Akua, Michael Cercado, Anasofia Gallegos, Richard Sean Glen, Tony Magaña Jr, Ashley Salazar. Now through June 2, 2018 at Theater Schmeater/Belltown.
Tags: Seattle Shakespeare Company, Shakespeare in Love, Theater Schmeater, Welcome to Arroyo's