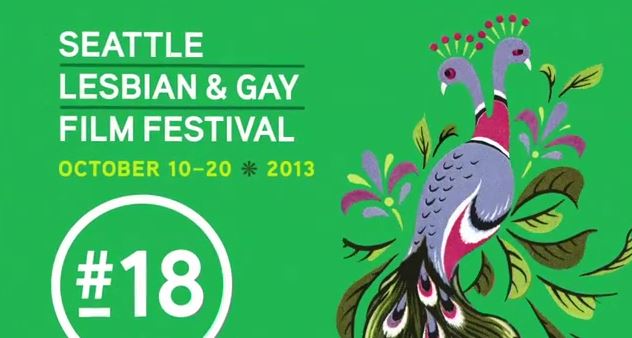 We know people are getting very excited about the upcoming 18th annual Seattle Lesbian & Gay Film Festival produced by Three Dollar Bill Cinema and running October 10th through the 20th at venues all over the city. They've put together a very interesting line-up of films, programs, live events and parties this year that include the Gala Opening Film "I Am Divine" plus premieres of "Reaching for the Moon", "Whoopi Goldberg Presents Moms Mabley", the very zexy French thriller "Stranger by the Lake", and the Closing Night Gala film, "The Happy Sad". PLUS, a very special screening of the beloved documentary "Grey Gardens" that will include a live performance from Jinkx Monsoon and Peaches Christ. You can check out all these events and get tickets and passes over here and see the entire line-up for the entire festival.
If you like to PERUSE an actual physical program guide, you have a couple options to get one, plus check out trailers and shoot the breeze with other excited film festival fans at TWO events happening this weekend. First up, is a little Happy Hour Festival Launch event at Lobby Bar happening TONIGHT (Friday, Sept 27) from 5pm to 7pm…grab a guide and a cocktail and get more information from Three Dollar Bill staff.
Then, on Sunday, Sept 29th at 3pm you can head to the Frye Art Museum, 704 Terry Avenue for a very special preview party that also a tie in to the Frye's current very hot exhibit, "Mark Mitchell: Burial". Here's more info on "Bold is Beautiful Preview Party".
Free! Come to the The Frye Art Museum for a first look at the bold & beautiful films playing the 18th Seattle Lesbian & Gay Film Festival presented by Xfinity, Oct. 10-20. We'll screen sneak peeks of the most highly anticipated films of the festival, along with select short films including the award-winning profile of Seattle artist Mark Mitchell, directed by Marcy Stone-Francois. After the screening, Mark will discuss his stunning new exhibit at the Frye, Mark Mitchell: Burial, running Sep 21-Oct 20. Complimentary refreshments will be served.

Free tickets may be picked up at the Information Desk one hour prior to the start of the program. There is no late seating, so please arrive early. As a special benefit, Frye members may reserve free tickets in advance to guarantee seating. To reserve, call 206 432 8289 or email rsvp@fryemuseum.org at least two days prior to the event. Each member may reserve two tickets and must claim their tickets at the Information Desk fifteen minutes prior to the start of the program.
Also, make sure you go grab tickets to see the only locally made queer feature in this year's festival…the quirky, romantic comedy/drama "R/Evolve" will screen Monday, October 14th at 9:30 pm at Northwest Film Forum and SGS is a community co-presenter of the film which takes a wry look at the battle for marriage equality and corporate politics through the eyes of a Seattle couple who may or may not be ready to take the plunge. It features a lot of familiar faces and locations…including a very special cameo from Mr. Strangeways. "R/Evolve" is the kind of film you'll either love…or, hate…it's a bit 'mumblecorey' and it takes some controversial looks at the issue of marriage equality which might rub some people the wrong way.  Regardless of how you feel about the very complicated issue of marriage, come see the film and join the discussion.
And, you can check out one of the lovely trailers for this year's festival featuring even more familiar local faces….
(Visited 1 times, 1 visits today)