So, Nark and his Collective of Awesomeness that includes Trouble, Pavone, Jimi Jaxon, Robbie Clark, Mark Gentile have pretty much taken over Fridays/Saturdays at The Seattle Eagle with the result it's kind of the cool/in place to be…if you like hot music, furry go go boys and a general air of trashy innocence/ decadence.
This Friday it's "Jack" (which is basically just "Dickslap" with a different name…) and features Trouble on deck and Riff-Raff as host with DJ Sleazy McQueen as a very special guest and Hipster Porn God Colby Keller back in town to spank some sense into ya.
All so very filthy and gorgeous.
Everything you need to know….
Jack Fridays / Nark Magazine presents…

The return of COLBY KELLER and the private spanking booth at JACK! Get ready for some black and blue bottoms, Colby will be setting up shop in the deep dark corner of the The Eagle (past the DJ booth) and handing out personal whackings to all those naughty enough to partake (which is ALL OF YOU). This is also a great chance to hear some world class tunes during Decibel week amongst the gayz.

Dudes and adults and those who need a good spanking, lineup.

Last year it looked a little like..
http://narkmagazine.com/nightlife/229-mugshots-dickslap-w-colby-keller-81712

SPECIAL GUEST!
*Colby Keller
Colby Keller is a ten year porn veteran that has appeared in over 50 adult titles for studios including Sean Cody, Randy Blue, Titan, Falcon, Raging Stallions, Dominic Ford, Men.com and more. At 6'2″, 220lbs, this All-American guy next door is also a popular nerd porn blogger at his site the Big Shoe Diaries (oh yeah, did we mention he has size 15 feet?) hosted at www.colbykeller.com. Known for his porn work, he also a writer and artist, as well as a sex advice video blogger for Manhunt.net. He and co-blogger, Karl Marxxx are traveling across America from August 10th to August 20th and stopping along the way in Cleveland, Chicago, Minneapolis, Sioux City, Billings, and Seattle.

Colby will host his popular "Colby Keller Spanking Station" where you'll get to meet Colby one-on-one and bend the heck over for him to give you a few whacks (don't worry, he'll be gentle if you beg for it).

GUEST DJ
*Sleazy McQueen (Florida, Whiskey Disco, Virgin, Compost)
As owner of the record label Whiskey Disco, Sleazy McQueen has helped to give the 'Nu-Disco' scene an element of referential class. With remarkably well produced re-works and originals, the Sleazy sound combines the dirty fun of seventies funk with the hypnotic rhythms of deep house. As a dj, he has travelled from Asia to Europe, both Americas and a constant tour of the United States. His music productions have been licensed to over 100 releases, remixes & edits on labels worldwide, including, but not limited to; Virgin, Siesta, Bearfunk, Headtunes Music, Compost, Paper Recordings & House Arrest.

+RESIDENT
*TROUBLE ( Terry Hecker )

https://soundcloud.com/sleazymcqueen

GUEST HOST
*Riff-Raff (Bottom Forty)
Getting the party started, if you think you are going to sit around on your ASS all night you are SORELY mistaken. (see what I did there?)

FRIDAY 9.27
THE EAGLE 314 EAST PIKE STREET
10PM-LATE
DISCO DICSO DISKO

————————–——–
Jack
A hands on social with your favorite homosexuals and unpredictable guests, improving your standard of living Friday nights at The Eagle.

A discotech, an overseas house affair, a vibrating beat box, featuring resident DJs-

TROUBLE (Trouble Disco)
JIMI JAXON (Decibel, Bottom Forty)
PAVONE (Bottom Forty, Stiffed)
ROBBY CLARK (Delacreme)
MARK GENTILE
NARK (Dickslap)

+ special guests near and far

And resident booty shakers in the cage
ROSS (pdx)
BRENDAN
JAMES
KIRK
COLM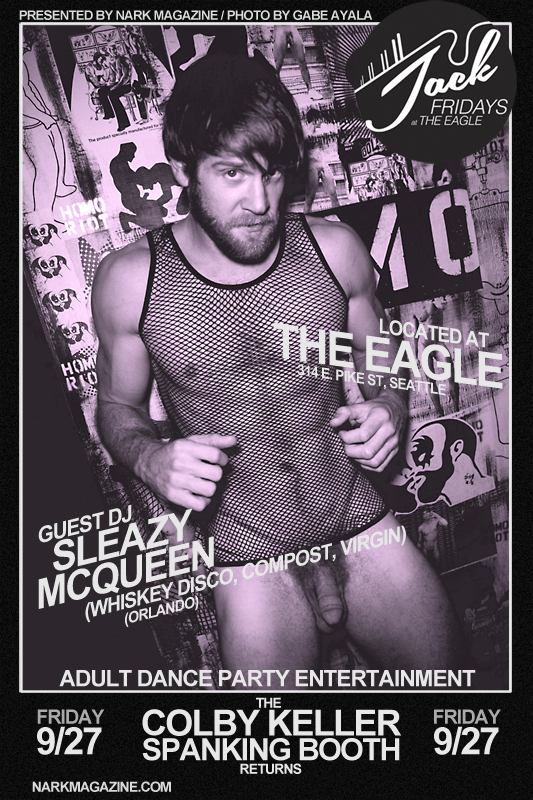 (Visited 12 times, 1 visits today)