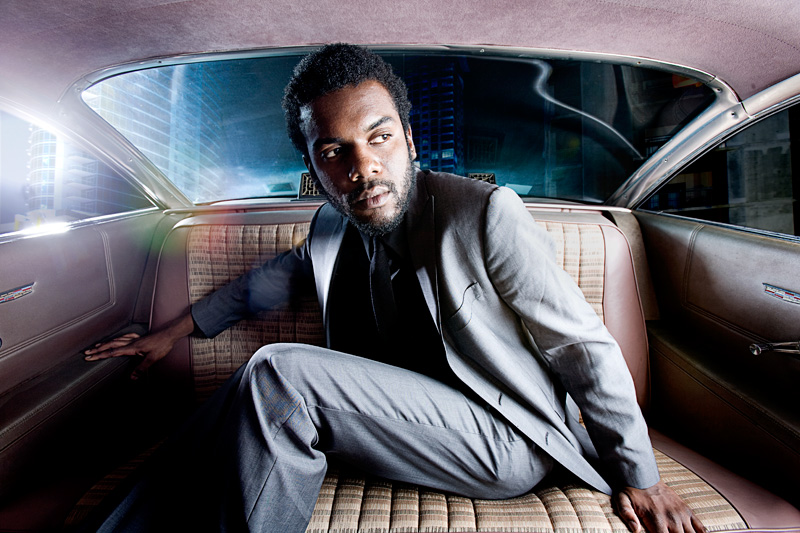 Gary Clark Jr is being touted as "the savior of blues" and "a guitar virtuoso". He's been compared to artists such as Jimmy Hendrix and Stevie Ray Vaughn.
The comparisons are honorable, yet there is something about this guy that separates him, that makes his style feel like it's brand new, like he just invented this sound one night in his room. Gary Clark Jr. is dynamic, and I couldn't be more pleased that Blues is coming back to the mainstream. And whom better to bring it back than a 27 year old who plays guitar like it was invented yesterday.
I read a small magazine article about Gary a few months back.The way I discover new music, new to me that is, is two simple ways. Word of mouth from people I know and meet, and whenever I read about an artist or band that I have never heard, I write down their name and do a search. Doesn't matter the genre, the style, whatever. If I don't know the name, I want to hear what they're about.
So with Gary, it was a real treat. He's catergorized as blues because that's what he plays the most of. But I found that each song had a different style and quality to it. His songs went from blues, to pop, to to rock, and so on.
MORE After the Jump!
Gary Clark Jr was born in Texas in 1984 and has been playing guitar since the age of 12. Guitar prodigy? I think so! And not only can he play fantastically, he can sing, really sing, and, he knows how to write a damn good song!
Gary's songs read like a story of a day in the life. He sings about love, but sweetly without all the sap, about having to move on, but without the drama, and drinking, but without the sad regret of the night before.
Every song is different than the last, covering a variety of musical genres with a perfect combination of blues, rock and soul.
Gary released a full length album in 2008 titled "Worry No More". This is currently unavailable (I don't know why!) but you can find random tracks from it peppered here and there on the internet.
In 2010 he released a self titled 8 song EP, "Gary Clark Jr" (yes, its an EP due to the length), on Hotwire Unlimited Records. His most current recording was released this year and is a 4 song EP titled "Bright Lights". There is a crossover of a couple of songs from the two EP's, perhaps he just wanted to re-record them, either way you have a couple of options to hear his music.
His 2010 self titled EP contains 8 gems.! It's a mixed bag of goodies, kind of like a sample pack of the different styles of music he plays. This album grabs you from the first note, with each song a tale so well told you want to keep listening to hear what the next story is gonna be! The album begins with "Intro", a short instrumental song with a lovely horn section and guitar. Near the end of the record, which doesn't actually end with "Outro", it's the second to last song, is a longer instrumental tune that starts out mellow and goes into a pretty heavy guitar solo while still maintaining a calm feel to it.
The songs sandwiched between "Intro" and "Outro" are wonderful, bringing a nice surprise along with each one.
"The Life" is a catchy 80's style pop tune about being broke and learning to deal, while "Breakdown" is a pop/rock song, where he sings about a bad day that he refuses to let bring him down.
"Please Come Home" takes a complete turn from the rest. The song sounds like a ballad from the 1950's. Gary sings in a falsetto voice and plays guitar with a surf style sound. "Home" also launches into an amazing guitar solo as do many of his songs, but again with a different style and feel to each and every one.
"I Like The Way You Love Me" is another pretty 1950's love ballad, but with an updated guitar sound to it that makes it stand out in it's own genre.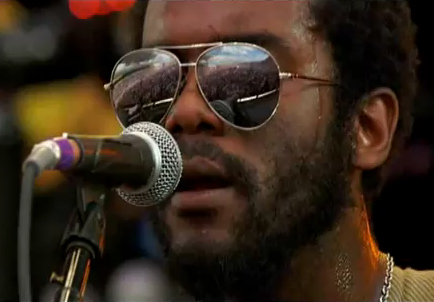 "Bright Lights" is his latest recording released earlier this year. This EP has fewer songs than his self titled album, but they are equally as great in sound and stories.
The title track on the EP is the blues/rock anthem "Bright Lights". The first line of the song, "Woke up in New York City lying on the floor" brings you straight into the beginning of his stories. It keeps a great tempo lyrically and musically as do all of his songs.
"Don't Owe You A Thang" plays like a classic blues/rock song with a straight forward assertion
addressing the person of this song, "That's all you get, just me & this guitar babe". So deal!
"Things Are Changin'" makes a complete musical shift . This song sounds like a 90's R&B tune, but not in a sappy, gooey way. He slows it down, but keeps it a nice beat along with keeping the guitar a prominent figure, no 90's synth in here!
"When My Train Pulls In" is a beautiful acoustic blues song running at 8 minutes in length. 8 minutes seems a bit on the long side, but it really works here.The song is about being in a tough place and surrounded by people that are not good for you and figuring out when it's time to move on. The 3 minute guitar solo at the end is as much a part of the story he tells as the lyrics he sings . The whole piece just flows nicely together.
Also in my research I discovered that in 2007 he starred in a film written and directed by John Sayles called "Honeydripper". Gary plays a guitarist that saves a failing blues club. (Sounds like the premise of so many 80's "we have to save the community center!" films). The film co-stars Danny Glover and Stacey Keach. Gary recorderd three tracks for the film's soundtrack,
"Chinadoll", "Blue Light Boogie", "Good Rockin' Tonight", all classic blues style standards.
To me, one of the lines from the song "Bright Lights" says it all about Gary Clark Jr, "Your gonna name by the end of the night". Yes, we will Gary…
To find more information on Gary, visit his website, www.garyclarkjr.com
Here you can also download the title track "Bright Lights" from his EP for free,
Youtube has a number of live performances (no official music videos) of his own songs and covers he does. Below is a link link to my favorite song (so far!) by him:
"Things Are Changing" http://www.youtube.com/watch?v=13-WZBa1cKc
Happy listening!
If you have comments or artist suggestions please email me at lainy@seattlegayscene.com.
Song of The Week: Rupert Holmes "Him"
Tags: Gary Clark Jr