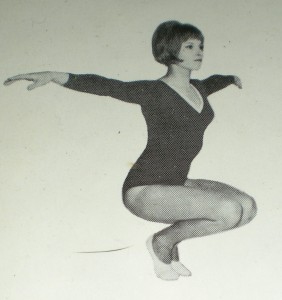 This year I have made a goal to lose some stubborn holiday weight. Every 3 months my doctor does a check up and I go in for a weight review.  Mostly the weight keeps coming back. I try watching my portions and try to stay away from sweets and too many carbs but then I get the menu and that Chicken Fried steak breakfast looks soooo amazing.
While living on the hill I tended to walk a lot more. My commute to and from work was about a mile everyday so my exercise kind of kept my weight in check. Now that I have a few blocks before I can get to light rail as my commute. It is definitely not a mile. I will have to add some sort of extra regime to my daily routine to keep those extra calories in check and burned off.
Perhaps I should pull out the portable record player, get in my sweats and put on my vintage work out records! Like Club 15 – the 1965 Hip exercise record for Teens from the makers of Campbell's Soup to help the young lady stay in shape.  29 exercises things to help make is easier to reach back zippers or even get in and out or your boyfriend's sports car. Or from 1958 The Ed Allen Exercise Record. "Exercis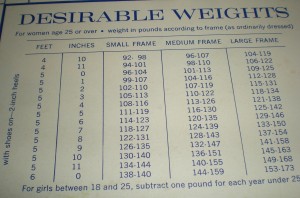 e your way to a lovelier you." He has a Desirable weight chart for Women. He bases the measurements for a woman of my stature on 2 inch heels. I love that he figures in the two inch heels. My ideal weight should be max 173 lbs. Oh my, I'm a bit off. He provides 10 exercises on a zippy sound track with him giving us inspiration with each routine. Or the 1962 gift to mother from Vicki – Good Housekeeping's Plan for REDUCING – off –the –record album. I wonder how mother felt when she unwrapped this gift from Vicki. I can just imagine her thinking "After all I got her this Christmas, she decided instead of getting me the latest Johnny Mathis Album that I needed this? She thinks I really need to loose a few pounds?! Well I will show her. I'll be packing plain cottage cheese and melba toast in that fat cow's lunch for the rest of this season!"
I think I'm going to just start by walking to the lake and back everyday. Probably be easier. Wish me luck!

Sylv
(Visited 1 times, 1 visits today)