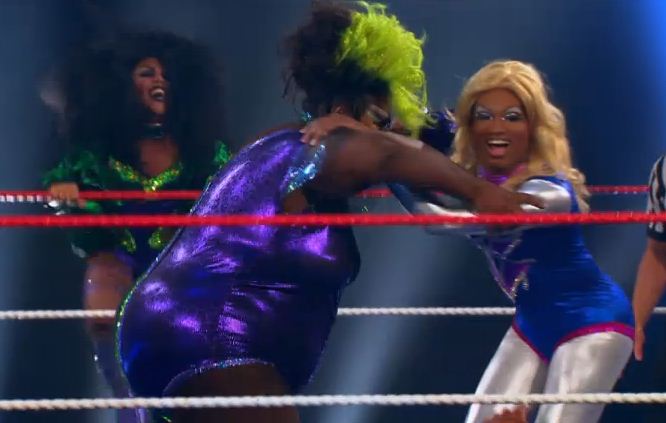 I'm baaaack! It's another issue of "Untucked with Brian", my weekly review of  RuPaul's Drag Race Season Four. It's all about wrestling and getting out of those dramatic releases between the queens this week. We're going to jump right into the arena and get down to business, hunty!
Let's get something out into the open and state the obvious: these girls are filling big shoes, or at least trying to fill big shoes. But with that aside I'm always wanting more, probably because I want to see more out of the entertainment industry and not because I'm a size queen. Watching the queens getting the lowdown on how to stage a wrestling match, otherwise known as choreography, was priceless. Don't you agree? It's what you see every Friday night at Purr and R Place, so it was great to see my fellow queens getting down and dirty with each other.
"Can we switch Jiggly for Alisa?"

-Phi Phi O'Hara
Latrice Royale, by far, did it for me this week in the mainstage challenge because who's gonna take her down in a wrestling match? I didn't care much for Willam Belli and Jiggly Caliente because their performances were a bit meek. On the runway, I wasn't at all pleased with their looks – I mean, it's the forth season and you would think that every single time each of these queens were to walk on that runway, they would bring their A game looks. LaShauwn Beyond fell into the bottom two and had to lip sync for her life up against The Princess. LaShauwn immediatley lost the contest when she took off her heels before the song even started. Isn't that a last minute "rescue" move in this competition, much like removing the wig in a fury? Too little, too soon, if you ask me.
In the Interior Illusions Lounge, Sharon Needles got quite emotional when Jiggly attacked her family. In the lovely pink box in the gold room was a message for Sharon and a surprise: a video from his boyfriend, Alaska. Tears started running amuck and the tears did not stop when all the queens gathered back in the interior's lounge. Chad Michaels, Phi Phi O'Hara, and Latrice Royale gave many words of wisdom and advice to Jiggly Caliente in working on building up the strength and courage of her boy persona before she grows even bigger as Jiggly.
That's one less sister towards RuPaul crowning the next Drag Superstar. Check back next week for another episode of "Untucked with Brian".