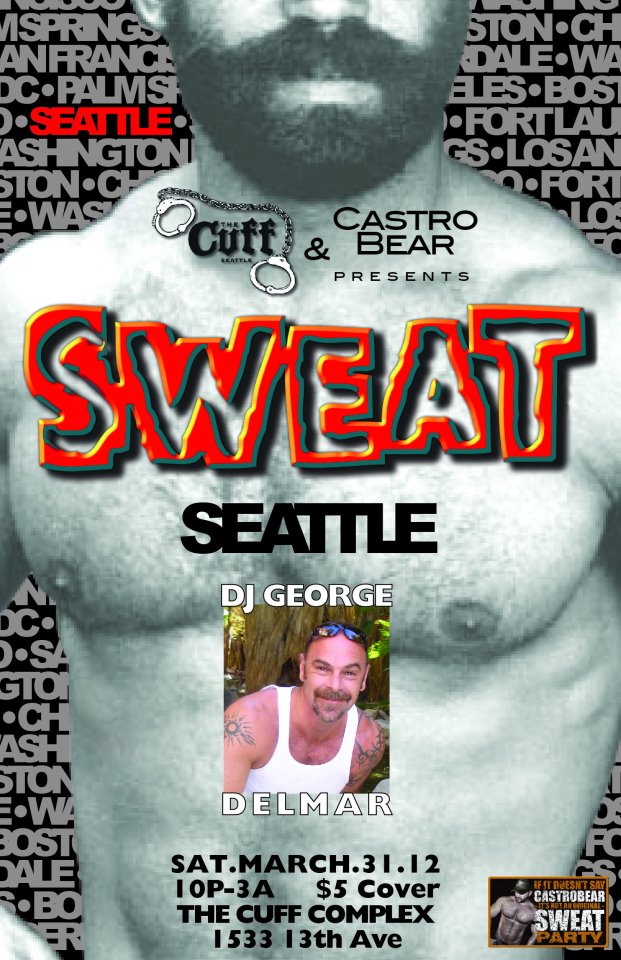 DJ George Delmar from Two Knights Events has been producing hot entertainment events all over the country for many a moon, both as a producer and as a DJ. On Saturday, March 31, 2012 from 9pm to 3am he'll be in full dj mode as he brings back the popular "Sweat" party event to The Cuff Complex in association with CastroBear:
Sweat is a men's dance that is celebrating its 13th year.  SWEAT was originated by Castrobear-Harry Lit (Lazy Bear Weekend) and is one of the longest running men's dances in the country.  Almost every major city in the US has hosted a SWEAT dance in its 13 years, including WA DC, Los Angeles, Boston, Palm Springs, Ft. Lauderdale, Seattle, San Francisco and Chicago, and has been a feature at such events as SF Pride, Seattle's Northern Xposure, MELT and Pride Weekends in Palm Springs, IML in Chicago , Lazy Bear Weekend and International Bear Rendezvous (IBR) in SF..  Previous SWEAT DJ's have included John LePage, Blaine Soileau, Peter Barona, Ted Eiel, Paul Goodyear.  SWEAT is about the men, music and a bit of mayhem…and the cornerstone music style is high energy…
Fans of sweaty, manly, shirts off circuit party style fun will definitely need to check it out…but George also has this to say: "Here is a caveat I think is important to include:  despite the imagry, SWEAT is not exclusively for dancing bears..SWEAT is and has always been an 'everybody' event…all shapes, sizes and genders are welcome…"
Sweet! Grab your triangular shaped lady friends and head to SWEAT!
Meanwhile, let's check out George's gallery of ridiculously hot posters from previous "Sweat" events throughout the years.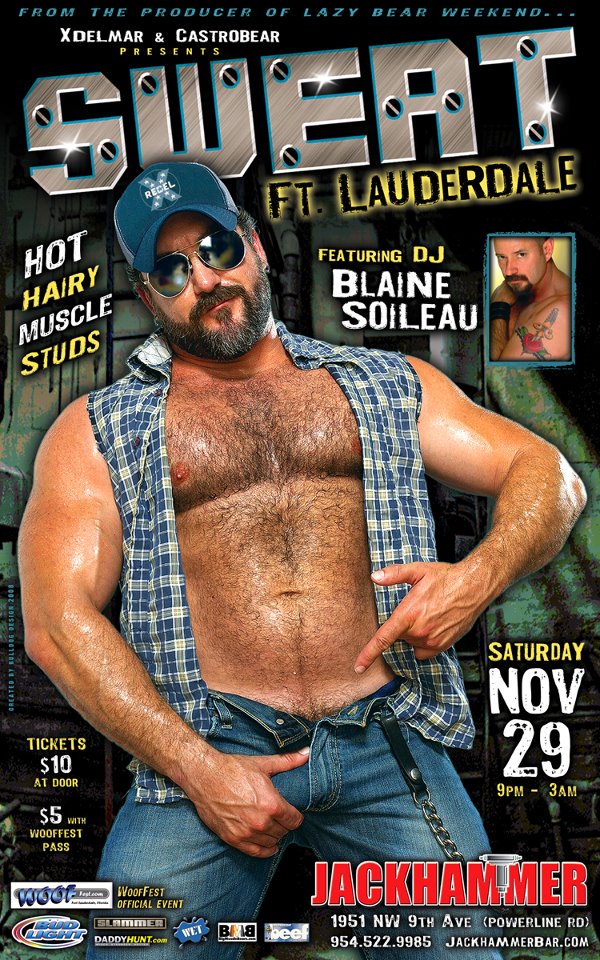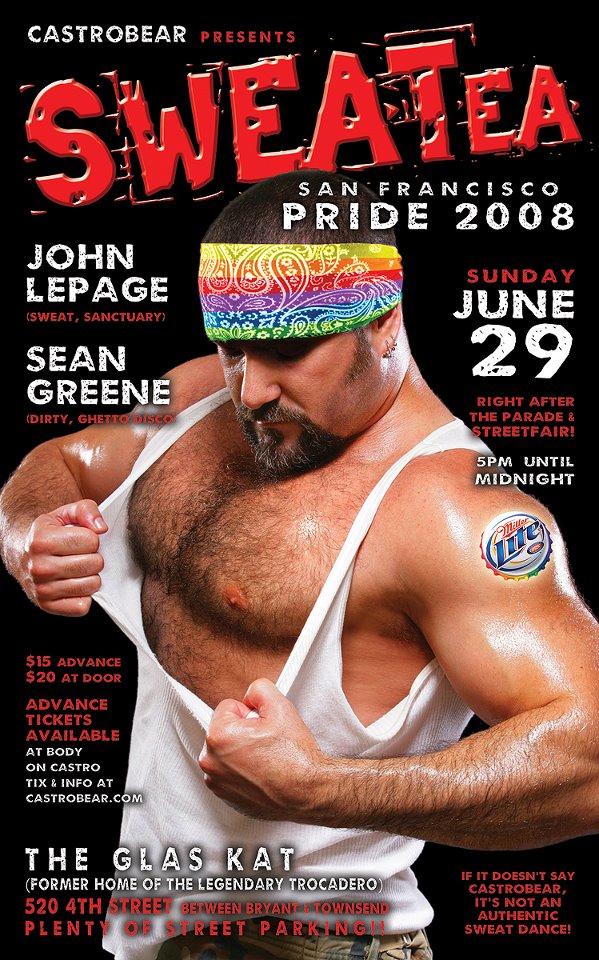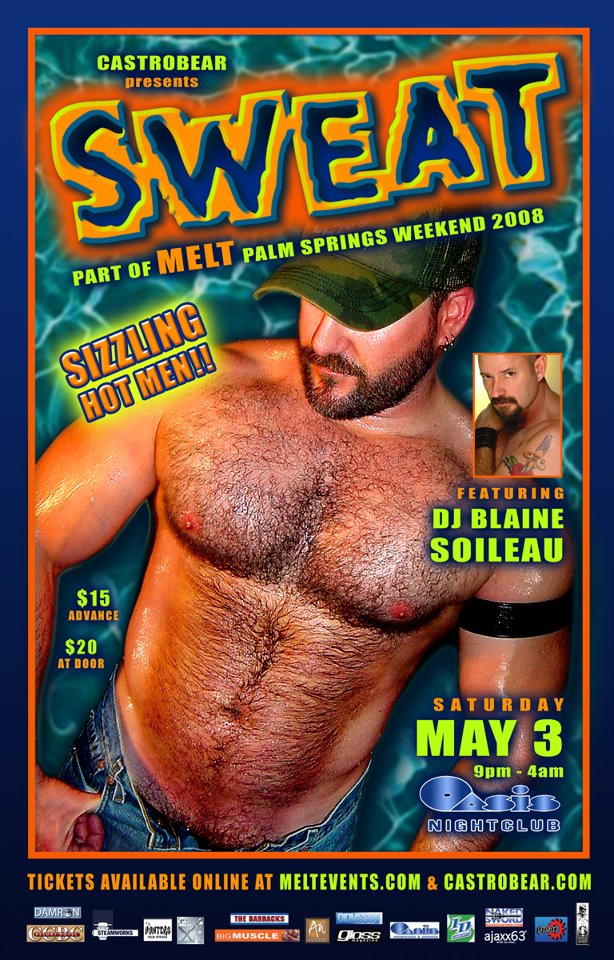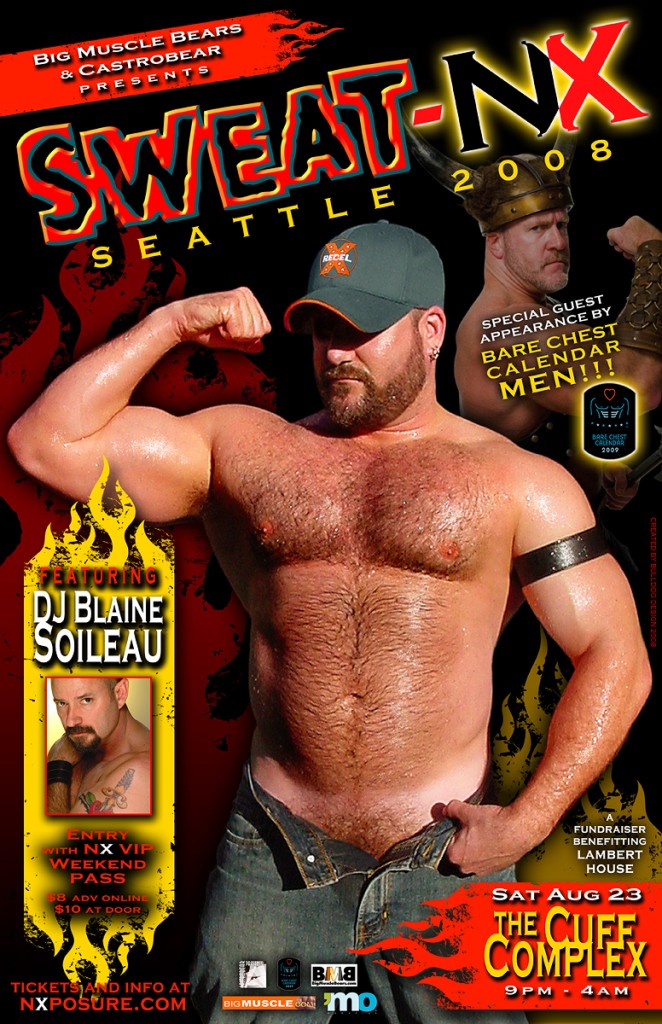 Tags: DJ George Delmar, Sweat, The Cuff Complex