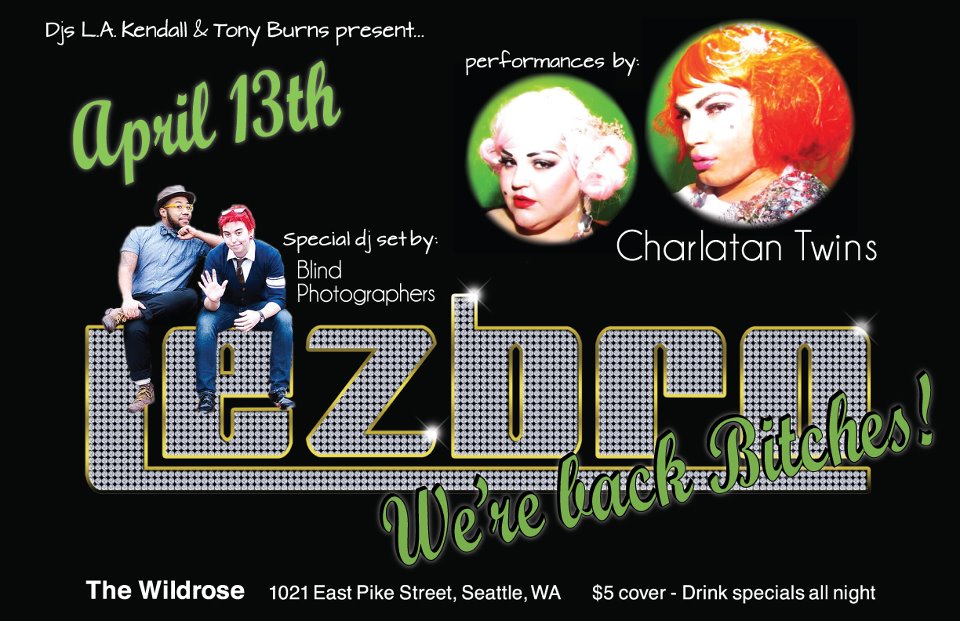 Friday is here…and, it's the 13th!
SHRIEK!!!!!
(Shit…when did I turn into Adrian Ryan?) (Kidding! I Love Adrian! Adrian and Dom are the only interesting writers LEFT at The Stranger…)
Digression. It's Friday, April 13th and as we celebrate the death of 1700 people in the icy waters of the North Atlantic 100 years ago and the impending doom of Tax Day, we can relax TODAY/TONIGHT with a huge list of entertainment options. We're going to go to Three Dollar Bill's Dinner and Auction tonight at Herban Feast and then probably a cruise up Pike to our favorite events like Lezbro with DJ's L.A. Kendall and Tony Burns and Hussler at Pony…if it's not a crowded sweaty mass of flannel.
We could also suggest checking out our friends at The Balagan Theater and their current show, "Death, Sex: Election Season" which is a night of short 10 minute plays dealing with…uh, DEATH/SEX/POLITICS. AND, the Solo Performance Festival, (SPF) at Theatre Off Jackson in the I.D. has two amazing shows: "Miss Fanny's Fun Box" with the awesome Kate Jaeger, and Eleanor O'Brien's "Good Girls' Guide: Dominatrix for Dummies".
Here's the List O' Options for Today…check out the full Weekend Calendar HERE!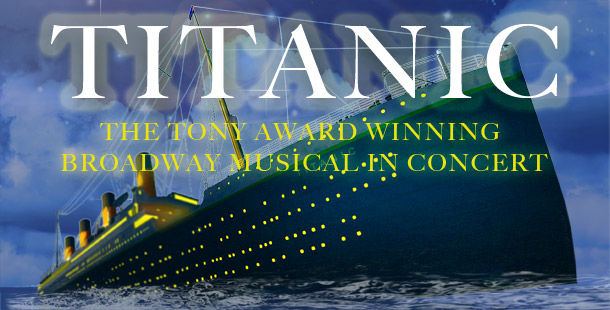 Three Dollar Bill's Dinner & Auction @ Sodo Park by Herban Feast. Classic Hollywood comes to life at their 5th annual dinner auction: A Star is Born. Guests will enjoy silent and live auctions, appetizers, sit down family-style dinner, hosted wine, non-alcoholic beverages, and some cinematic surprises!
Titanic: The Concert @ 5th Avenue Theatre. All the music of the Broadway musical in a concert performance. Featuring an all-star cast of local and Broadway performers 8pm.
Lea Salonga @ The Moore. The voice of Disney's Mulan and original Kim from Miss Saigon brings one of the greatest voices of our time to Seattle for one night only 8pm.
The Cherdonna and Lou Show presents…out out there (A Whole Night Lost) @ Velocity Dance Center. Queer artists use drag to express and comment on the politics and societal constructions of gender identity. 7pm & 10pm
Dina Martina: Ample Wattage @ Rebar. Promises to be an excruciatingly hilarious yet totally indescribable evening of entertainment that assaults the senses like no other 8pm, $20-$25. 21+
Apollo & Carmina @ Pacific Northwest Ballet. Apollo, George Balanchine's oldest surviving ballet, was his first international success as well as the start of his remarkable collaboration with Igor Stravinsky. In the ballet, Apollo – described by Balanchine as "a wild, half-human youth who acquires nobility through art" – is instructed by three muses: Terpsichore, muse of dance and song; Polyhymnia, muse of mime; and Calliope, muse of poetry 7:30pm.
Death, Sex: Election Season Balagan Theatre. Something humorously offensive for everyone, where local writers each put forth a 5- to 20-minute play about death, sex, and politics 8pm & 11pm. 16+
2012 Emerald City Hoedown A weekend-long LGBT country-western dance event. More than just a single evening dance, a hoedown features dance workshops, chances to socialize, and a whole lot of fun.
Gay Washington Pageant Out of Town Show @ Poodle Dog in Tacoma. Celebrating 42 years of Gay Washington 9pm, $20.
LEZBRO @ Wildrose. Featuring The Blind Photographers. These genre bending gender blenders bring the funk when it comes to DJ sets — creating an audio hipster trap of dance music hot off the presses with resident DJs LA Kendall & Tony Burns and LEZRO's signature "Cheap Ass Drinks" 9pm-2am, $5. 21+
Cuff Complex: HiNRG Dancing with DJ Stacey 11pm-3am, $5. 21+
Black Friday the 13th Fetish Night @ The Eagle with DJ Mark Gentile 9pm-3am. 21+
Neighbours: Ultimate Dance Party with DJ Richard J Dalton 10pm-4am. 21+ (18+ after 2am)
John Campos (DJ Toast) Birthday @ Bus Stop 9pm-2am. 21+
Hussler @ Pony. Every 2nd Friday. Dj's! Go Go Boys! Hot bearded gay hipster/grunge/cubby/otters in flannel! 5pm-10pm. 21+
Purr Video Lounge: VJs play the best mix of music videos in town 9pm-2am, No cover. 21+
Swollen Fridays @ RPlace. DJ E plays R&B/Top 40 & VJ Flo'w rocks the video booth, $7. 21+
Bar Myx in Everett: Everett's very own little White Party with DJ Matt Stands, No Cover. 21+
Lily Armani's Show & Tell @ Neighbours Nightclub 8:30pm, $10. 21+
LeFaux @ Julia's. Celebrity Female Impersonator Show w/ host Jinks Monsoon 10pm, $25-$45. All Ages