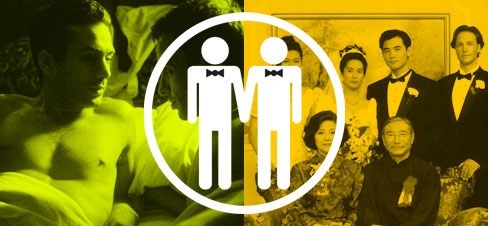 You have options for Wednesday of a slightly higher brow…yet, still fun and not requiring drag queens, hairy men in leather or the alleged music of that Minaj woman…
Three Dollar Bill Cinema has TWO films screening tonight at the Central Cinema (1411 21st Avenue off of Union) as part of their tribute to Marriage Equality. The 1997 comedy,  "I Think I Do" starring Alexis Arquette (still in masculine mode) will screen at 7pm and will be followed by director Ang Lee's acclaimed 1993 award winner, "The Wedding Banquet" at 9pm and here's EVERYTHING you need to know about this event:
7pm) I THINK I DO (1997) Alexis Arquette (back when she was a gay boy) stars in this sexy screwball romp in which old college buddies reunite at their friend's wedding. As the champagne flows and old crushes are reignited, surprising revelations come out to play between the sheets, with hilarious results. From writer-director Brian Sloan, co-writer of AUGUST (2011).

(9 pm) THE WEDDING BANQUET (1993) Nominated for the Best Foreign Film Academy Award and winner of the SIFF Golden Space Needle Award, this trailblazing film from director Ang Lee (BROKEBACK MOUNTAIN) is a deeply touching culture-clash comedy. Under pressure from his suspicious Chinese parents, a gay man in New York arranges a marriage of convenience with his female tenant. But when the parents come to America to fete their new family member, traditional customs disrupt the modern-day charade.

We'll be collecting donations for Washington United for Marriage, a coalition of organizations, congregations, unions, and businesses working together to secure civil marriage for loving, committed gay and lesbian couples. Representatives will also be present at both screenings with information and opportunities to get involved.

$10 General Admission, $8 Members of Three Dollar Bill Cinema
$15 for both films, Members and General Audiences

Advance tickets on sale now! Visit:
http://threedollarbillcinema.org/calendar/gay-wedding-celebration/
You should also note that Three Dollar Bill Cinema returns to Central Cinema the following night, Thursday at 8pm for the Gender Bender Sing-A-Long which will give you the joyous opportunity to be obnoxiously loud in a cinema as you sing along with all your favorite movie musical scenes and videos "including Culture Club, "Victor/Victoria," Dead or Alive, the "Rocky Horror Picture Show," Twisted Sister and many more!" It's only $9 for general admission and $7 for Three Dollar Bill members. And, apparently, Three Dollar Bill Cinema and the Central Cinema are an "item" since they're spending so much time together. I hope they're using protection…
If you're more the bookish type, then head to Vermillion Art Gallery and Bar at 7:30pm for an evening of genteel wine sipping and book readings from Lambda Award nominated LGBTQ writers from the Pacific Northwest including Qwo-Li Driskill, Dean Spade, L. A. Witt, Peter Boag, Chandan Reddy, Michael Hames-García, & Ernesto Martinez. 
And, in case you weren't aware, (maybe listening too much to that Minaj woman…) the Lambda Literary Awards are the very prestigious literary prize given to LGBTQ writers and past winners include Michael Cunningham, Edmund White, Dorothy Allison and E. Lynn Harris. It's like the Oscars, but for good books, and minus the  4 hour running time and Billy Crystal's bad Botox and chocolate dyed hair. This year's award ceremony is happening on June 4, 2012 in NYC and now is your chance to check out the excellent LGBTQ writers in our own neck of the woods.
We also find it unfortunate that the Lambda Award is apparently referred to as "The Lammie" which frankly is a terrible nick-name and just the slightest bit "geigh" in the "lammie" sense of the word…
(Visited 1 times, 1 visits today)