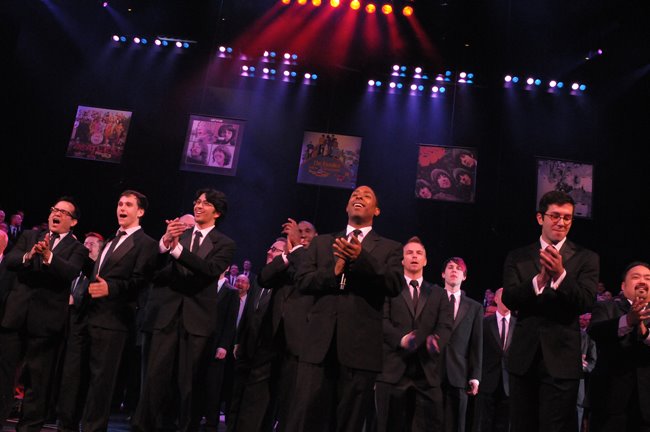 Despite the fact that the television show "American Idol"  jumped the shark long ago, and is about as cool and relevant as Ross Perot, EVERYONE seems to love copying it. Seattle Out & Proud has its version called Pride Idol, and the OutWest Bar in West Seattle has its version and there's Drag Idol and Tiki God Idol and on and on and on. But, we don't blame them…it's a good concept for a show; though we prefer "The Voice"  'cause it has those cool chairs and Adam Levine.
Anyway, the folks at Flying House Productions, the producers of the Seattle Men's Chorus and the Seattle Women's Chorus, have come up with their OWN version of "AI" called, naturally, "CHORUS IDOL"and the winner of this competition gets to sing at McCaw Hall next month backed by the 200 men of the SMC…but, you only have until Friday, June 1, 2012 to apply!
Open to Men and Women.
Be the first SMC Chorus Idol!

Have you ever wanted to have 200 men as your back-up singers? Do you love to sing Karaoke? Do you sing every day in the shower and fantasize about singing at Seattle's largest performance hall in front of thousands of people? Then Chorus Idol is your opportunity to make your dreams come true; and you should enter today.

Before you decide to send in an entry, please note that you must 18 years old or older;
and available the following days and times:

Live Semi-Finals
Saturday, June 9, 3:00 – 6:00 PM
at Julia's on Broadway
Sing Out Preview
Saturday, June 16, 8:00 PM
at the Renton IKEA Performing Arts Center
Sing Out Performances
Friday, June 22, 8:00 PM
Saturday, June 23, 8:00 PM
both at McCaw Hall, Seattle Center

From the YouTube submissions,
a group of semi-finalist will be chosen by the artistic staff of Flying House Productions — there is no predetermined number of semi-finalists, there could be 10, there could be 30 —
Semi-finalists will be will be notified by Friday, June 8, 2012.

From the semi-finalists four finalists will be chosen by live at the Chorus Idol Sing Outevent on Saturday, June 9, 2012 at Julia's on Broadway. They will be judged by the audience, the artistic staff of Flying House Productions, and a "celebrity" guest panel.

Two of the four finalists will perform a song
(2 minutes) of their choosing live at Seattle Men's Chorus' Sing Out concerts on June 22 or 23, 2012, competing for that night's title of Chorus Idol. The audience will vote and choose the night's Idol. That night's Idol will then get to sing the solo on a pre-determined song with Seattle Men's Chorus.
There's a ton of karaoke singers in this town…here's your chance to become a STAR on the McCaw Hall stage!
For the rest of us, you can check out the chorus at any of the events mentioned above, including their huge concerts during Pride Weekend, on June 22 & 23. Get tickets HERE!