Review: [title of show] Music & Lyrics by Jeff Bowen. Book by Hunter Bell. Produced by Curly Stache Productions and Balagan Theatre. Directed by Jeff Orton. Musical Direction by Chris DiStefano. With Brian Lange, Ryan McCabe, Claudine Mboligikpelani Nako, Kate Jaeger and Chris DiStefano. Now through May 14, 2012 at the Balagan/Erickson Theatre Off Broadway.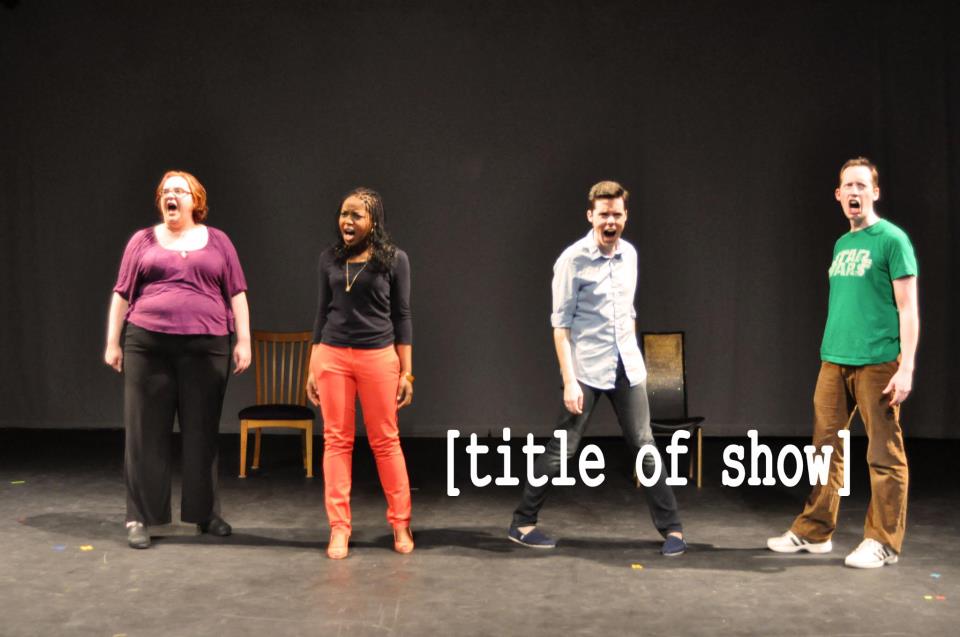 The title of [title of show], the currently running musical at the Balagan/Erickson Theatre Off Broadway, IS more than just a bit "meta" but that's the whole point of this show.[title of show] was the brain child of two young starving musical theater actors in NYC in 2004. Best friends Hunter Bell and Jeff Bowen, tired of barely existing on the New York theater scene, decided to gamble and at the last minute, whipped up a one act musical to enter into the New York Musical Theatre Festival. With only three weeks to write an original musical piece, the two decided to write a musical about…writing a musical. Their clever idea and its equally clever execution made the small show a hit at the Festival, which led to an off-Broadway production in 2006 and ultimately a (short) run on Broadway in 2008. And, along the way, the musical has grown, with each new iteration of the show resulting in MORE material to add to the show…thus the current version of [title of show] reflects everything that's happened up to the premiere on Broadway.
(As for the odd title, the pair scrambled to come up with a fitting name for the musical before realizing that the musical theater festival's application asked for the "title of show" and thus the problematic name for typesetters and editors and computer coding programs, was born…)
The eager young production company Curly Stache Productions very much wanted to stage the professional stage premiere of  [title of show] in Seattle and teamed up with Balagan for this pared to the bone musical…there's no scenery; only 4 chairs on stage; limited props; no costume changes; limited lighting design and one keyboard player who occasionally interacts with the 4 actors on stage. If you're looking for a lush stage musical with big sets, a line of chorus girls and 32 costume changes, it would be best to check out "The Producers" over at the Village Theatre in Issaquah. [title of show] is exactly what it says it is: a tiny, one act musical about creating a musical. It's an insider's look at the world of musical theater geeks, with a hundred references to other musicals and their creators and performers, and it's self-reverential and meta to the point of absurdism. If you love musical theater and maybe even have an "Aspects of Love" mural painted on your bedroom wall (a plot point in the show) then you'll adore [tos]. It's fresh, charming, delightful and a must see for true fans of musical theater, with a very clever Tony Award nominated book and four terrific performances from the young actors. It is a bit long for a one act; it clocked in at about an hour and 45 minutes, and the pace does drag a couple times in the show; a bit of pruning might help or even restructuring the show into two acts. (And, obviously that's a note for the creators of [tos] and not the local producers…) Weak bladdered types are advised to not drink much prior to the performance…
[tos] really depends on the talent of the 4 actors cast; they're out there all by themselves without big production numbers or a chorus line of dancing Nazis to support them. The musical centers on "Jeff" and "Hunter" the original creators of the show and it's absolutely mandatory that actors with the necessary charm, charisma and talent be cast in those roles, or the whole show would flop. And, both characters, like their creators, are gay men with a fierce commitment to both their work and their friendship; the non-sexual chemistry between the characters is what drives this musical. So, I'm happy to report that both Brian Lange, as Hunter, and Ryan McCabe, as Jeff, give terrific performances and create a great team on stage. Mr. Lange as the more tempermental, flamboyant dreamer Hunter has the slightly more difficult role, as Hunter's path in the process of creating the musical becomes a bit darker as the show progresses. He is well balanced with Mr. McCabe's work as the calmer, more cerebral Jeff who subtly counter balances the excesses of Hunter. Both men do exceptional work and make a fine team.
The other two roles in [tos] are the two actress friends of Hunter and Jeff, "Susan" and "Heidi", who like the creators are also based on the real women who originally created and played these roles in the original production. Heidi, played here by Claudine Mboligikpelani Nako, is a working Broadway actress who's dissatisfied with playing minor roles or understudying in long running Broadway musical productions. She's contrasted with Susan, a motormouth comedienne who's lack of theatrical work has resulted in her taking a well-paying but emotionally and artistically suffocating office job. Ms Nako is adorably charming as the more low keyed Heidi, though vocally she could be a bit more forceful; there were times she was nearly inaudible in this non-miked production. Kate Jaeger as the more forceful Susan has never been accused of not being heard; Ms Jaeger has both the Voice and the Personality to make sure she's heard in the back row of any auditorium and she's hysterically funny as Susan, the cast member who sometimes doubts that she can keep up with her more experienced singing cast mates. (And, as always, I have to make my usual plea to Seattle theatrical companies to please give Ms Jaeger BIGGER roles in BIGGER productions; she's one of those terrifically talented, local "secrets" that those in the know are aware of, but she needs exposed to the world at large. And, in about ten years, she REALLY needs to play Mama Rose in "Gypsy"…just sayin'.)
[title of show] is a treat, especially for hard core musical theater types but it has charms to woo every taste…a clever book, delightful performances and some wonderful songs, including "Die, Vampire, DIE!" and "Nine People's Favorite Thing". It's very well directed by Jeff Orton with terrific musical direction/accompaniment by Chris DiStefano. The show and its cast and creators are well worth checking out.
(Visited 1 times, 1 visits today)