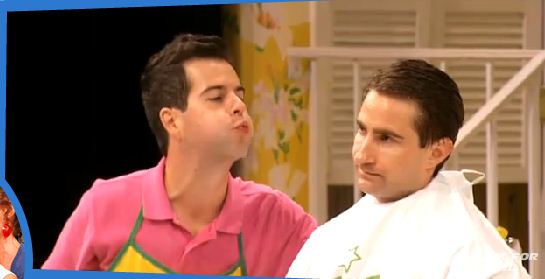 It's funny, campy, and more fun than a basket of kittens…the beloved hit murder mystery comedy "SHEAR MADNESS" is at The Moore Theater this month (thru June 24) and we have TWO tickets to give away to their special "Gay Happy Hour" performance happening this Friday, June 15th! 
To purchase your "Shear Pride" ticket to SHEAR MADNESS, just use
code SHEARPRIDE at the beginning of your purchase. The special pre-show
reception begins at 6:30pm, and the show starts at 8pm.  Upon entering the
theatre, just head downstairs one level to the main bar and enjoy light fare and
great wine. This is a perfect opportunity to see the show and mingle with fellow
theatre-goers.  Some cast members of SHEAR MADNESS may also be in
attendance!
The interactive audience participation comedy features outrageous characters (including a very campy hair stylist) and it's surprising amounts of fun…for the entire homocentric family. We have a pair of tickets to give to the person with the best AWFUL hair cut/stylist or general awful hair related experience story to share with us. In a brief paragraph, relay a tale of a hairdressing incident gone tragically wrong…maybe it happened to you, or a friend or a family member but we wanna know about the time your dad put a bowel on your head and gave you the shittiest hair cut in the history of  bad haircuts…or, maybe a tragic perm accident…or, maybe the time you went to New York City and moments before you entered a Broadway theater, a pigeon crapped on your head….WHATEVER is awful and hair related, we wanna know!
Reply via comments down below OR send us an email to strangeways@seattlegayscene.com. Les and I will look over your tales and the one that amuses/horrifies us the most, gets the tickets…which we'll announce either later tonight or early Thursday….AND, we'll print your horrible story of "Hair Gone Wrong".
We can't wait…
(Visited 1 times, 1 visits today)